Martin aims to balance studies with training for Rio 2016
The world's best T52 racer will line-up at this week's IPC Athletics Grand Prix just two days after finishing his University exams.
10 May 2016
Imagen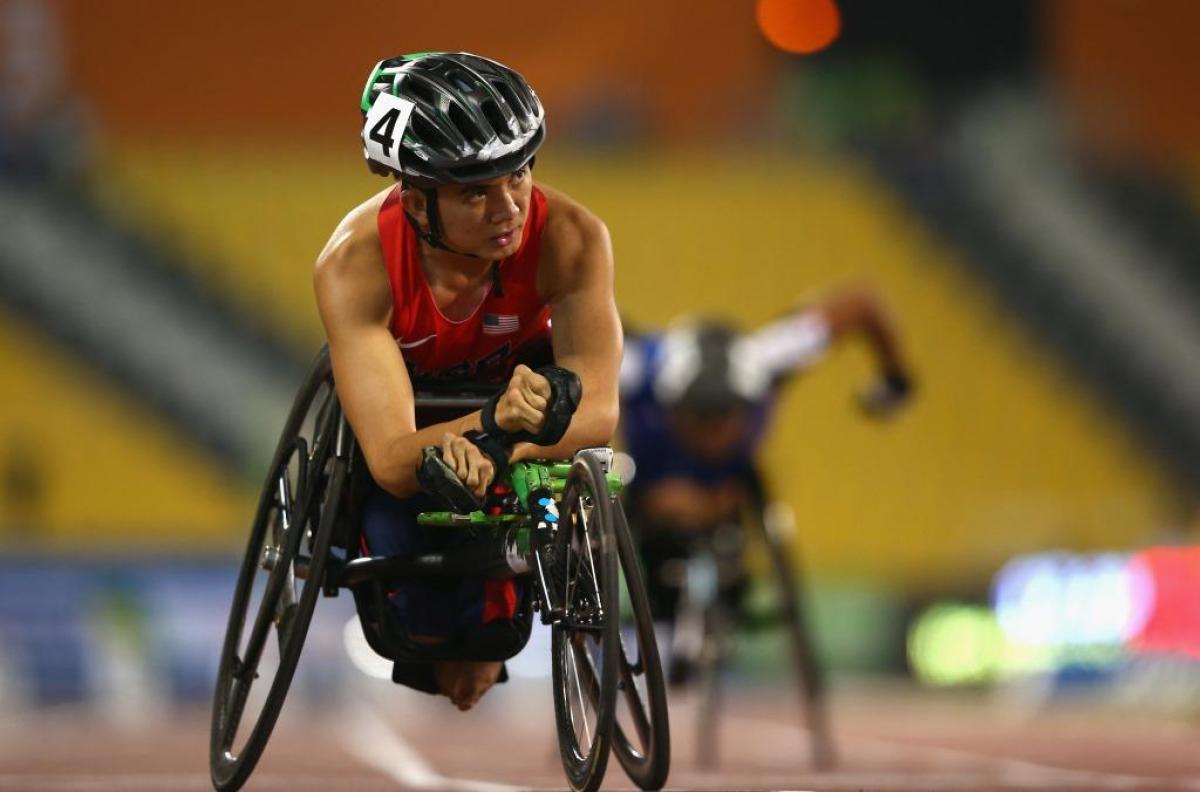 ⒸFrancois Nel/Getty Images
By IPC
"Going in to these Games a lot is expected of me, and so it definitely feels a bit different."
Paralympic champion Ray Martin has big ambitions – but it is not only in para-athletics.
The American has set his sights on a career as a physician's assistant, and his university workload means that he has had to cut back on his training sessions this year.
With the Rio 2016 Paralympic Games now only four months away, the 22-year-old knows that he has taken on a lot – but is it too much?
"I ask myself that every day," said Martin, who is in his senior year of a degree in kinesiology at the University of Illinois in Champaign-Urbana.
"It's just a lot at one time, but then I always think back and I know that I'm not taking on too much because if I was, I would cut back."
In April Martin won his second consecutive London Marathon, but he admits it was hard work.
"I consider myself very lucky for coming out on top in that one," he said.
"I was pretty fatigued for the next few days, and I knew I would be because at about half way I knew that my muscles were starting to get really fatigued, so I knew that I just had to try and hold on.
"Last year I was training 10 sessions a week, they were very hard sessions, but I think that helped. This year I just don't have the time – there are not enough hours in the day for me to take 17 credits at university, plus train twice a day, six days a week."
This week presents another busy schedule – Martin's exams finish just two days before the start of the IPC Athletics Grand Prix in Arizona, USA, on Friday 13 May.
He takes on the 100m, 400m, 800m and 1,500m (T52) at the two-day meeting, having excelled at the same event a year ago.
The Grand Prix, which doubles as the Desert Challenge Games, will be Martin's first track meet of the season. It is a vital opportunity to find out just how well this tricky balancing act of studies and training has been working.
"I just need to find out where I am in terms of my times and where I need to be for US Trials in July," explained Martin, who won a hat-trick of golds at the Parapan Am Games last year, then safely retained his 100m and 1,500m world titles in October in Doha, Qatar.
"I feel really good in terms of short-term racing. I don't think I'd be able to win another marathon, or even a half marathon, but I definitely feel good on anything less than 5,000m."
The challenges Martin has set for himself would make many a weaker man weep. But it is clear the New Jersey-born Para athlete has carefully measured exactly what is within his capabilities – although knowing that his peers are out training hard adds to the pressure.
"It's very tough because here at the university it is me and maybe one other student taking on such a course, so that we can't train as often as the rest of the team does," explained Martin, who is part of the renowned University of Illinois training group – fellow racers include Tatyana McFadden, Josh George and Amanda McGrory.
"When I see the email for the day's schedule showing that even just my teammates - who I don't even race against - are getting a second session in on the road it's tough, definitely."
The fact that Martin has, since 2012, been the dominant force in the T52 class does provide some comfort. He knows he is still the man to beat – although that in itself has brought along different pressures.
"I think it sets my mind at ease that I am in the position I'm in, but it doesn't change how I go in to training," he said.
"It's definitely a different kind of pressure going in to these Games. In London nobody really knew who I was leading up to it, so I just kept my head down as hard as I could. There wasn't pressure to do well – it was just pressure I put on myself to do well.
"Going in to these Games a lot is expected of me, and so it definitely feels a bit different. If say I hadn't done as well in London, I still would've been praised, or people would've said 'Good job.'
"If I don't do well in Rio, people will come up and ask me what's wrong, or what's happened."
There is undoubtedly a lot at stake this year for Martin. But if there is one man who can put everything in perspective, keep a cool head, knuckle down and make it work, it is the American.
More than 270 athletes from 14 countries will compete in the sixth IPC Athletics Grand Prix between 13-14 May.