McFadden, Van Dyk capture emotional Boston Marathon victories
Tatyana McFadden and Ernst Van Dyk won their second and 10th Boston Marathon victories, respectively.
21 Apr 2014
Imagen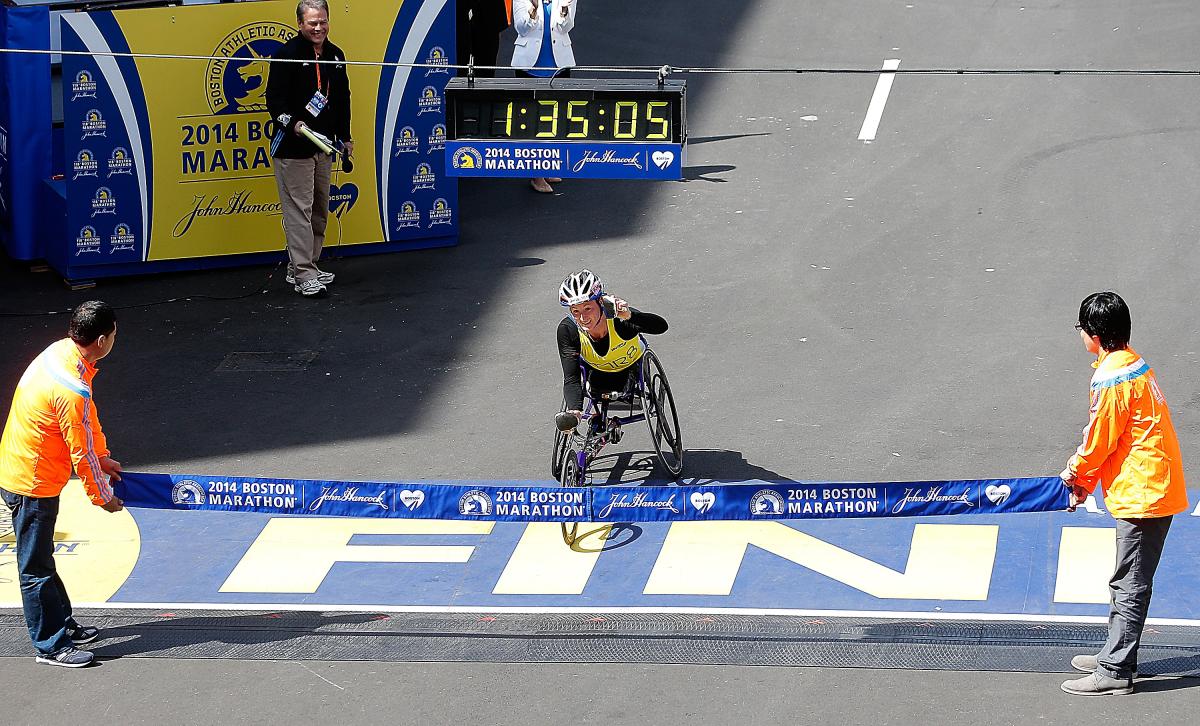 ⒸGetty Images
By Justin A. Rice | For the IPC
"It's about rebirth of new lives and people living life differently. It's not about what you lost but how you live life and remembering who was lost and that was really, really important."
Perhaps more than any other elite athlete in Monday's (21 April) 118th Boston Marathon, Tatyana McFadden was an inspiration to the victims of last year's Boylston Street bombing that killed three people and injured 264 others.
In winning her second straight Boston Marathon in 1:35.06 on her 25th birthday, McFadden not only kept alive her bid for a second-straight clean sweep of the women's wheelchair major marathons (London, Boston, Chicago and New York), but she did so while wearing the jersey of the team supporting the Martin W. Richard Charitable Foundation.
Richard was the eight-year-old Boston boy killed when bombs rocked the world's oldest continuous marathon last year.
McFadden, who was born in Russia with spina bifida before being adopted by a Maryland woman when she was six, took time during the run-up to the marathon to meet Richard's sister, Jane, who lost a leg to the blast.
McFadden also met Patrick Downes and Jessica Kensky, the newlyweds who each lost their left leg at the finish line last year and crossed the finish line on Monday on handcycles.
"It's about people coming together and supporting each other to that finish line," McFadden said after the race. "It's about rebirth of new lives and people living life differently. It's not about what you lost but how you live life and remembering who was lost and that was really, really important."
South Africa's Ernst Van Dyk won his 10th title in the men's wheelchair division with a time of 1:20.36.
The 41-year-old who never trailed in Monday's race has more Boston titles than any able-bodied athlete in history. He finished second last year and his last title in Boston was in 2010.
"Last year, what happened here changed the world we live in," Van Dyk said. "The way we race marathons had completely changed. Going in, I didn't really know how I was going to handle it. I arrived Tuesday night before the tribute and there you could feel something push into your throat.
"On the course it was really, really unbelievable. The last five miles was like the human tunnel of emotion. As tired as I was, I couldn't give up. The people made me do that. They carried me."
The Japanese duo of Kota Hokinoue and Masazumi Soejima finished second and third, both with an official time of 1:21.14.
"In the last two kilometres, I know I wasn't able to catch Ernst, so I aimed for second place," Kota said.
McFadden got to the finish line ahead of Japan's Wakako Tsuchida (1:37.24). The five-time Boston winner and course-record holder (1:36.06) missed the race the last two years.
"After everything that happened last year, I felt it in my head to come back," she said. "I was training very hard to return and wanted to do well."
American Susannah Scaroni, who won the 2013 Los Angeles Marathon, finished third with a time of 1:38.33.
McFadden, who won her Boston debut last year in 1:45.25, trailed the pack in the early going before taking a commanding lead at the 13.5-mile marker.
"I knew the race was going to be a difficult one," she said. "It was a chasing game. I had to chase Wakako and I told myself it would be over unless I caught her halfway. I hit all the climbs hard and relaxed on the downhill, trying to keep continuous pace to catch her. Then I just kept going."
McFadden won the London Marathon eight days ago and also took a silver medal at the Sochi 2014 Paralympics Winter Games in the 1km sprint sitting race last month.
She said Monday's marathon course was the loudest crowd she's heard since she won four medals at the London 2012 Paralympic Games.
"Being out on the course and having the fans chairing was unbelievable," she said. "I can't even describe the moment. It gave me goosebumps and lifted you almost. Especially in the last three miles. You couldn't even hear yourself think but you just took in the energy from the crowd. That moment didn't know if you should cry or smile. Just so much emotion went through."
"It was wonderful. It's a symbol of community and community coming together."
And now that she has cleared this emotional hurdle, McFadden will look to become the first athlete to win the wheelchair marathon Grand Slam two straight years.
"That would be absolutely unbelievable," she said. "No one has ever done it. I can't believe my body is doing it. … We'll see. It's going to be tough. Its' going to be really, really tough. Girls are getting faster. It's going to be really really tough."