'Me and My Coach' with Cuba's Omara Durand and Yunidis Castillo, and their coach Miriam Ferrer
Two of the world's top sprinters talk about what it means to train under the guidance of their coach Miriam Ferrer – and how their relationship is more like family.
01 May 2016
Imagen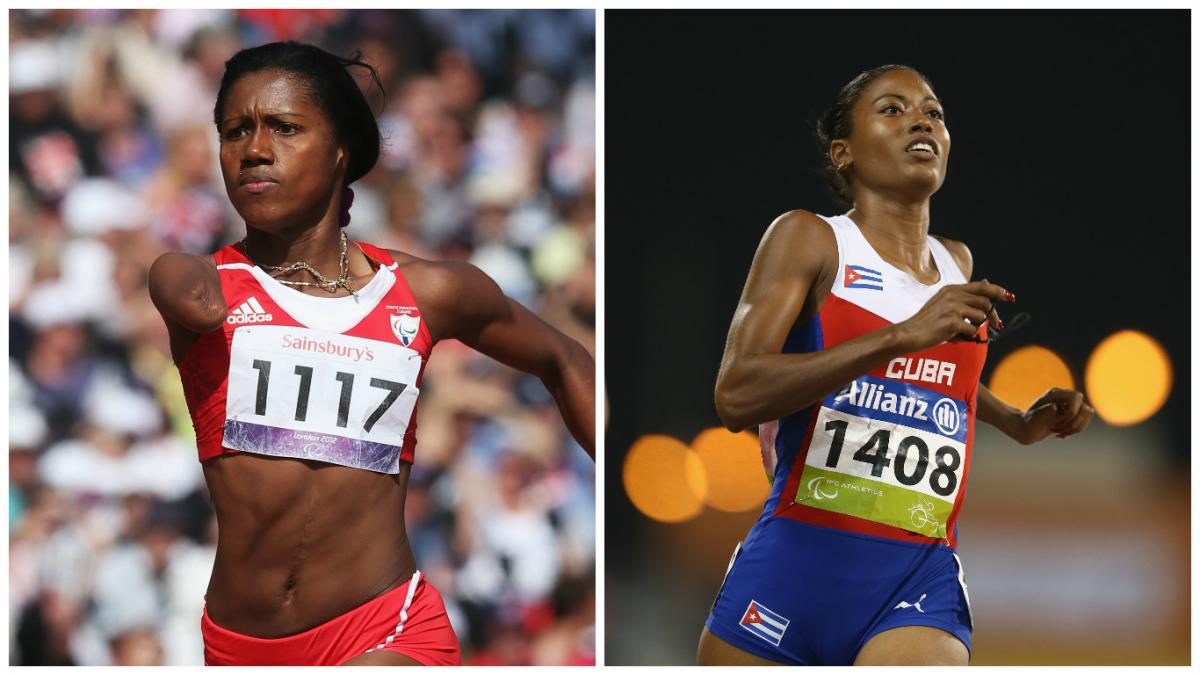 ⒸGetty Images
By IPC
Far from the spotlight, Cuba's Miriam Ferrer is the woman behind Omara Durand and Yunidis Castillo's medal success.
Ferrer has trained Durand, the current 100m, 200m and 400m T12 world champion and world's fastest female Paralympian, since the sprinter was 14-years-old.
As for five-time Paralympic gold medallist Castillo - who also won 200m T47 at the IPC Athletics World Championships in Doha, Qatar last year - she has trained with Ferrer for over a decade.
The Cuban pair have been at the forefront of para-athletics in their respective classes in recent years, and they both share a common vision: that their success would not have been possible without Ferrer.
"She is an excellent coach and I would not change her for anyone. Miriam has exploited my full potential, which has resulted in many victories along my career," said Castillo.
"She is the best," added Durand, who smashed no fewer than four world records on her way to a hat-trick of global titles in Qatar six months ago.
"I do work very hard to get the best out of every athlete," Ferrer admitted. "However, athletes need to work hard if they want to succeed. And both Omara and Yunidis definitely do."
However, Ferrer – a former sprinter herself, who competed at the IAAF World Championships in 1993 - is not just a coach.
"She is a sister, a friend and a mother. All combined in one person. She is extraordinary," explained Castillo.
"I have even given some of my medals to her as a gift because she is as important in the process as I am."
Castillo was one of the major stars of the London 2012 Paralympic Games, claiming gold in the 100m, 200m and 400m T46 events. However, she was not confident about running the 400m, until Ferrer gave her the courage she needed.
"Miriam was even running the race from outside the track to show me that she would not leave me until the end. I finally won the race, hugged her and we cried together," admitted Castillo.
Ferrer has been vitally important in Durand's life as well – both on and off the track.
"Working with her has fulfilled me and showed me that I should not exclude myself from society; that having an impairment should not stop me from doing what I like," explained Durand.
"I was 16-years-old when I competed at Beijing 2008, and it was hard for me not being able to achieve a Paralympic medal. But Miriam was next to me even in my worst moments. She has never left me alone."
Ferrer is one of the most well-known Olympic and Paralympic coaches in Cuba. In fact, she has also been working with the reigning double world champion Leinier Savon Pineda for some time as well.
"The athletes I train are like my sons and daughters," said Ferrer.
"Training these athletes is something spectacular. Every coach dreams about working with the fastest sprinters in the world as I do.
"I feel proud and full of joy when I see them fulfilling their dreams. And working with them is so easy, especially when they are as humble, hard-working, mature and well-mannered as Omara and Yunidis are."
__
Sport fans from around the world can now buy their Paralympic tickets for Rio 2016 from authorised ticket resellers (ATRs).
The IPC's Global ATR is Jet Set Sports, and Rio 2016 tickets and packages can be purchased on the CoSport website.
Residents of Brazil can buy 2016 Paralympics tickets directly from the Rio 2016 website.