Me and my coach: Ilse Hayes and Dr Suzanne Ferreira
The South African sprinter stars in a new monthly series looking at the relationship and bond between athlete and coach.
07 Feb 2016
Imagen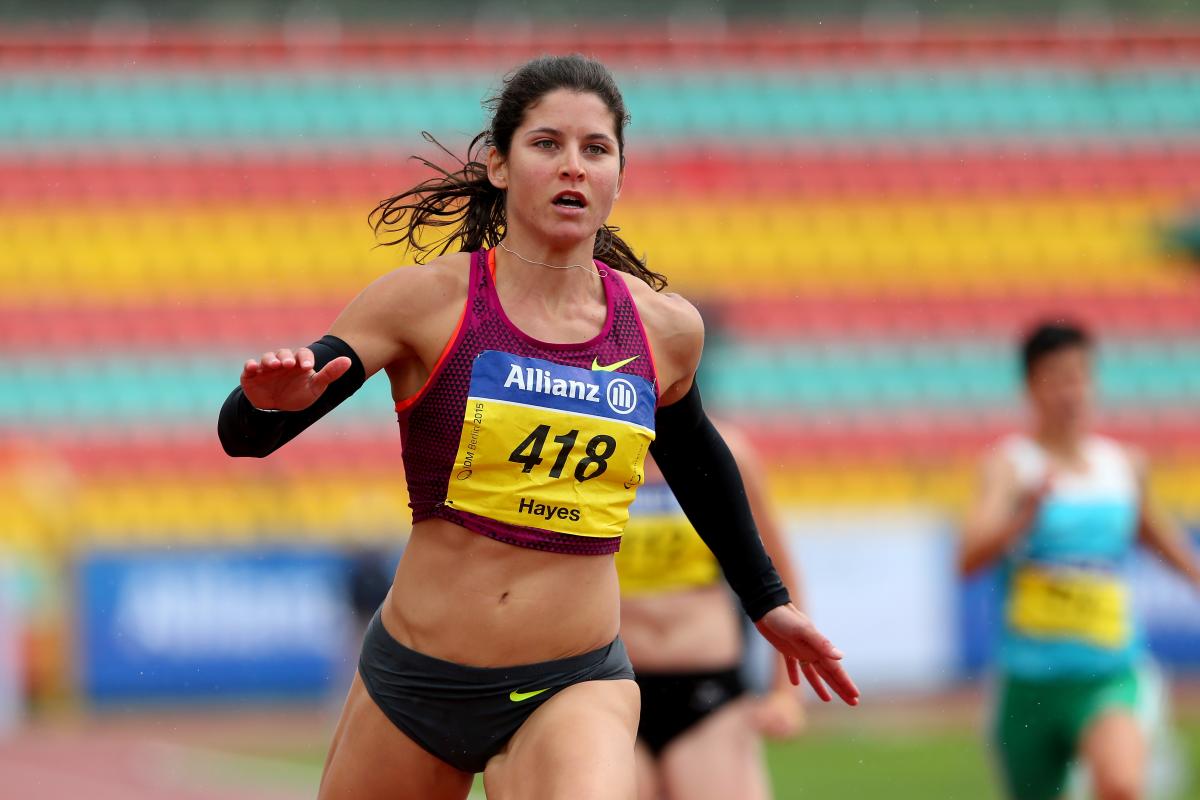 ⒸGetty Images
The South African sprinter stars in a new series looking at the relationship and bond between athlete and coach.
Ask many para-athletes about the key to their successes and they will point to the guidance they have from their coaches and mentors. Our new series 'Me and My Coach' looks in to the special relationship and bond between athlete and coach. This month's first story comes from South Africa.
Athletes chase individual glory but visually impaired sprinter Ilse Hayes believes team spirit is the precious commodity that has helped her become a world champion.
The 30-year-old clinched 100m and 200m T13 gold at the 2015 IPC Athletics World Championships and is part of a group of South African para-athletes who train under the guidance of renowned coach Dr Suzanne Ferreira.
"Our group is like a little family, we've really grown together and we are really tight as a group, we share a lot of stuff," said Hayes.
Based at Maties High Performance Unit – part of the University of Stellenbosch in South Africa's Western Cape, Hayes has worked with Ferreira for more than 10 years.
It is a relationship that has stood the test of time, and in a crucial year of track and field that culminates in September's Rio 2016 Paralympic Games, Hayes believes that longevity can only help her in her quest for gold.
"We definitely have tried stuff over the years, so by now we know what works and what doesn't. It's definitely been an advantage to have been with coach for so long and to have all that information – especially going in to a big year like this."
Training alongside Hayes under Ferreira's watchful eye is a world class group of athletes including triple Paralympic champion Fanie van der Merwe (T37) and Paralympic relay gold medallist and 100m bronze medallist Arnu Fourie (T44).
For Ferreira, who has a Phd in Sports Science and combines coaching with university lecturing -specialising in 'Sport for persons with disabilities' - working with athletes who compete in different classes is something she takes in her stride.
"You need to be able to analyse a person; understand a person and how they adapt to different training stimuli, then reflect on whether it worked or not. If not, next time try something different," Ferreira said.
"I think that would be the same for able-bodied athletes too though, because each and every person is unique. We just have the privilege of slightly extra challenges to adapt to, that's the only thing."
It is clear Hayes and Ferreira have a lot of respect for each other; Ferreira believes the character traits that Hayes showed when she first arrived in Stellenbosch still drive her today. Even back then, Ferreira knew that her new charge could go far.
"She was dedicated from the beginning, she knew her goals. I think self-discipline is one of her greatest strengths, and competitiveness. Just knowing that when she one day retires, she gave it her all. That is a tremendous attribute to have," acknowledges Ferreira.
While Hayes' dedication and drive may not have changed much in the last ten years, her coach believes that the world of para-athletics has developed beyond all expectations.
"I don't think we expected the Paralympic Movement to be where it is today if I am honest," she admits.
"When I went to my first Paralympic Games in 2004 it was completely different to today. So to think that Ilse would get the publicity and be known like she is today – no I would not have foreseen that. But that she had the capabilities, the attributes and the ability to be a great athlete, definitely."
Hayes is full of admiration for her coach too.
"Her passion for what she does is something that stands out for me. She goes the extra mile, she puts in more than 100 per cent to make things work and understand things. She has a passion for people and seeing them grow – not just in athletics.
"We spend a lot of time together - sometimes we've been room-mates at competitions - so we know each other really well. She knows when to give me space. I carry my heart on my sleeve and she can see that."
Hayes is aiming for her fourth Paralympic Games this year, having already won five medals – including two golds – since Athens in 2004. It is a similar tale for Ferreira too, who has accompanied the South African team as coach to Athens, then Beijing 2008 and London 2012.
The prospect of another Games brings yet more excitement to Ferreira – although she admits she is less nervous nowadays, trusting the plans she has made and the experience she brings.
"You never get complacent because you work towards a new goal with the athlete and you work towards new things that they want to achieve. I think that expectancy – to see if that will happen – will always create that feeling of excitement."
As for Hayes, she knows that tried and trusted works best for her.
"You get used to the way someone works and the whole group environment comes with the package – I don't think I'd get that somewhere else."
Sport fans from around the world can now buy their Paralympic tickets for Rio 2016 from authorised ticket resellers (ATRs).
The IPC's Global ATR is Jet Set Sports, and Rio 2016 tickets and packages can be purchased on the CoSport website.
Residents of Brazil can buy 2016 Paralympics tickets directly from the Rio 2016 website.
-ends-