Mexico's Jose Estrada focuses on Tokyo, studies
The 21-year-old Para triathlete is taking his results from Rio 2016 as a positive step moving forward.
02 Nov 2016
Imagen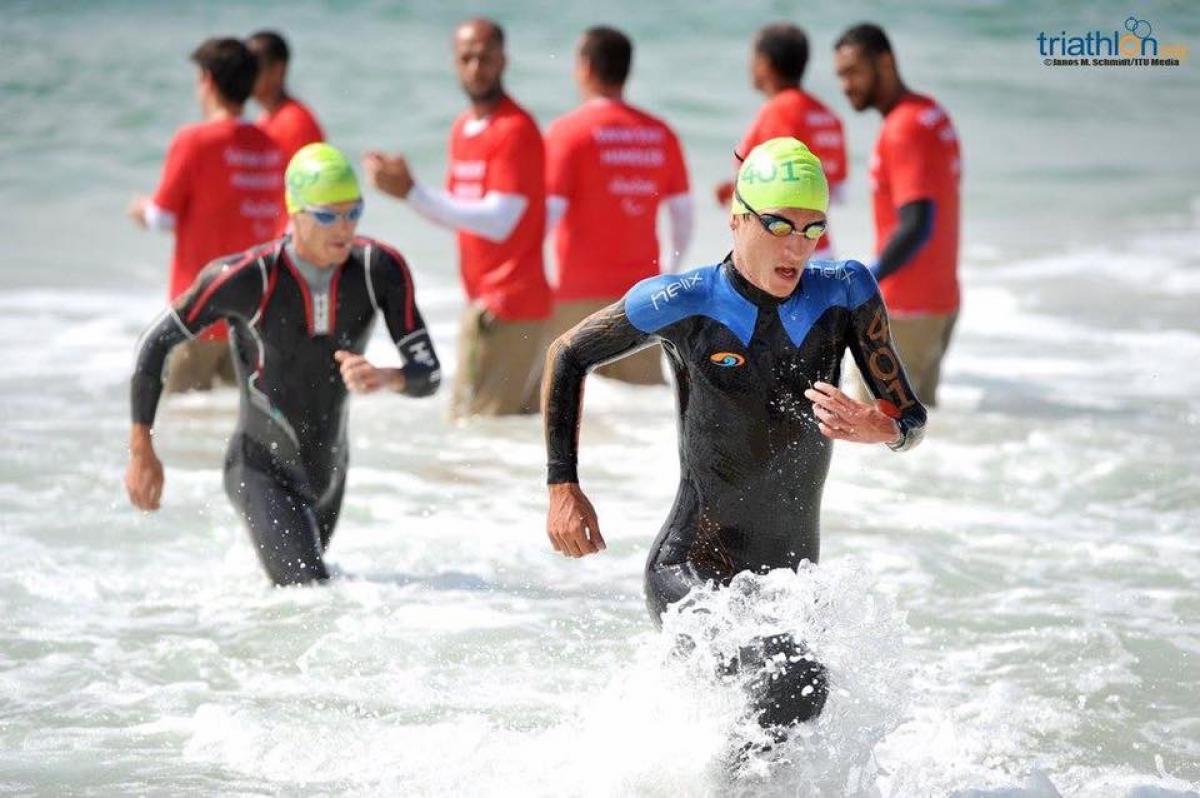 ⒸJose Abraham Estrada Sierra
By Kyle Rinaudo | For the IPC
"You know, I had trained really hard to make myself better, and in the end, well, that's the happy place, right?"
Mexican Para triathlete Jose Abraham Estrada Sierra did not leave the Rio 2016 Paralympic Games with a medal, but he takes his sixth-place finish as a positive start toward Tokyo 2020.
"It was a very exciting experience, because it was our first showing [in the Paralympics]," Estrada said. "Sure, it was expected for us to take home a medal, [but] more just to see how we trained, how we stacked up amongst the competitors."
The 21-year-old was one of three Latin Americans to qualify for Para triathlon in Rio; Brazil was allotted two automatic qualification slots as a host nation.
Estrada started strong coming off the swim in second, but he faded in the bike and run segments for sixth place in the PT4, the most competitive category in the men's events.
"La mente está en Tokyo," he said.
Translation: My focus is on Tokyo.
"My satisfaction would have been to stand on the podium. But, that is something that in the next cycle, I'm going to aim for."
The sport was contested for the first time at a Paralympic Games. That is a source of optimism for Estrada, who hopes Para triathlon's increased visibility will mean more children in Mexico will try the sport, like he did.
"There are plenty of athletes who have aims of participating and excelling. Thanks to God, I have had the opportunity of doing that," he said. "Without a doubt, with the next year, the next cycle, I think that this sport is going to grow, and if so, we're going to do a lot more."
Not a footballer
Despite trying other adaptive sports, Estrada admits that playing team sports with his friends never succeeded in fulfilling his competitive desire.
"In Mexico, when you're kids, you're taught to play football, basketball, and those types of sports in teams. But I liked the individual sports more. So I was looking for that, and I went to triathlon," Estrada said.
That was just three years ago, when Estrada was only 18 years old. It was around this time that Abraham's training team gave him his friendly nickname, "Oso," meaning "Bear" in Spanish. But he admitted that "Oso" is actually short for "Esponjoso," meaning "fluffy," because when he began full-time training, he said he was "un poquito gordito," meaning "a little chubby."
But the sport has slimmed him into an athlete.
His first International Triathlon Union (ITU) competition was the 2014 Dallas PATCO Triathlon Pan American Championships, where he finished third. He won the national title in 2014 and was second in the 2016 American Championships, showing that he is one of the best in the region. On the ITU World Para Triathlon Event circuit, his best finish was second in Yokohama, Japan, earlier this year before Rio 2016.
"After the second place finish in Yokohama, I felt very sure that I would be able to have a good showing in Rio," Estrada said. "I felt strong, and excited with the gains from my training and improving that much. All that I wanted more was to repeat climbing that podium, in Rio."
Balancing training and studies
Estrada is fixed firmly on future competitions — and his medical career.
"It's a little tough, but it can be done," said the Guadalajara native.
Estrada trains for six hours every afternoon from 2 pm to 7 pm. The mornings are devoted to his studies; he is a medical student at the University of Guadalajara.
He knows he did his best at Rio and in the end, that is all he can ask for.
"I was hopeful for my first time competing [in Rio]," he said. "I felt excited to participate for the first time and to develop myself, to go in the name of my country, in the name of my team and my family. And I was happy to have met the other competitors, who were well known to me.
"You know, I had trained really hard to make myself better, and in the end, well, that's the happy place, right?"