Mitchell smashes two world records at US trials
The 35-year-old was diagnosed with leukaemia in April but was in outstanding form in Charlotte.
03 Jul 2016
Imagen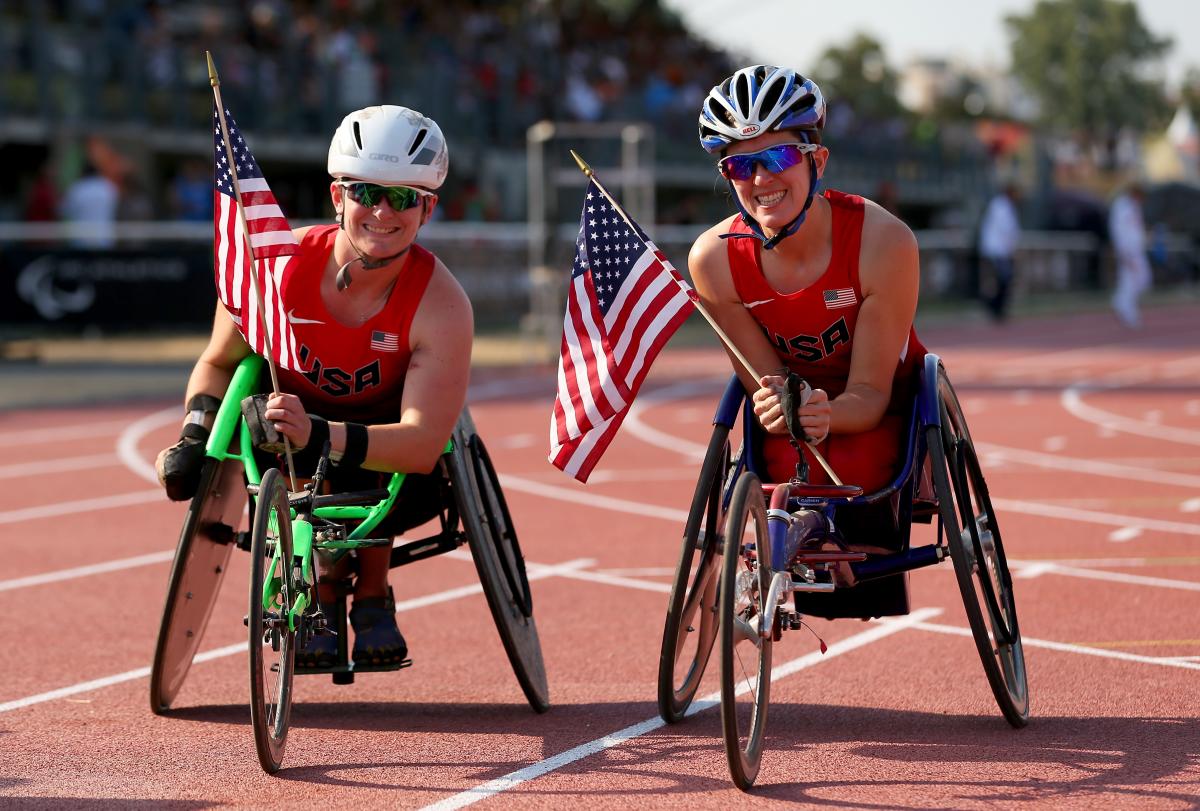 ⒸGetty Images
By US Paralympics
On the third and final day of competition at the US Paralympic Team Trials – Track & Field – in Charlotte on Saturday (2 July), T51 wheelchair racer Cassie Mitchell set her second world record* in as many days.
The 35-year-old two-time Paralympian (1:36.44) shaved 11 seconds off the 400m T51 world record set in 1982 to follow-up on the 100m mark of (24.69) she had set on Friday (1 July).
"This was my first track race at Trials and it was an amazing feeling," said Mitchell after she had shaved 1.8 seconds off her previous 100m world record. "I had to overcome a lot this year and that makes it more special. I was diagnosed with leukaemia in April [2016] so to even be here competing with chemotherapy and everything else that is going on makes it really meaningful.
"I'm just honoured to have a chance to make the team, go to Rio and represent USA and everyone fighting with any kind of disability, cancer or whatever the obstacles may be. I want to be able to show that if you keep working hard and have faith, you can overcome. I think it's an important message no matter what the result is."
Two other world records* were set on Friday and Saturday.
Mikey Brannigan ran 3:50.05 in a solo effort for the men's 1500m T20/37/45/46 to go under his world record mark set in April whilst Daniel Rizzieri leapt 5.99m to add 13cm to his own long jump T43 world record set in 2013.
In the hotly anticipated men's 100m T44, Jarryd Wallace sent out a warning shot to his Rio 2016 rivals by posting the fastest time of the year.
After a fast start, Wallace posted 10.71 seconds, the same time as he ran last August to win Parapan American Games gold and one-tenth of a second outside the world record, to cement his position as favourite for Paralympic gold this September.
"The world record is that goal that's always there in every race, but it's not something you can focus on," said Wallace whose race of one of a number of events screened live on NBC. "It just happens. If you execute the right race at the right time, the time will be there. With how I'm running at practice and how I'm putting things together, it's in the tank. It's there, but everything hasn't come together perfectly in a race yet."
Tatyana McFadden, who already qualified for the US team in the marathon, finished the trials undefeated securing wins in the100m T54 (16.09), 400m T34/51/52/54 (54.4) and 1,500m T53/54 (3:34.84).
David Brown (11.16) cruised to his second victory of the Trials with guide Jerome Avery in the men's 100m T11. The world record holder also won the 200m on Thursday (30 June) night.
Friday was a busy day for Roderick Townsend who won all three events he competed in. In the morning session, he took the top honours in the long jump T42/43/44/45 with a leap of 7.08m. He then transferred his talents to the track, winning the 100m T45/46/47 in 11.22 to open the afternoon session before closing the night with gold in his signature event, the high jump T42/44/45/46/47. His final clearance was 2.06m, before attempting 2.13m, one centimetre above his T46 world record.
"Things are really coming together greatly," Townsend said. "I know what I need to do and when it feels wrong or right. I'm just excited to be in this position. Hitting 2.13m would have been great but it's there and I feel like I have even more potential than that. It's great to be where I am at this point in the season."
In the women's discus F38/40/41/43, Natalie Bieule was in fine form with a winning throw of 29.49m in her first event of the Trials.
Lex Gillette gave the crowd a show in his home state, winning the men's long jump T11/12 on his final attempt with a leap of 6.42m. The community support was on full display for the three-time Paralympic medallist who had family and friends travel from his hometown of Raleigh, North Carolina.
"It was really special being in Charlotte, two hours from where I'm from in Raleigh," Gillette said. "I had so many special people in that crowd like my family, my coach who first introduced me to Paralympic sport and one of my friends who worked out with me in college…It was really amazing to go out there, jump and hear them screaming. They really deserve all the credit for the things I'm doing now."
In the men's discus F11/37/43/44, David Blair continued to impress with a win over second place Jeremy Campbell and third place Max Rohn. The world record holder threw 61.82m at his first US Paralympic Trials.
Ray Martin ran 3:38.75 in the men's 1,500m T52, edging out Steven Toyoji. Earlier in the evening session, Martin also took top honours in the 400m T51/52 with a time of 57.62.
The 2016 U.S. Paralympic Track & Field Team will be officially named in a public announcement taking place on Sunday, July 3 at 11:00 at Romare Bearden Park. The celebration is free and open to the public.
For complete results from the 2016 U.S. Paralympic Team Trials – Track & Field, visit USParalympics.org/2016TeamTrials.
* All world records yet to be ratified by IPC Athletics.
The 2016 U.S. Paralympic Team Trials – Swimming and Track & Field are being held in Charlotte, North Carolina, June 30 – July 2, and are hosted by Partners for Parks. Thanks to support from The Coca-Cola Company, BP, and Deloitte, the multi-sport Trials feature more than 400 athletes who are competing for a chance to qualify for the Rio 2016 Paralympic Games. All events are free and open to the public. For more information, visit USParalympics.org/2016TeamTrials.