Mohammed Khamis Khalaf the king again
Powerlifting veteran reigns supreme at Eger World Cup
28 Apr 2019
Imagen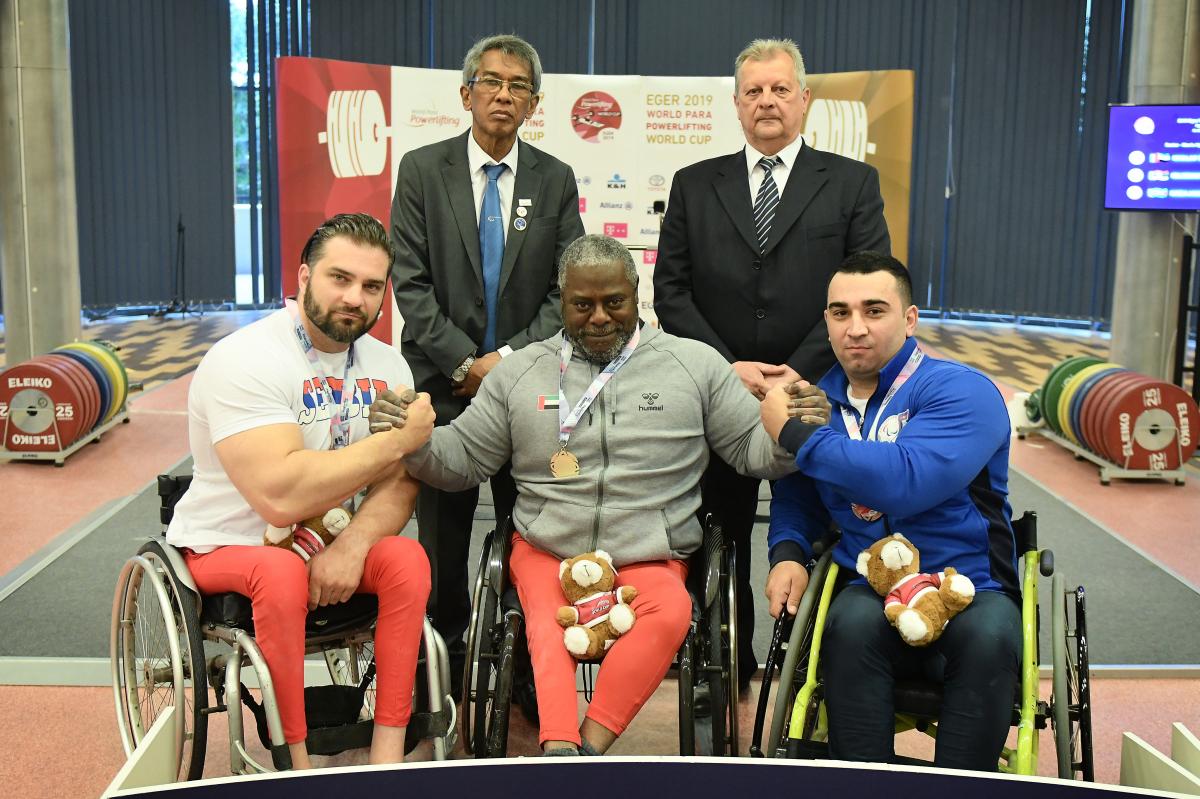 ⒸEger 2019
By Amp Media | For World Para Powerlifting
Mohammed Khamis Khalaf may have just turned 50, but the United Arab Emirates supremo is still at the very top of his game. Victory on the third day of the World Para Powerlifting World Cup in Eger, Hungary, never looked in doubt.
Khalaf pressed 220kg – the same weight that had got him gold at February's Fazza World Cup in Dubai – and nobody in the men's up to 97kg field could top him.
Khalaf already has two gold medals and one silver medal at Paralympic Games, and he lifted more weight today than when winning gold back at Athens 2004, aged 35.
He looks in the right kind of condition to go and defend the title he won at the Rio 2016 Games. Petar Milenkovic of Serbia took silver with 210kg, while Azerbaijan's Nurlan Babajanov scooped bronze with 195kg.
In the women's up to 73kg, it was a junior that perhaps caught the eye most. Britney Arendse of Ireland is just 19 years old, and began the sport in 2016, following an accident that left her paraplegic in 2009.
Arendse set the junior world record in the weight class last year (98.5kg) – and smashed it again in Eger, with her first competitive 100kg lift.
It was enough to gain a junior gold medal, a senior bronze medal, and great admiration from the fans, who will be looking out for her as the World Championships approach.
Nadezhda Sycheva of Russia took gold, with a fine lift of 111kg. Sanae Soubane of Morocco got the silver (108kg).
Poles thrive in Hungary
The men's up to 80kg was secured easily by Alexander Belov, The Russian progressed through three good lifts, finishing up with a successful 187kg raise for gold.
Piotr Szymeczek of Poland snuck the silver: he lifted 175kg, the same weight as his teammate Tomasz Kociubinski, but got the medal thanks to being slightly lighter. Kociubinski had to settle for bronze.
It was a fine result for 44-year-old Szymeczek – perhaps his best since becoming European Open champion in 2013.
Wawrzyniec Latus of Poland struck gold in the men's up to 88kg. He managed an excellent lift of 197kg – the joint third-highest effort of the season so far. Stefan Rosca of Moldova got silver, with a push of 180kg, and Tomasz Majewski of Poland secured bronze, with 172kg.
The action in Eger concludes on Sunday with the men's up to 107kg and over 107kg, and the women's up to 79kg, up to 86kg and over 86kg.
Live results are available on World Para Powerlifting's website.