Montreal 2013 - Day four preview
Canada's Benoit Huot leads the field into the men's 200m individual medley SM10 finals.
15 Aug 2013
Imagen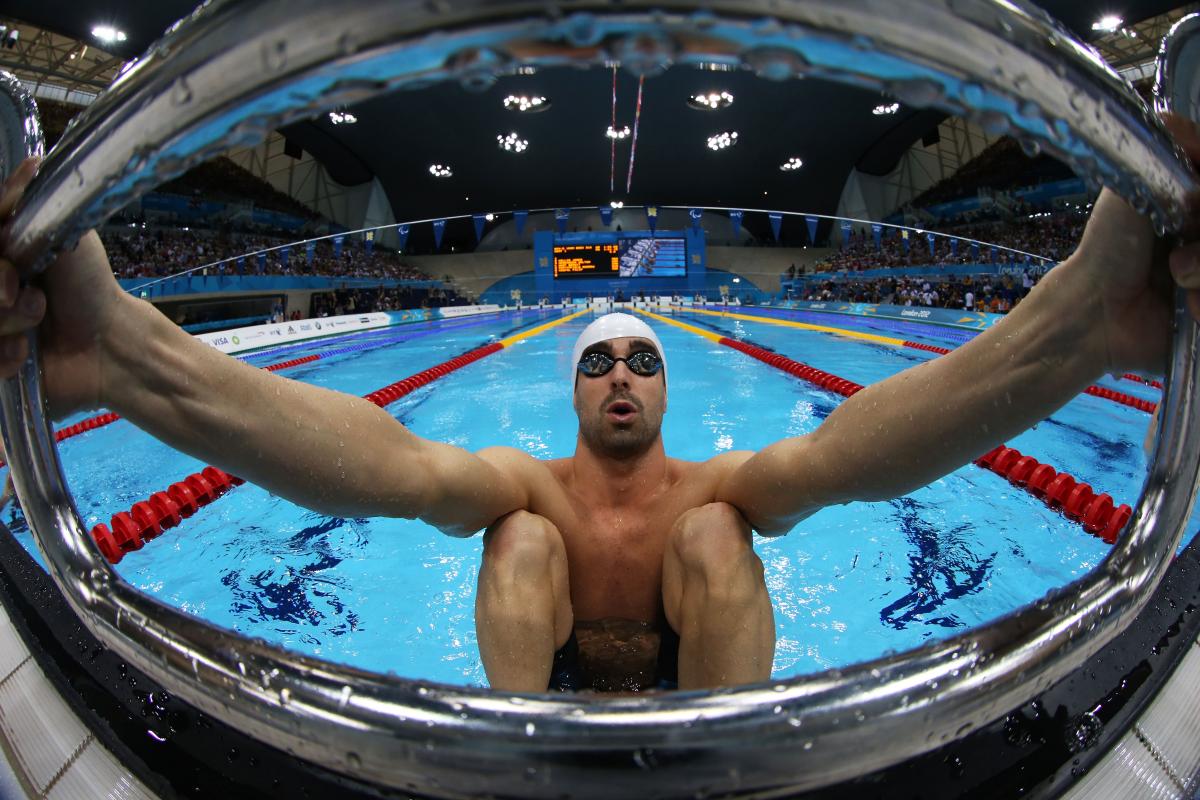 ⒸGetty Images
Canada's Benoit Huot leads the field into the men's 200m individual medley SM10 finals, after qualifying fastest in the heats on day 4 of the 2013 IPC Swimming World Championships (2:16.09).
The world and Paralympic champion, a native of Montreal, heads up a strong line-up including closest rival Brazilian Andre Brasil who qualified third and Belgium's Sven Descaesstecker in second fastest, for what will be one of the races of the championships. London 2012 bronze medallist Australia's Rick Pendleton will join the battle.
Huot's team mate Aurelie Rivard also qualified fastest in her 200m individual medley SM10 heat (2:37.04) in her quest to add to the gold and silver she has already won in Montreal, ahead of Nina Ryabova of Russia and Aussie Katherine Downey who are looking for their first medals.
Canada's chances of a productive evening in the pool continued with Valerie Grand'Maison in the 50m freestyle S13 heat. Buoyed by her gold medal from yesterday in the 100m butterfly S13, Grand'Maison qualifies behind Russian Anna Krivshina (28.55 seconds) and could pick up another gold, particularly in the absence of Paralympic champion Kelly Becherer.
Team Great Britain have already racked up 30 medals to register second on the medals table, and Claire Cashmore (1:23.39) leads Ireland's Ellen Keane and Russia's Paralympic and world champion Olesya Vladykina into the finals of the women's 100m breaststroke SB8. Cashmore won silver at London 2012, whilst Poland's bronze medallist Paulina Wozniak qualifies in seventh.
Great Britain's Hannah Russell just missed out on a medal at London 2012 in the women's 50m freestyle S12, but qualifies fastest (28.36 seconds) in the water in the Montreal after winning two silver medals already this week. Russian Darya Stukalova is the only medallist in this event from London to compete in Montreal and qualifies second fastest, ahead of German Naomi Maike Schnittger.
Qualifying fastest in the men's 200m individual medley SM6, is world champion Sascha Kindred (2:46.54). He will face China's Paralympic champion Qing Xu who qualified behind Brazilian Talisson Glock and Ukrainian Iaroslav Semenenko.
Paralympic Champion Eleanor Simmonds meanwhile qualifies fastest in the women's 200m individual medley (3:07.28) after Brazilian Susana Ribeiro was disqualified. She leads Germany's Verena Schott and Vianney Trejo Delgadillo of Mexico.
World champion Daniel Dias of Brazil is hoping to retain his 200m individual medley SM5 title with a fastest qualifying time (3:00.16), but 16 year-old Andrew Mullen might have other ideas. The Brit qualifies second fastest and has already won bronze in the 50m butterfly so could be in line for a medal of another colour in tonight's final. Columbia's Fuentes Garcia Moises in third will be hoping to build on the success of his team mates.
Norway's Sarah Louise Rung has already won gold in all three of her events at the world champs and heads into the 200m individual medley SM5 quickest (3:27.13) after picking up silver at London 2012 in the same event. Belarusian Natalia Shavel has already collected two bronze this week, but qualifies in second fastest with Ukrainian Natalia Shestopal completing the top three.
London 2012 silver medallist in the men's 50m freestyle S13 did not start this event in the heats, leaving South African Paralympic champion Charles Bouwer (24.13 seconds) to just qualify fastest ahead of Ukraine's Iaroslav Denysenko, with current world record holder and bronze medallist from 2012 fellow Ukrainian Oleksii Fedyna in third.
19 year-old Mexican Gustavo Martinez Sanchez could win the triple gold for his country and the first world title for himself at Montreal after qualifying fastest in the 100m freestyle S4 (1:29.54). At the last world championships at Eindhoven in 2010, Sanchez Martinez finished third, with Frenchman David Smetanine becoming world champion. Smetanine qualifies for tonight's final, but only behind Ukrainian Eskender Mustafaiev, Slovenia's Darko Duric and Michael Schoenmaker of the Netherlands.
The Netherland's Lisette Teunissen, Italian Trimi Arjola, Mexican Nely Miranda Herrera and Jennie Ekstrom of Sweden have been exchanging places all week in the women's S4 events. For the 100m freestyle S4, Herrera is the reigning world champion with Ekstrom collecting bronze last time out in Eindhoven. World record holder Tuenissen qualifies fastest for the final (48.91 seconds), leading out Arjola, Herrera and Ekstrom.
The 2013 IPC Swimming World Championships run from 12-18 August and feature around 500 of the world's best athletes from nearly 60 countries - the biggest gathering of swimmers since London 2012. Follow @IPCSwimming on Twitter or like us at Facebook.com/IPCSwimming for behind the scenes pictures, updates on results and world records, or visit the 2013 IPC Swimming World Championships live results page.