Morris, Bondar set world best times in Poznan
Rachel Morris set the standard when she claimed a new world best time in the women's single sculls at the World Rowing Cup in Poznan.
20 Jun 2016
Imagen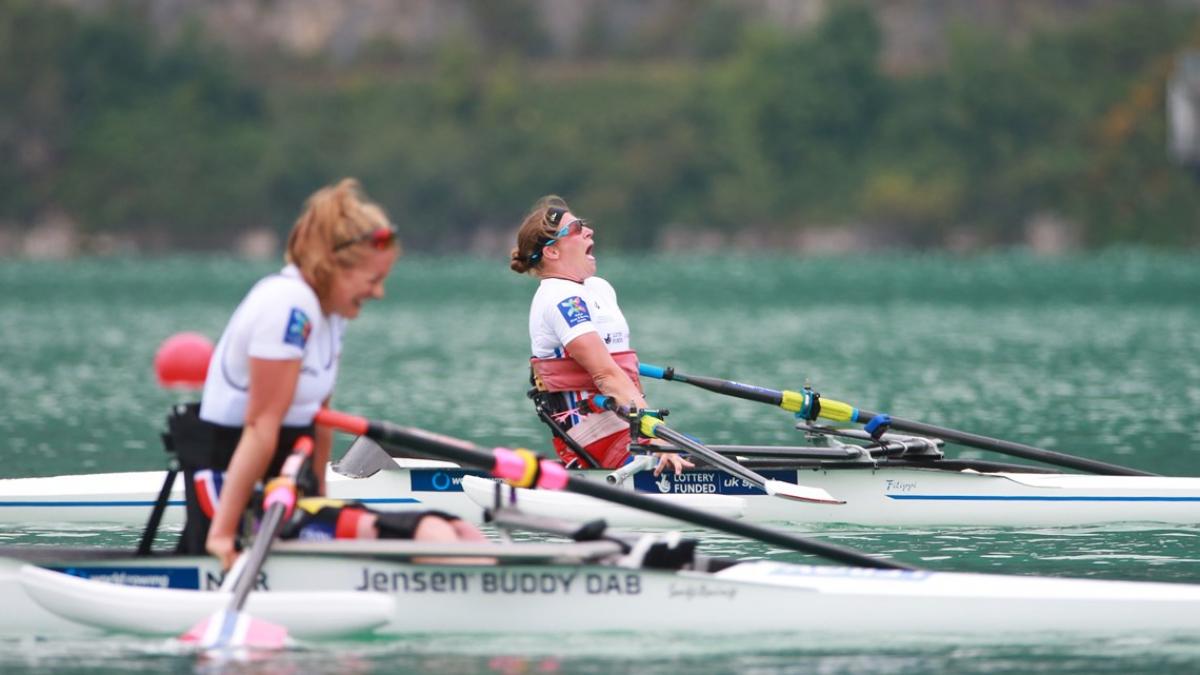 ⒸFISA Igor Meijer
By World Rowing and IPC
Great Britain's Rachel Morris set a new world best time on her way to gold in the AS women's single sculls (ASW1x) at the 2016 World Rowing Cup III, which concluded on Saturday (18 June) in Poznan, Poland.
The final was an exciting race between Morris, Norway's Birgit Skarstein and Israel's world champion Moran Samuel. Skarstein held a two-second lead by the 500m point, with Morris and Samuel neck-in-neck. But Samuel dropped her stroke rate and began to slip back. Morris then took on Skarstein and not only caught up to her but was matched her stroke for stroke. The Brit went on to win with a world best time of 5:09.280 by six seconds. Skarstein (5:10.570) came in second, followed by Samuel at 5:18.300.
"I wasn't really aware of where I was, so there was only one option – just go for it. It was the first time I really felt like a rower," Morris said.
Samuel added: "I felt good during the first 500m, but then something technical changed in my boat, so it was harder for me to pull. But it was a good test here, to test the equipment as well. I could have done better, but I am very happy to see the competition in the boat class. I have great competition. With Rio around the corner, everybody is training and this is very motivating for me to do better."
Men's Single Sculls (ASW1x)
Ukraine's Igor Bondar had a strong start with a 64 stroke rate and held on for the gold medal, also in world-best-time fashion. Bondar seemed to be racing against his compatriot Roman Polianskyi. The two went through the middle of the race close together with Australia's world champion and world best time holder Erik Horrie also on the pace. The Ukrainians separated themselves from Horrie, with Bondar and Polianskyi breaking the former world best time. Bondar remained in front to take the gold medal in 4:34.710. Polianskyi (4:35.610) was in second, and Horrie (4:39.510) managed third.
"It was a very close race, so I had to give it my everything. I was completely destroyed at the finish line," Bondar said.
Horrie said: "I am really happy with this result because the Ukrainians raced really well. The Games is what everyone really wants."
Mixed Double Sculls (TAMix2x)
France's Perle Bouge and Stephane Tardieu won the finals in 3:57.140, overcoming Australia's reigning world champions Gavin Bellis and Kathryn Ross, who came in second in 3:57.770. The Netherlands' Esther Van Der Loos and Marinus De Koning took the bronze in 3:58.650. Margins remained tight and just two and a half lengths separated the field coming into the 750m mark. Australia tried to hold on, but with just a half second lead, the French won.
Mixed Coxed Four (LTAMix4+)
Canada's crew of Victoria Nolan, Meghan Montgomery, Andrew Todd, Curtis Halladay and Kristen Kit took home the top prize in 3:22.810, followed by South Africa's Shannon Murray, Lucy Perold, Dylan Trollope, Dieter Rosslee and Willie Morgan (3:26.580). Ukraine rounded off the podium in 3:27.880 with the crew of Olexandra Yankova, Iryna Yarynka, Olexandr Bilonozhko, Maksym Zhuk and Volodymyr Kozlov.
Reigning world champions Great Britain withdrew at the last minute due to illness.
Complete results from the World Rowing Cup in Poznan can be found on World Rowing's website.