Multi-medallists shine at IPC Swimming Euros
A series of top swimmers all win their third or fourth Euros golds from the pool in Eindhoven, the Netherlands.
09 Aug 2014
Imagen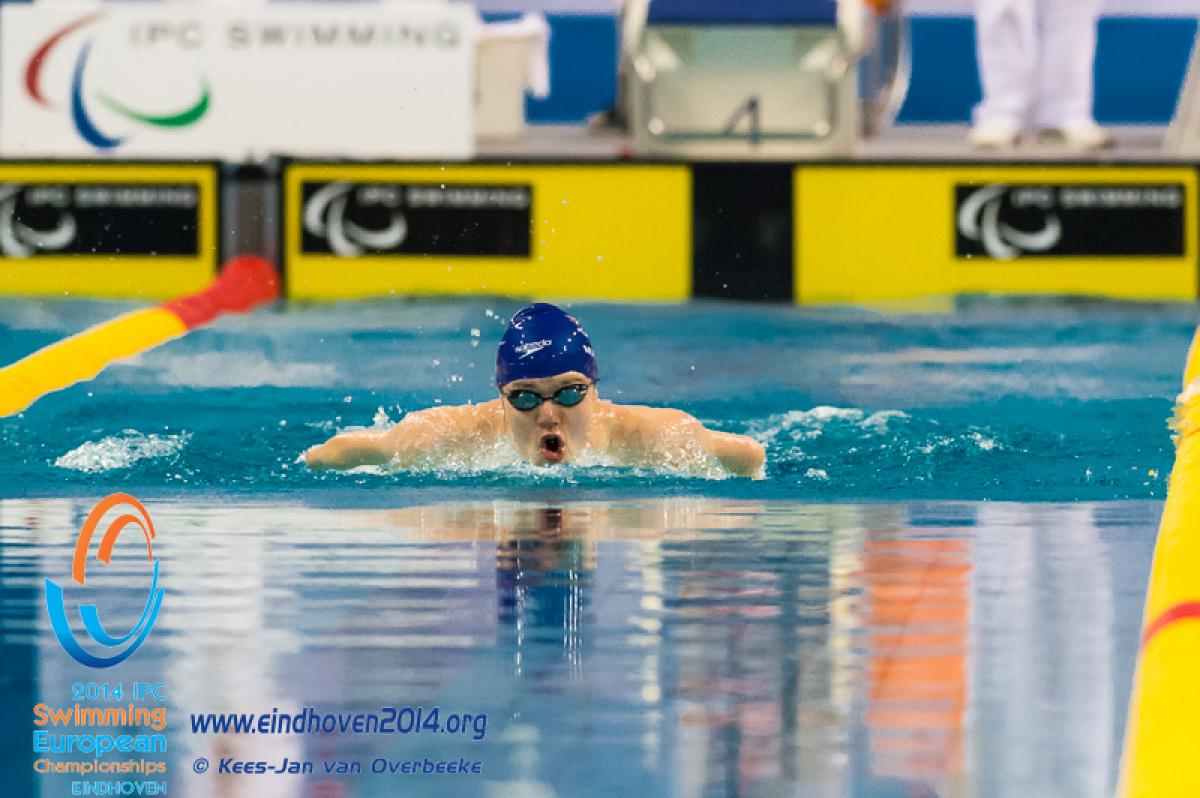 ⒸKees-Jan van Overbeeke
By IPC
A series of swimmers have headlined Friday (8 August) at the 2014 IPC Swimming European Championships in Eindhoven, the Netherlands, by taking their medal totals for the week to three or more.
Italy's 20-year-old sensation Federico Morlacchi (2:17.82) stormed to his fourth gold in as many days in the men's 200m individual medley SM9. He led the Hungarian duo of Tamas Sors and Tamas Toth who jointly take the silver after a dead heat of 2:20.73.
Ukrainian 12-time world champion Dmytro Vynohradets (49.19) won his fourth gold of the competition in the men's 50m backstroke S3. He eased to victory over Spain's Miguel Martinez (52.45) and Sweden's Mikael Frederiksson (1:00.04).
Vynohradets teammate Yevheniy Bohodayko (1:02.37) sealed his own trio of golds in the men's 100m freestyle S7. Great Britain's Matthew Walker (1:03.33) was under a second behind for silver, leading Russian Andrey Gladkov (1:04.19).
A trio of British swimmers took their medal tally to three.
Andrew Mullen (2:46.27), 17, got proceedings underway after a sensational fight-back against Spain's Sebastian Rodriguez (2:47.61) in the men's 200m freestyle S5. Mullen trailed the Spaniard until overtaking him in the final 50m for his third gold.
"This morning [in the heats] I was just cruising to get a good lane," Mullen said. "I knew I had a bit more in me tonight, but not that much. I think I can get faster so I'm just going to go home and continue to work hard with my coach."
James Scully picked up Ireland's second medal of these Euros in bronze (2:53.13).
Susannah Rodgers (1:12.06) followed shortly behind Mullen. The women's 100m freestyle S7 saw her lead Germany's Denise Grahl 1:15.36) from the gun. Oxana Guseva (1:17.13) added another bronze to Russia's tally.
"That was a great race, a PB, so I'm really happy," Rodgers said afterwards.
In the men's 100m freestyle S6, Sascha Kindred (1:09.83) resisted a late surge from German Sebastian Iwanow (1:10.16) to collect his third top spot this week.
"I'm over the moon," 36-year-old Kindred said. "I changed my freestyle stroke in London and it's all coming together now."
Greek Georgios Sfaltos finished in bronze (1:13.68).
Amy Marren (2:35.10) won her first gold medal of the meet in the women's 200m individual medley SM9 to round off the British medals, alongside teammate Stephanie Millward (2:38.08) in silver. Spain's Sarai Gascon (2:38.18) completed the podium.
Ukrainian swimmers were also in gold medal-winning form in the Pieter van den Hoogenband Swimming Stadium.
Great Britain's Eleanor Simmonds (1:14.49) was beaten by Yelvzaveta Mereshko (1:13.80) for the second time in Eindhoven in the women's 100m freestyle S6.
"I hate losing," Simmonds said. "But it's great to have competition. It's great for the sport and my classification and helps me move my times on even more."
It took a European record for the Ukrainian to topple the double world champion and is only the latest chapter in a mouth-watering new rivalry. Mereshko's teammate Olena Fedota (1:21.68) took bronze.
Bohodayko's teammate Serhii Palamarchuk (1:00.83) swam to his second gold of the week in the men's 50m backstroke S2. He beat Russia's triple 2014 European champion Dmitrii Kokarev (1:01.80) to the wall. Greece's Aristeidis Makrodimitris (1:01.83) collected bronze.
Ganna Ielisavetska (1:04.38) lead Russia's Alexandra Agofanova (1:07.49) and teammate Iryna Sotska (1:07.78) onto the women's 50m backstroke S2 podium.
Denis Dubrov (2:15.05) came back against Russian Dmitry Grigorev (2:15.60) in the men's 200m individual medley SM10. Dmytro Vanzenko (2:15.94) also medalled for the Ukrainians.
Ukraine also won the men's 4x50m relay 20 points races.
The team (2:43.16), including Vynohradets, finished ahead of Spain (2:46.86) and Russia (2:50.40).
To the absolute delight of the home crowd, 19-year-old Simon Boer (1:20.33) won his first ever European title for the Netherland's in the men's 100m breaststroke SB7.
"I am very happy to be a European champion" Boer said.
Boer's last 100m was almost five seconds faster than second placed Ukrainian Bohdan Hrynenko (1:23.27). Sascha Kindred (1:27.28) concluded his busy day at the office with a bronze.
Russian swimmers added five golds onto their medal tally.
Ulyana Kuznetsova (1:29.54) set a new European record to claim women's 100m breaststroke SB7 gold. Taking just under three seconds off the previous mark, Kuznetsova beat Ukraine's Oksana Khrul (1:35.96) and the Netherlands' Lisa den Braber (1:36.17).
Five-time world champion Darya Stukalova (1:05.13) won her first women's 100m butterfly S12 European title ahead of Great Britain's Hannah Russell (1:09.91). Spain's Maria Delgado (1:11.13) was third.
Fresh from bringing down the women's 200m freestyle S14 world record in the heats, Stukalova's teammate Valeriia Shabalina converted her performance into gold. Brit Jessica-Jane Applegate (2:08.36) picks up her second medal of the meet in silver whilst her compatriot Chloe Davies (2:12.36) joins her on the podium.
Roman Makarov (57.58) won his first European title this week in the men's 100m butterfly S12. Azerbaijani sensation Dzmitry Salei (57.97) just lost out on gold and Ukrainian Anton Stabrovskyy (59.44) won bronze.
Nina Ryabova (2:34.40) stamped her authority on the women's 200m individual medley SM10. Poland's young sensation Oliwia Jablonska (2:36.42) came back from a poor breaststroke leg to take silver as Great Britain's Eleni Papadopoulos (2:36.89) fought back from fifth to take bronze.
The 2014 IPC Swimming European Championships continue until 10 August and feature around 380 of the world's best swimmers from 37 countries.
Tickets are still available at www.eindhoven2014.com as well as live results.
Live updates will be posted to IPC Swimming's Facebook and Twitter accounts or search #Eindhoven2014.