Muslu smashes world record to open Powerlifting Euros
Turkey's Nazimye Muslu showed why she's atop the class on the first day of the 2013 IPC Powerlifting Open European Championships.
23 May 2013
Imagen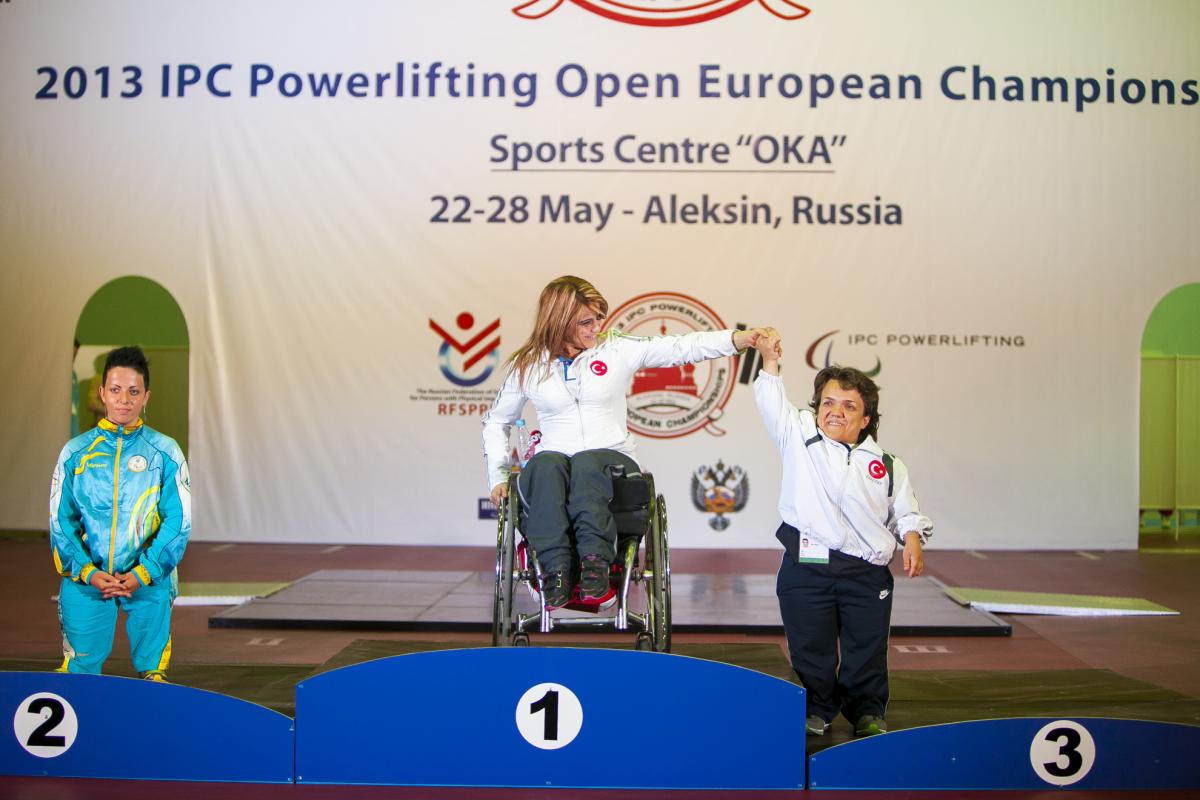 ⒸIPC
By IPC
"After that performance, I'm not afraid of any of the other powerlifters, but rather they should be afraid of me."
The 2013 IPC Powerlifting Open European Championships took centre stage in Aleksin, Russia on Wednesday (22 May), with Turkey's Nazmiye Muslu smashing a women's -41kg world record and Russia's Vladimir Balynetc setting a new European-best mark in the men's -49kg category.
Muslu and Balynetc are just two of the nearly 140 athletes from 25 different countries competing at the event, which is the first IPC Powerlifting European Championships in six years.
IPC Chief Executive Officer Xavier Gonzalez spoke at the Opening Ceremony of the Championships on Wednesday, highlighting the importance of the event in building the future of IPC Powerlifting.
Gonzalez said: "Since London, IPC Powerlifting's aim has been to build a structured and well-populated competition calendar so that the world's best athletes can compete against each other on a regular basis.
"I'm delighted to say that this is the first European Championships since 2007, and our plan now is to stage this event every two years."
Turkish Paralympic champion Muslu was the star of the competition's first day, setting a new world-record lift of 100kg in the women's -41 category on her second attempt.
With the lift, she actually broke the world-record mark of 90kg that she set earlier in the day on her first attempt.
"I certainly didn't have any problems today and the result was very good for me," Muslu said.
"After that performance, I'm not afraid of any of the other powerlifters, but rather they should be afraid of me."
Muslu, recently named to IPC Powerlifting's Ones to Watch list for this season, won gold last year at the London Paralympics in the -40kg category and is expected to be the one to beat in the new -41kg class on the road to Rio 2016.
Ukraine's Maryna Kopiika secured the silver behind Muslu by lifting 78kg on her second of three attempts, while another Turkish athlete, Ebru Basar, won bronze with a lift of 76kg.
The men's competition opened up with the -49kg weight category, in which Balynetc claimed gold with a European record-lift of 160kg.
The London 2012 silver medallist became an early fan favourite for the host nation in Aleksin, though he fell just short of breaking the world-record lift of 162kg, set by Egypt's Abdelmagid Taha earlier this year when he attempted to raise 163kg on his final attempt.
Ukraine's Anatolii Mykoliuk took silver in the event with a lift of143kg, and France's Patrick Ardon lifted 142kg to finish with the bronze.
Poland's Justyna Kozdryk, meanwhile, set a new European record to win gold in the women's -45kg category with a lift of 93 kg.
Ukraine's Rayisa Toporkova won silver in the event with a lift of 92kg and Russia's Larisa Berieva claimed bronze with a lift of 79kg.
Competition will resume on Thursday (23 May) with the men's -54kg and -59kg events, as well as the women's -59kg category.
The Championships include IPC Powerlifting's new weight categories, which took effect on 1 January, changing the structure of weight classes. This followed an extensive review of all bodyweight category trends across major competitions.
For more information on the 2013 IPC Powerlifting Open European Championships, please visit the event website at www.Paralympic.org/aleksin-2013.
All action from the event is being streamed live on the IPC's YouTube channel, www.YouTube.com/ParalympicSportTV.
You can also follow the action on Twitter at @IPCPowerlifting and on Facebook at www.Facebook.com/IPCPowerlifting.