My best and worst moments: Great Britain's Hannah Cockroft
The T34 wheelchair racer talks about her career highs and lows as she prepares to defend her Paralympic titles at Rio 2016.
03 Feb 2016
Imagen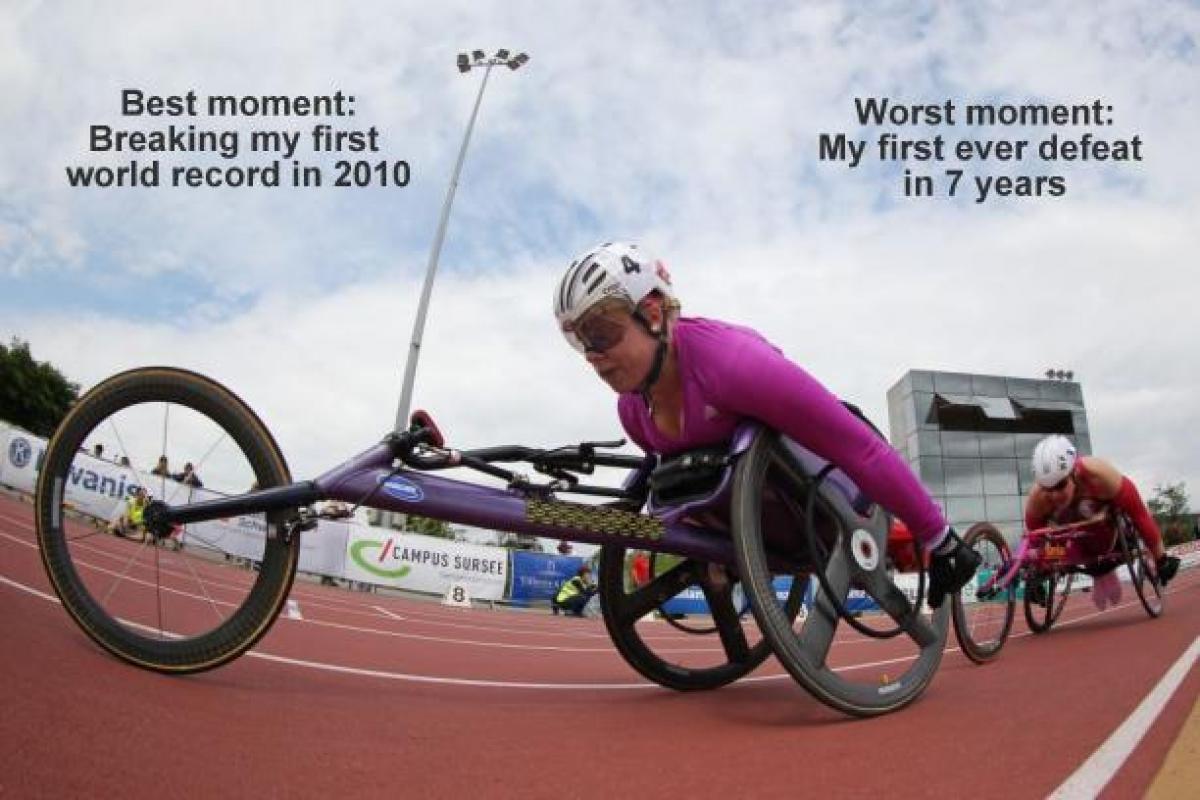 ⒸGetty Images
By IPC
Great Britain's Hannah Cockroft dominated the track once again at the 2015 IPC Athletics World Championships, winning a hat-trick of gold medals in the 100m, 400m and 800m T34 events.
In the first of our weekly 'Best & Worst Moments' series, Cockroft reveals how her first defeat in seven years inspired her to work even harder as she prepares to go for gold once more at September's Rio 2016 Paralympic Games.
My Best Moment
Aside from the obvious one of winning at London 2012, my best memory is when I broke my first world record. It was back in 2010 in Knowsley (Great Britain). I was pushing well, it was my first ever race on my new carbon wheels and it was a lovely sunny day!
I had already raced the 100m and 200m and next up was the 400m, my favourite race. Afterwards, so many people were coming up to me and congratulating me and I had no idea why. It wasn't until a couple of hours later, my coach Peter Eriksson came and showed me his phone, with the old world record time on it. I didn't even know what they were as I never even thought of trying to beat them!
That evening, David Weir bought me a bouquet of roses to congratulate me and Jenny Archer, his coach, presented me with a 'Team Weir Archer' T-shirt, and of course, coach treated me to some good food! It was all made so special by people that I really looked up to and they made it feel like the biggest achievement in the world.
My Worst Moment
This one might be obvious. My first ever defeat, not that long ago! It was going to be a tough day of racing, as I had driven 320 miles the previous day, with two other athletes and a load of equipment in my car. I had also had to handle driving in central London, something I usually avoid at all costs, but with my chair, I had no other option.
After a late tea and a rather restless night in a cheap hotel, I was tired and entirely unmotivated for the races that were to come. I was still in heavy training, so I knew nothing special was going to happen. But it was a fast track and the conditions were all but perfect.
The 100m went without a hitch, the exact result I had expected. The 400m was next - the gun went and I got a fantastic start. But 100m in, it was as though I switched onto autopilot. Where I train the track is quite spongey and slow, so a good speed to hold in the second hundred is around 13mph. So I watched my speedometer, sat at 13mph, saw Sammi Kinghorn T53 go past as expected and then saw Kare Adenegan go past. Not expected. But by the time it had happened Kare was too far ahead for me to pull back, no matter how hard I pushed. It was a complete shock, my first defeat in over seven years.
The worst of it was that no one noticed. Not my head coach, not the other girls in the race. The status that I had been so proud of had just been taken away and no one had a clue! I cried, I was gutted, but I felt so lucky to have Sammi there, as she and her coach quickly got me behind the scenes with my manager. I knew exactly where I had gone wrong, and there was only myself to blame. I was so angry for being complacent and over-confident. I was eventually talked in to finishing the day's races. The 800m is my least favoured event, so not one I ever look forward to - I would have quite happily walked away and left it at that, but if you learn anything in such moments, it is that to be a champion, you have to come back when you have been knocked down.
With hindsight, it was the best thing that could ever have happened. It really shook me up and I worked my butt off for the remaining weeks, making sure I was the fittest I possibly could be heading to Doha. It made the victories there all the more special to me, as I wasn't guaranteed to win for the first time in my career. It made me realise that I have a fantastic support team, including family and friends, around me. It also made me realise that the rest of the world is catching up - the T34 class is quickly moving forward. On the day, it was the worst feeling, but now I know it was the best wake-up call to get, as I never want that feeling again.
Sport fans from around the world can now buy their Paralympic tickets for Rio 2016 from authorised ticket resellers (ATRs).
The IPC's Global ATR is Jet Set Sports, and Rio 2016 tickets and packages can be purchased on the CoSport website.
Residents of Brazil can buy 2016 Paralympics tickets directly from the Rio 2016 website.