My toughest opponent by the USA's David Blair
In the second edition of a new series, top Para athletes talk about their toughest opponent.
15 Apr 2017
Imagen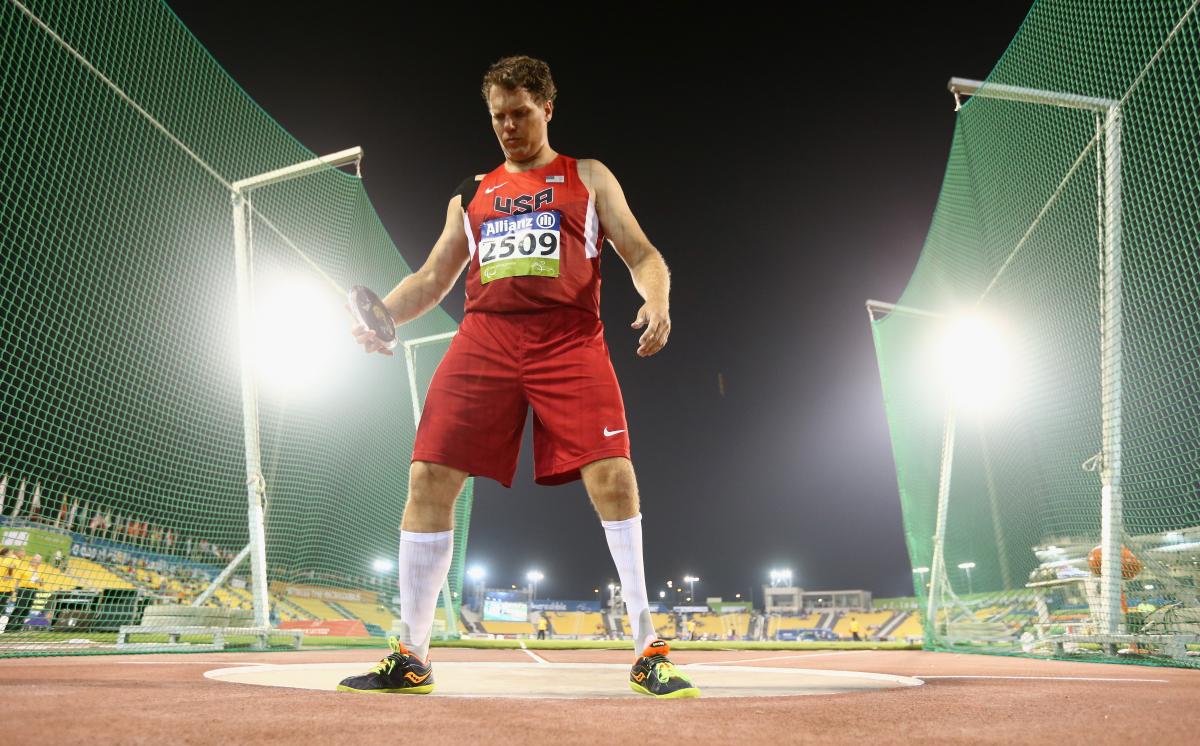 ⒸGetty Images
"A lot of people didn't know this but Jeremy threw further than me last year - at a non-ratified event. "
This time last year, with the Rio 2016 Paralympic Games on the horizon, US discus thrower Jeremy Campbell was the man to beat; he had three Paralympic titles, two world titles, and the F44 world record.
But fellow American Dave Blair changed all that.
A keen and talented sportsman throughout school and college, Blair stepped away from sport for 16 years to focus on his family and his career.
The American, who has club foot, had only ever competed at able-bodied competitions.
But in 2015, after discovering Para athletics, he returned to track and field.
In May that year, weeks after picking up the discus for the first time in over a decade, Blair lined up at the Arizona Grand Prix alongside Campbell.
"I was 40 and I hadn't been throwing for 16 years; the plan initially was to go in and compete well enough and make a team and maybe have a chance of getting on the podium in Rio.
"When I first saw Jeremy and his coach Larry Judge walk in it made me jump a little – I was a little nervous. I was like 'Oh man, there's the guy – he's the man in the event.' He had no idea who I was – no one knew."
Blair threw 57.69m that day – Campbell, the reigning world and Paralympic champion, managed 58.33m, just 64cm further.
Since then Judge and Campbell have become good friends. Blair revealed what that first meeting was like.
Blair explains: "He was like 'Dave that was the coolest entry in to the Paralympics ever. This guy comes out of nowhere, he's 40-years-old and he shows up at this meet and he almost throws 58m. And boom, you're number three in the world.' I thought that was nice of him."
At the Doha 2015 World Championships Blair clinched discus F44 silver behind Campbell – both threw over 60m, the only two in the field to do so.
Who knew that less than 12 months on, roles would be reversed, with Blair lining up as the favourite for Paralympic gold?
Blair plays down his standing as the man to beat, but by the time Rio 2016 came around, he was the world record holder, having thrown 63.61m at the 2016 Arizona Grand Prix in May 2016.
"A lot of people didn't know this but Jeremy threw further than me last year - at a non-ratified event.
"It was just a week later that we met at Paralympic Trials for Team USA and it wasn't there, it was gone for him.
"He was sick at the Paralympics – no one should count him out at all. There was a stomach flu that went through a lot of Team USA, then he also got a chest cold.
"It ended up being a bad situation for him but mostly just bad luck. Who wants to train for four years then get sick at the Paralympics?"
Now Blair believes their rivalry and close competition can only serve to help them throw further.
"I love the fact that he's a fellow American, and the fact that we get to compete against each other throughout the year multiple times before a major championship. I really feel like that's an advantage for us both.
"It pushes us to do better, it pushes the sport up. If you look at results from Beijing 2008, Jeremy won with 55m - now 55m would have placed you fifth. To think that it's 10m more that wins the Games just two Games later, that's amazing progress for the sport.
Now it's Blair who has the target on his back, but it doesn't bother him. Does he up his game when he lines up against Campbell?
"Yes, definitely – and I honestly think he'd give you the same answer. Anytime you're at any event and you have competition that can push you to be better, your performances are going to be better."
As for what will it take to beat Campbell again this year, Blair has no doubts.
"We both put in a lot of work, a lot of effort and time, and we are both very capable of throwing 65m. I hope that 2017 is the year that we see a Para athlete go over 65m. I think whoever wins, they've probably got to be throwing 65m – at least.
"He's got it in him. I've trained with him – I've seen him throw it, and he's seen me throw it."
Campbell and Blair are both likely to represent Team USA at the London 2017 World Para Athletics Championships between 14-23 July. To buy tickets, please click here.