New 800m T34 world lead time set by Halko at US trials
The time of 2:01.83 at the US Trials has yet to be ratified as a world record by IPC Athletics.
01 Jul 2016
Imagen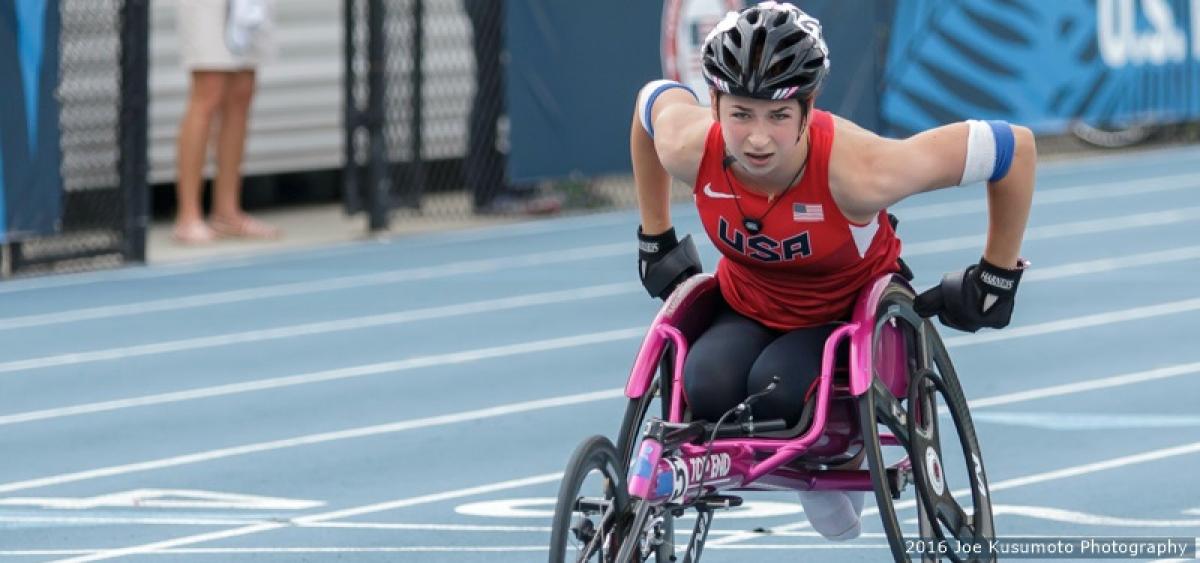 ⒸJoe Kusumoto
By US Paralympics
The 2016 US Paralympic Team Trials - Track & Field kicked off in Charlotte, North Carolina, on Thursday (30 June) and were highlighted by a yet to be ratified world record* from one of Team USA's emerging stars.
In the women's 800m T34/53, Paralympic newcomer Alexa Halko broke the T34 world record by just under a second with a time of 2:01.83 to claim third place in the combined field. It was a tight race for first as Chelsea McClammer (1:54.46) captured the win by two-tenths of a second over Shirley Reilly.
"It feels great right now, but I'm still pretty shocked," 19-year-old Halko said. "It just has to sink in a little bit. Hopefully I'll have the same success in the next two days. I've been dreaming about making the Paralympic team since I was around seven so it would be amazing if it actually happened at the end of this."
In the men's 800m T52/53, Brian Siemann (1:40.00) edged Josh George by just over a tenth of a second to take gold. Spencer Kimbro (1:50.68) finished third. George, who has already qualified for the US Paralympic team in the marathon, got the best of Siemann in the 5,000m T53/54, clocking 10:45.49 for the win.
Tatyana McFadden went two-for-two in the opening day of competition, winning the women's 800m T54 (1:48.58) and 5000m 53/54 (11:38.93). The 11-time Paralympic medallist will compete in three other events at trials, including Friday's 100m T54 race.
An hour after finding out she had been named to the 2016 US Paralympic Triathlon Team, Alyssa Seely (32.54) cruised to a victory in the women's 200m T35/36, finishing nearly three seconds past her closest competitor. Suzanne Arenal and Aubrey Headon placed second and third, respectively.
"It was a great day in Charlotte," Seely said. "It was really exciting [to know I had been named to the team] and gave me that extra push; but also knowing I already punched my ticket to Rio in Para triathlon, it took some of the stress off today which I really think helped me perform my best."
Three-time Paralympian April Holmes, the veteran in the field, showcased her experience in the women's 200m T43/44, winning the race in 28.29 seconds over second place Femita Ayanbeku and third place Grace Norman.
Full results can be found at the US Paralympics' website. Events will resume until 2 July as over 200 U.S. athletes compete to make the U.S. Paralympic Track & Field Team for the 2016 Paralympic Games.
The 2016 U.S. Paralympic Team Trials – Swimming and Track & Field are being held in Charlotte, North Carolina, June 30 – July 2, and are hosted by Partners for Parks. Thanks to support from The Coca-Cola Company, BP, and Deloitte, the multi-sport Trials feature more than 400 athletes who are competing for a chance to qualify for the Rio 2016 Paralympic Games. All events are free and open to the public. For more information, visitUSParalympics.org/2016TeamTrials.
* The record has yet to be ratified by IPC Athletics