"New athlete" Greaves prepares for Anniversary Games
The British discus thrower will go head-to-head this weekend in London with the USA's world record holder David Blair.
21 Jul 2016
Imagen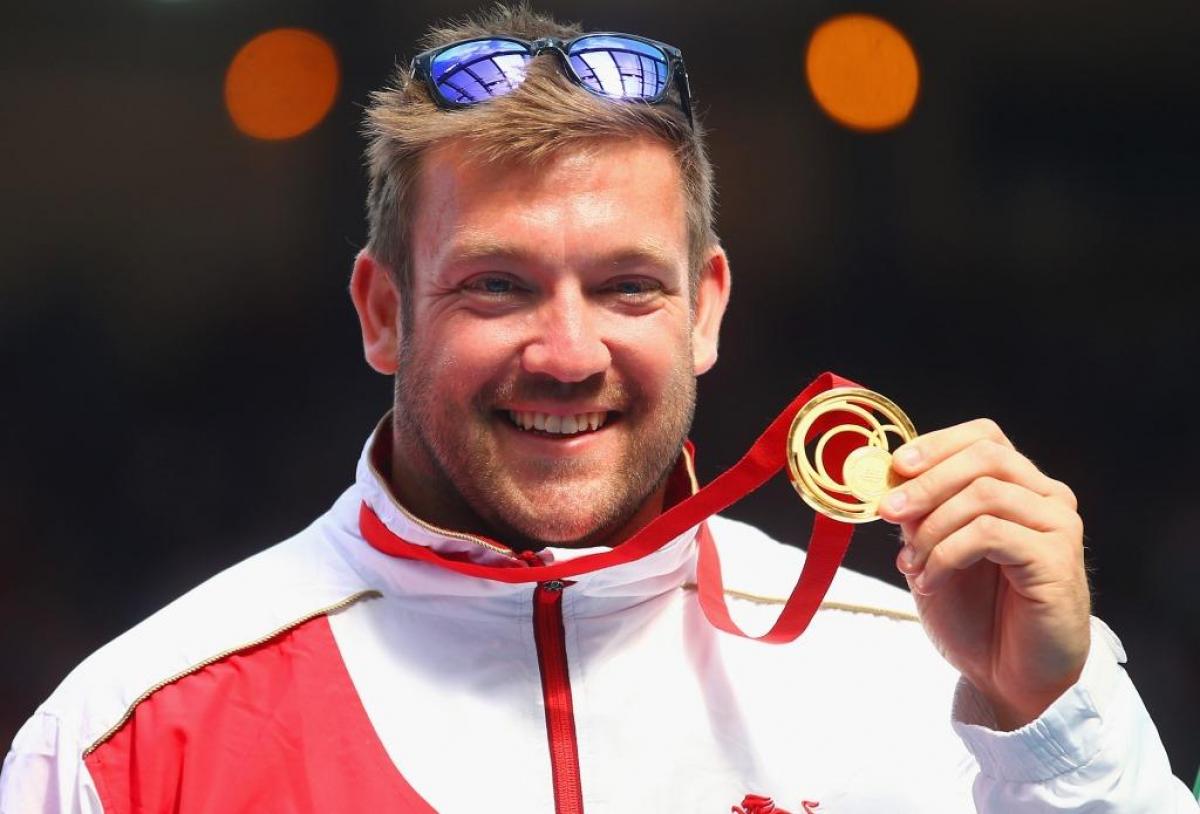 ⒸGetty Images
By IPC
"My ultimate aim as an athlete was always to throw 65m and it's still a hunger that burns inside. I'd love to be one of the first Para athletes to do that."
Paralympic silver medallist Dan Greaves believes he is a 'new athlete' as he lines up at this weekend's IPC Athletics Grand Prix Final in London, Great Britain, in preparation for the Rio 2016 Paralympic Games in less than eight weeks' time.
Greaves takes on the discus F44 on Saturday (23 July) a year after switching coaches to work with former triple world shot put champion John Godina, whose Altis training centre is based in the USA.
The move was a revelation for Greaves, who made his Paralympic debut at the 2000 Games in Sydney, Australia.
"It's kind of opened my eyes as an athlete as to how little I knew about my sport," admitted the 33-year-old.
"John is a world shot put champion multiple times and actually he's got a discus throw personal best of about 69 metres – not many people knew how good a discus thrower he was.
"I really have become a new athlete - everything around what we are doing is completely different to what it was before."
Greaves remains in Great Britain to train while his coach is US-based; technology plays an important – and successful – part of their working relationship.
At competitions and training Greaves hooks up his tablet to the internet and communicates with his coach via online chat.
"At a competition recently (John) was live on FaceTime, so I was going over to the side where my parents had the iPad set up and we were just chatting it over.
"People around us were looking in awe as he was sat there in his office 8,000 miles away but he could see everyone throwing and me warming up. It was really refreshing to think that someone that far away has still got such an avid interest – I could've sent him the videos but he wanted live action.
"I thought I was quite an experienced athlete and knew a lot about discus, but in reality with John, I've learnt a lot more than I did in previous years, it has opened my eyes in terms of what I should be doing."
Greaves won Paralympic gold at Athens in 2004, then bronze at Beijing 2008 and silver at London 2012. Competition in his event has always been fierce – US thrower Jeremy Campbell beat Greaves to gold in Beijing and London.
Then last year another US athlete, David Blair, entered the equation.
A former discus thrower at high school, Blair, who was born with a club foot, returned to the sport in 2015 after a 16 year break.
The 40-year-old made an immediate impact in Para athletics, winning discus F44 at last year's IPC Athletics Grand Prix Final in London before going on to clinch silver at the IPC Athletics World Championships in Doha, Qatar – throwing 60.46m behind his teammate Campbell.
Blair lines up in the British capital once again this weekend but such high calibre competition does not put Greaves off – he is just pleased with how much the sport has progressed.
"It's great for the sport, it's great for my classification," acknowledged Greaves, who missed out on last year's IPC Athletics Grand Prix final through injury, then finished fourth at Doha 2015.
"It's very appetising to see 60 metre throws in abundance in a classification where going back 16 years to my first Paralympics I came second with 46 metres (Shawn Brown won gold with 47.96m).
"I'd like to think I've helped drag it up there over the 16 years. Its brilliant to see so many competitive athletes and it's what sits in my mind when I come to training –there's other guys out there - it's not just me any more like it was a few years ago."
In May, Blair set a new world record, adding 15 centimetres on to Campbell's previous mark with a 63.61m throw at the Arizona Grand Prix in the USA. In early June Campbell threw 63.39m to sit second in the world rankings.
But since winning the European title in June with a throw of 58.15m Greaves has also thrown consistently over the 60m mark - most recently 61.48m in Amsterdam, the Netherlands this month. The disappointment of finishing out of the medals in Doha has only served to make him more determined.
"Coming through that, it's made me a lot stronger and a lot hungrier. Experiencing that with my new coach John, and his heartache at the same time, we both wanted to do really well and get the medal in such a competitive class. It's made us both a little bit stronger and a little bit more eager," he added.
"My ultimate aim as an athlete was always to throw 65m and it's still a hunger that burns inside. I'd love to be one of the first Para athletes to do that. I know the guys are throwing really well and that is what motivates me even more."
Tickets for the IPC Athletics Grand Prix Final can be purchased online.