50 social media accounts to follow for the Paralympics
With 50 days to go until the Paralympics, here are the accounts you should be following on social media.
19 Jul 2016
Imagen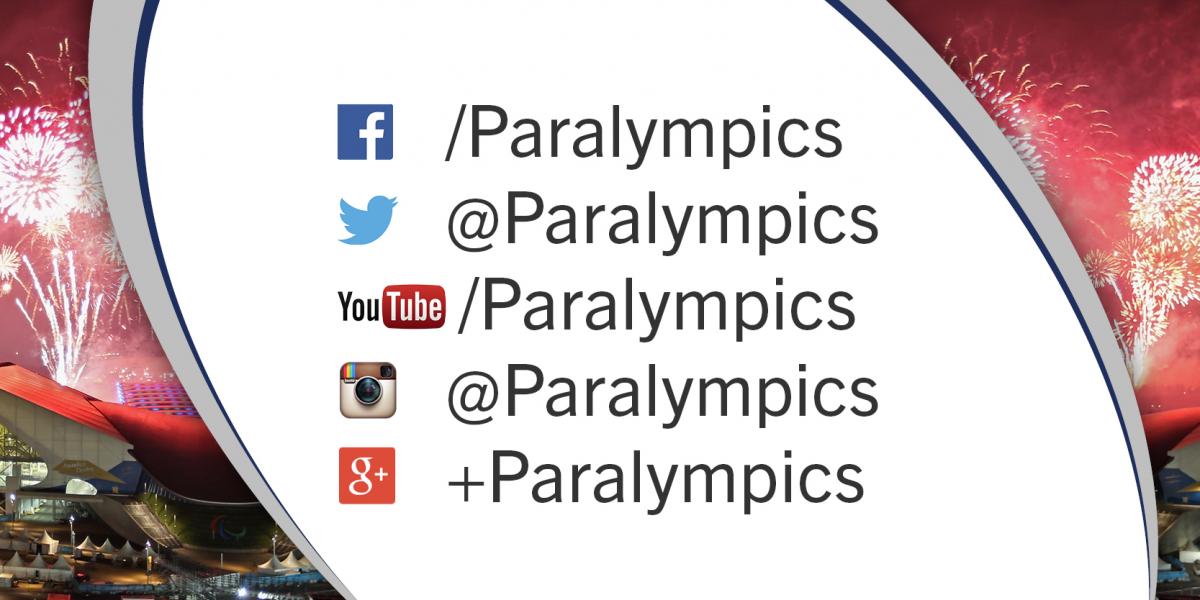 ⒸIPC
With 50 days to go until the Paralympics, here is a run down of 50 accounts you need to follow on social media.
1. Make sure you are following the International Paralympic Committee @Paralympics on Twitter, Facebook, Instagram, Snapchat and YouTube.
2. You can also follow the organising committee @Rio2016. They have accounts in English, Spanish and Portuguese.
3. What would a Paralympics be like without an awesome mascot? Make sure you are following the adventures of Tom. For hardcore fans, download his game on Android and iOS
Next up, make sure you are following all 22 sports
5. Athletics: Facebook, Twitter
9. Equestrian: Facebook, Twitter
10. Football 5-a-side: Facebook
11. Football 7-a-side: Facebook, Twitter
12. Goalball: Facebook, Twitter
13. Judo: Facebook
14. Powerlifting: Facebook, Twitter
16. Sailing: Facebook, Twitter
17. Shooting: Facebook, Twitter
18. Sitting volleyball: Facebook, Twitter
19. Swimming: Facebook, Twitter
20. Table tennis: Facebook, Twitter
21. Triathlon: Facebook, Twitter
22. Wheelchair basketball: Facebook, Twitter
23. Wheelchair fencing: Facebook, Twitter
24. Wheelchair rugby: Facebook, Twitter
25. Wheelchair tennis: Facebook, Twitter
To round it off, we have listed the top 25 athlete accounts to follow:
26. Since making his breakthrough as a 17-year-old with singles gold at the Guadalajara 2011 Parapan American Games, Argentina's Gustavo Fernandez has been consistently ranked amongst the world's best players. Follow him @gustifernandez4.
27. British One to Watch triathlete Lauren Steadman will take you through the blood, sweat and tears of training as she aims for success at her third Paralympics, after switching over from Swimming. Follow her on Twitter and Facebook.
28. USA's Katie Holloway is the athlete to watch out for on Twitter for sitting volleyball. Follow her @ksholloway.
29. Fans of shooting Para sport should make sure they are following Australia's Luke Cain @Lukecain600.
30. US archer Matt Stutzman will be set to wow crowds once again, shooting the bow with his feet. Follow him on Facebook and Twitter.
31. Enjoy the opinions and machinations of @Aoki5Chuck on Twitter as he aims for wheelchair rugby gold in Rio.
32. Italy's Beatrice Vio will be one of the most popular athletes to follow in Rio as she aims for her first Paralympic gold. Like her on Facebook.
33. Follow Great Britain's Abdi Jama into his third Paralympic Games as he hopes to get back onto the podium after fourth place finish for the British wheelchair basketball team in London.
34. Spain's Alvaro Valero has been a constant at the top in international competitions, holding gold medals from all major table tennis competitions. Make sure you follow his posts on Facebook.
35. At London 2012 Brazil's Andre Brasil won three gold medals and two silvers, whilst he also broke the world record in the 50m freestyle. Expect more of the same in Rio and follow him @andrebrasils10.
36. A gold medallist from the Athens 2004 Paralympic Games, France's Damien Seguin showed he is ready to return to the top of the Paralympic podium at Rio 2016. Make sure you are following him on Twitter and Facebook.
37. Since finishing with the silver medal at the London 2012 Paralympic Games, Australia's Erik Horrie has shown he is poised for gold ahead of Rio 2016. Follow him @erikhorrie.
38. Great Britain's Ali Jawad is determined to show the world that anything is possible. Under his favourite #StrongisHappy, he regularly posts videos of his training regime to update his adoring fans. Follow him @AliJawad12 and like his page.
39. Wrestler turned judoka, USA's Dartanyon Crockett has already captured the world's attention with a world title and Paralympic bronze. Follow him on his #RoadtoRio on Twitter.
40. Fans can expect Mexico's Gustavo Sanchez to be fighting as hard as ever to retain his place amongst the top swimmers at the Rio 2016 Paralympic Games. Like him on Facebook.
41. London 2012 silver medallist David Smith will be hoping to go one step further at Rio 2016 and, after winning multiple titles in the last four years, few would doubt him. Follow him on Twitter.
42. Brazil will be hoping to retain their title and bring back some lost glory in football 5-a-side. Make sure you are following captain Ricardo Alves.
43. Austria's Markus Swoboda made his international debut in 2010 and has dominated his category since. Like him on Facebook.
44. Argentina's fans should take a look at cyclist Mariela Delgado on Twitter. Follow her @MarielaDelg26
45. Martina Caironi is one of Italy's brightest talents on the track. Follow her on Twitter and Facebook.
46. The British equestrian rider Sophie Christiansen has, to date, won medals at every Paralympic Games since her first in Athens in 2004. Follow her on Twitter and Facebook
47. Love goalball? Make sure you're following the USA women's goalball team on Twitter.
48. Soak up the football fever, as you follow 7-a-side player Aaron Tier representing Ireland in. Rio Follow him on Twitter.
49. Having made a name for himself as a Paralympic athlete at London 2012, former Italian Formula 1 driver Alex Zanardi will be back on the medal trail at Rio 2016. Follow him on Twitter.
50. The 'Swiss Silver Bullet' Marcel Hug will be hoping to add gold to his collection in Rio. Follow the wheelchair racer on Twitter and Facebook.
To follow all the Paralympic conversations, use #Paralympics.
__
Sport fans from around the world can now buy their Paralympic tickets for Rio 2016 from authorised ticket resellers (ATRs)
The IPC's Global ATR is Jet Set Sports, and Rio 2016 tickets and packages can be purchased on the CoSport website.
Residents of Brazil can buy 2016 Paralympics tickets directly from the Rio 2016 website.
Visa International is the exclusive payment card and the official payment system for the Paralympic Games.