New lengths for Low in Nottwil
Australian leaps big as Marcel Hug impresses local crowds
26 May 2019
Imagen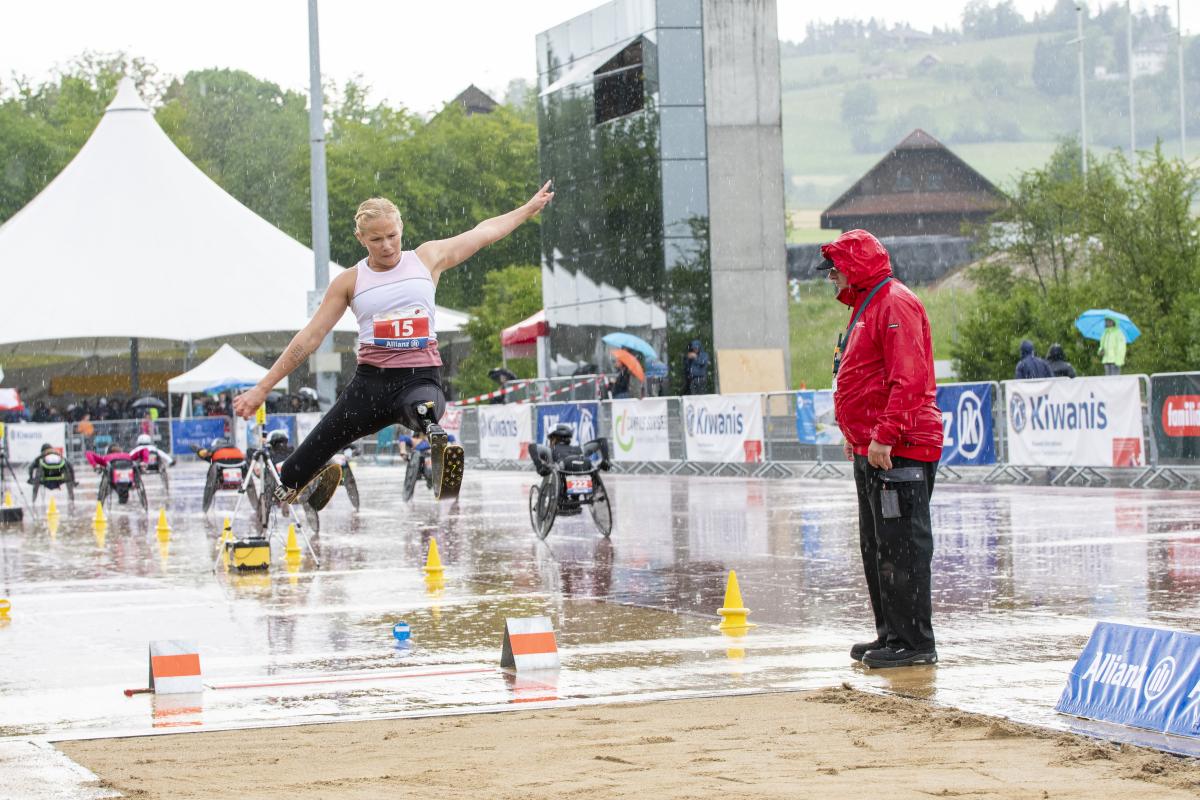 ⒸUrs Sigg and team
By World Para Athletics
The Swiss rain failed to dampen Australian Vanessa Low's ambitions as she registered a massive world lead of 5.26m in the women's long jump T61 on Saturday at the Nottwil Grand Prix.
Low, who leapt a world record of 5.05m at the Dubai Grand Prix earlier this year, only managed to register two jumps – the other was 5.16m – and unfortunately for her, neither attempt was within the legal wind reading required to achieve world record status.
But the 28-year-old Paralympic champion was nonetheless delighted with her progress, which she modestly puts down to "slowly learning how to jump."
Low explained: "My past theory was just run as fast as I can and just hope for the best. I think Iryna (Dvoskina, Low's coach) is doing a pretty good job in teaching me to actually jump.
"It was awesome, I had a really good competition, I love the track, it's really quick and works really well with my blades. So I was quite happy to get a couple of jumps on the board."
Hug, who finished second behind USA's Daniel Romanchuk in the 800m T54 a day earlier, turned the tables with a win in the 1500m T54.
The Swiss star, cheered on loudly by a partisan local crowd, looked untroubled by the wet conditions as he took the win in the final men's heat in 3:02.69.
"It feels great to win this race, especially with my home crowd here," said Hug.
"It was amazing, but it was really tough. Daniel was so strong and I just tried to hold him back and to my outside so he had the longer way to push. I'm happy that in the end I had more power than him.
"I still thought he could come (down the home straight). I never think that I can win a race until I cross the finish line, especially with Daniel in the field. It's very important for me, for my confidence, to know that I can still win against Daniel but to be honest I know that the rain played to my advantage. Usually I am very strong in the rain."
More winners
The fastest finisher of the day was China's Yong Zhang (2:57.45), who raced in an earlier heat.
Australia's Madison de Rozario (3:27.59) denied the crowds the chance to celebrate a double victory as she sprinted down the final straight past home favourite Manuela Schaer (3:27.90) to take the win in the women's 1500m T54.
Russia's Egor Sharov (3:51.46), a three-time world gold medallist, looked in superb form as he set a new European record in the men's 1500m T13.
Briton Isaac Towers (3:22.51) won the men's 1,500m T34 with Canadian Austin Smeenk (3:23.58) setting a new Americas record in second place. Japan's Tomoki Sato (3:36.75) won the 1,500m T52.
In the women's 100m finals, there were wins for Germany's Nicole Nicoleitzik (15.66) in the T36, teammate Lindy Ave (13.81) in the T38; Frenchwoman Mandy Francois-Elie (13.53) in the T37 and South Africa's Johanna Pretorius (12.81) in the T13 event.
Men's winners included: Russia's Andrei Vdovin (12.05) in the T37, Australians Evan O'Hanlon (11.20) and Chad Perris (11.02) in the T38 and T13 respectively; and Norway's new star Salum Kashfali (10.61) in the T12 class.
Earlier in the day, Great Britain's Hannah Cockroft (18.32) added to her 800m win from Friday with victory in the 100m T34; Turkey's Hamide Dogangun (17.68) won the women's 100m T53; Australia's Eliza Ault-Connell (16.99) was the fastest finisher in the women's 100m T54 heats and her teammate Rosemary Little (23.40) won the women's 100m T33.
There were also wins for Canada's Brent Lakatos (15.13) in the men's 100m T53; Finns Toni Piispanen (20.98) in the T51 and Leo-Pekka Tahti (14.18) in the T54 class; Briton Andrew Small (18.28) in the T33 class and Rheed McCracken (15.75), Australia's T34 world silver medallist.
Niko Kappel came within one centimetre of his own personal best – agonisingly close to the world record too (14.04m set by Poland's Bartosz Tyszkowski at the Berlin 2018 European Championships) – as he managed 14.01m in the shot put F41.
"I'm happy with the season – it's very early at the moment and the training is very hard now, so in the next few weeks we will try to be faster and stronger in the competitions. Then I hope this three centimetres will come."
Germany's Sebastian Dietz goes to the top of the F36 world rankings thanks to his best of 14.22m and Luxemburg's current F63 world number one Tom Habscheid managed 14.05m.