No slowing down for Jason Smyth
Irish star opens season at Grosseto Grand Prix
07 Jun 2019
Imagen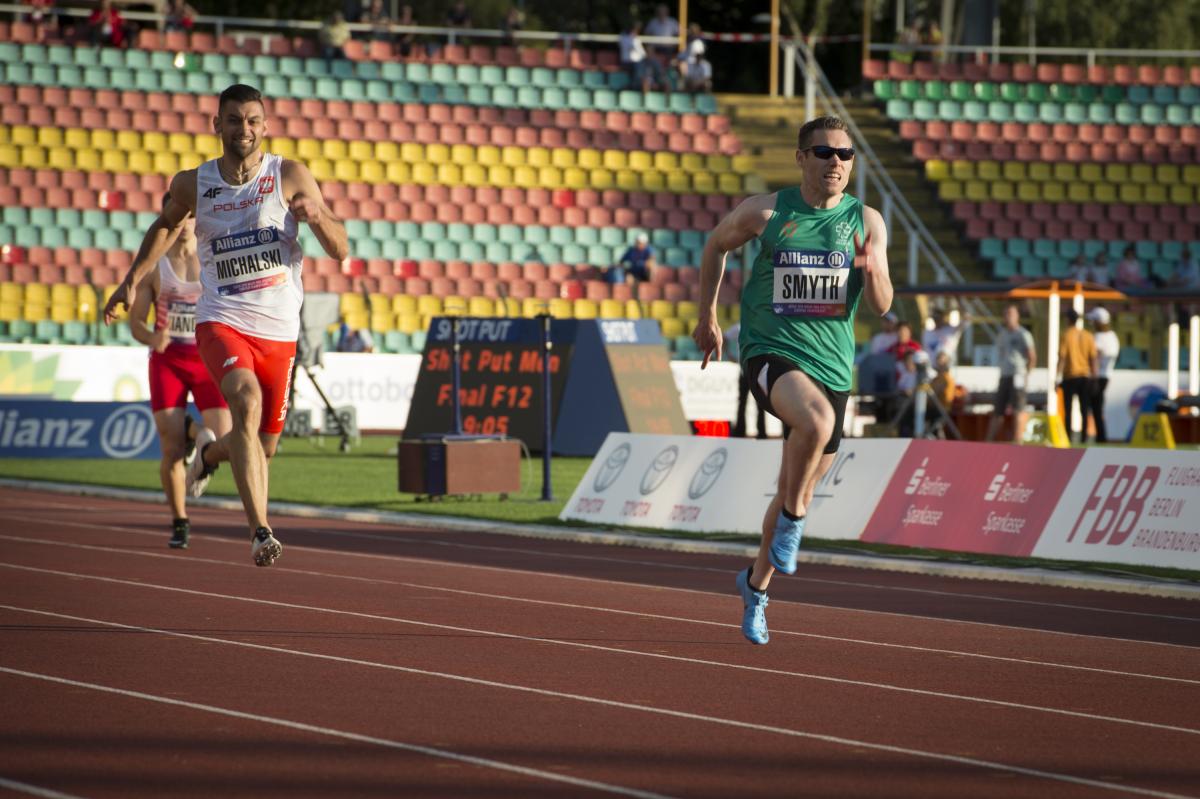 ⒸRalf Kuckuck/BS Berlin
By World Para Athletics
"That's six years now - one little injury that's dropped me back and taken me a while to get back."
Irish sprinter Jason Smyth is preparing for his fifth outdoor World Championships this year, but calling time on his track career is the last thing on his mind.
"I'm not considering being done at all," said the five-time Paralympic champion, who turns 32 next month. "I feel I'm in a better place than I have been the last couple of years. If I can build on that again, then that puts me in a good place."
The vision impaired sprinter has no fewer than 19 major titles to his name, having lined up in his first ever World Championships in Assen, the Netherlands, 16 years ago.
The prospect of adding to that gold medal haul is one he relishes – despite the toll that training and racing now takes on his body.
"I think for me the biggest challenge on my body and my recovery is family and having kids, because you don't (have time to) recover," said Smyth, who has two daughters, aged one and three.
"I'm also living in Ireland where the weather isn't as good as well. But these are situations that I choose - and I wouldn't change. It's just different things to deal with. There's always a solution, it's just finding out what that is."
Smyth will open his season at the Grosseto Grand Prix which takes place from 7-9 June in Italy, and early indications show that he is already in good form.
"Honestly, I think I'm in better shape this year than I was last year, which is a good place to feel I am," added the Belfast-based sprinter, who won double European gold last year.
Smyth has particularly good reason to feel pleased with his progress.
In 2013 he suffered an injury just below his knee which continued to cause pain until 2015, when he was forced to undergo surgery.
"Until 2015 when I had surgery, I couldn't even squat without getting pain," he explained.
"In sprinting it's very technical and you've got to be able to be strong enough to hit certain positions. You lose things very quickly and it takes a long time to get it back."
It was only last year that Smyth felt he had re-gained the foundations necessary on which to build up to faster and faster times.
"I feel like last year was probably the first year I would look back and say that the foundation and the work that I've needed is in place," added Smyth, who has been settled back home in Ireland for the last three years, having spent time both in the United States and in London, Great Britain.
"I feel as time has gone on, I'm starting to get in to the routine of what works best for me in the situation I'm in.
"There was one point I did question if I was going to get back to anywhere near to where I needed to be. That's six years now - one little injury that's dropped me back and taken me a while to get back."
While he may be raring to go, Smyth is well aware that there's a new generation of young sprinters snapping at his heels. But if all goes his way, they won't catch him yet.
"As you get older people assume that you'll eventually start dropping off and eventually you will, but you've got less room to allow that to happen now. So it's a completely different challenge now compared to where we were four years ago. But the real challenge is trying to get to a better level than I have been in the past couple of years.
"If I am in better shape in the next couple of years then there is the possibility to go on further. If I drop off from where I've been then you've got to seriously look at it. Until then, lots could happen."