"The noise comes at you from all sides"
BBC Radio's Ed Harry looks ahead to London 2017.
24 Jun 2017
Imagen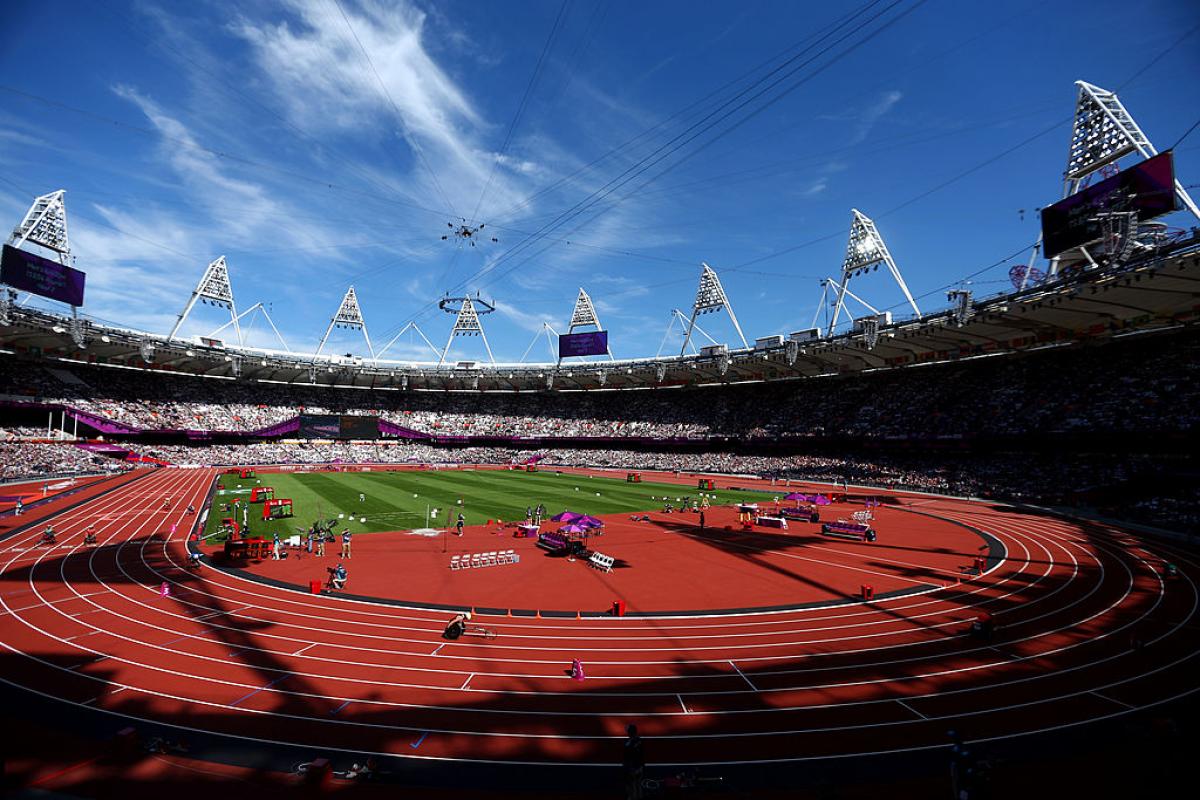 ⒸBryn Lennon - Getty Images
By IPC
"London will close a chapter, but it will also be a starting point for athletes we know and for ones we're not even aware of yet."
I've been asking myself what kind of World Championships London 2017 will be. Those of us who were there for the Paralympics five years ago remember what it felt like. But how can you sum up what that venue is all about? I think my BBC 5 Live colleague Mike Costello did it in eight words. As David Weir crossed the line to win the 5,000m T54 Mike exclaimed 'This volcano of a stadium erupts in celebration!' I went back and found that London 2012 commentary before writing this and it sent shivers down my spine all over again. What surprised me was when I thought he said it – as a memory I'd added it to several of those Weir performances.
In the media, we ask the question 'What's the atmosphere like?' too often. It's a lazy way to start a conversation. But, when we're talking about London's Olympic Stadium, it's a question that's answered by the noise. It comes at you from all sides, a wall of sound that wraps around you – I have never experienced it anywhere else.
But what about the cast of characters that'll be creating the drama? One week in early summer left me in no doubt that everyone is ready. I arrived at work on the morning of May 22nd knowing I wanted Sophie Hahn on BBC World Service that day to discuss what was then a provisional 100m world record set at Loughborough the previous afternoon. Sophie told me on air 'hopefully I can get quicker' at the Worlds as we discussed a performance which began an extraordinary week. Hannah Cockcroft, across multiple distances, Richard Whitehead and Brent Lakatos all set new world records within days of Hahn's effort. Suddenly the momentum was there.
There's another element to London 2017, we're probably going to be saying goodbye to some of Para athletics' all-time greats. Whitehead could be one of those. He's not making any decision regarding his future until after his last race at London 2017, that's the 100m on July 17th. The British sprinter says, in any case, that's likely to be the final 100m of his career.
Both of the London 2017 World Championships are an opportunity to bid farewell to some huge stars. The IAAF's showpiece will bring down the curtain on Usain Bolt's career. My work took me to Kingston, Jamaica in June to reappraise Bolt's legacy. While I was there, I wanted to speak to his direct equivalent in Para sport – Alphanso Cunningham. The Athens 2004 and London 2012 seated throws gold-medallist makes orthopaedic shoes at the island's equivalent of Stoke Mandeville, the Sir John Golding Rehabilitation Centre. That's where we were when he told me that the World Para Athletics Championships will be a retirement of sorts for him too. He doesn't expect to compete in the throwing events again after this July, but told me he'll be around until at least Tokyo 2020 'I want to do Fencing, I'm very much loving Fencing ... I'm a sportsperson, I'm doing pretty well. I'm 36 but I feel like 16'. Alphanso also told me he wants to become a wheelchair racer, it's how he started out before picking up the javelin for the first time and he wants to win a medal on the track.
That day in Kingston, Alphanso showed me the confidence of a champion. Why not fencing? Why stop when you still have something to offer? That's what I'm taking from all of this. London will close a chapter, but it will also be a starting point for athletes we know and for ones we're not even aware of yet.
BBC Radio will be covering the London 2017 World Para Athletics Championships between 14-23 July.
Follow Ed on Twitter @edharry1976