Norway's Lubbe back on top at Para dressage competition
Win is first in eight years, following gold medal successes in Athens and silvers at Beijing Games. "It's good to be back," she said.
13 Sep 2016
Imagen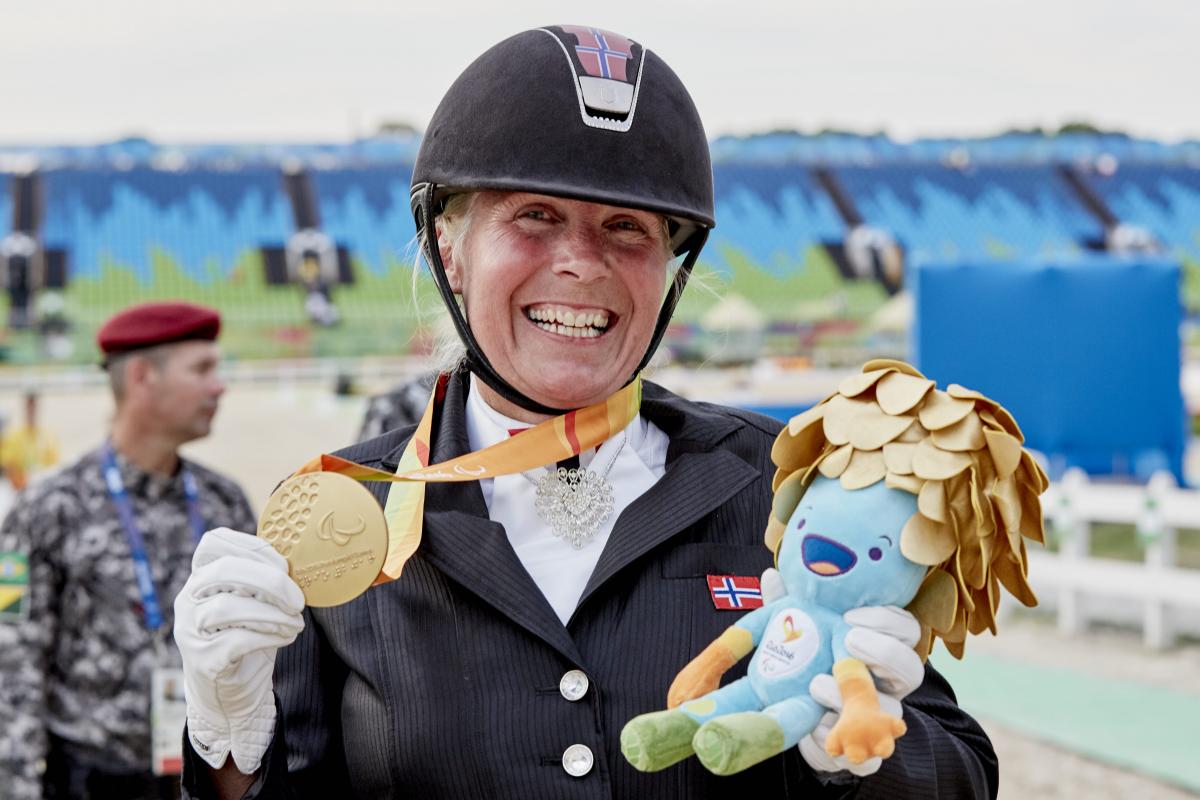 ⒸFEI/Liz Gregg
By Robert Howell
The first gold of the Rio 216 Para dressage competition was won by Norway's Ann Cathrin Lübbe at the Olympic equestrian Centre on Tuesday (13 September).
In a thrilling and closely contended grade III individual test Lübbe, riding Donatello, scored 72.878%, just over point seven of a percentage point ahead of Denmark's Susanne Sunesen on Que Faire. And keeping it a neighbourly affair, Sweden's Louise Etzner Jakobsson took the bronze at this, her first Paralympic Games, riding Zernard.
Lübbe is a former gold medalist having won both the individual and freestyle grade IV titles in Athens 2004, with silvers in those two events in Beijing 2008. She was clearly delighted to be back on top.
"Oh, it's good to be back," she said, clutching her medal. "I think it suits me. It's heavy. I am happy. It's nice and it makes a nice sound.
"It was very nice. I worked so hard for it. I'm so pleased that today I was the best and the horse did so well."
Lübbe's win was tinged with a level of sadness however as her horse had previously belonged to a student of hers, who was killed in a road accident. "Her parents are here," she said. "It means everything. It's so important to me."
Denmark's Sunesen was equally delighted with her silver. "I am very happy and relieved," she said.
"Everything was good.
"It means a lot. The medal is what it is all about. The coach for the Danish team, my family: it's what we're here for to win the medals."
The day started with Great Britain's Natasha Baker wining the grade II team test in one of the closest results of the competition so far.
Riding her London 2012 double gold medal winning horse, Cabral, Baker scored 71.882 for the win, less than point zero six of a point ahead of second placed Demi Vermeulen (NED). Germany's Steffen Zeibig was third. The competition was so close that the top four riders all scored 71 per cent plus.
"I had to work hard, really hard," said Baker after her test. "He walked around OK and then he noticed the audience was here and he got a bit nervous and I had to really work with him. But I'm so proud of him. He came back to me so quickly.
"I never expected to get 71 per cent and I don't really care what I got, I'm just so proud that we recovered. He coped with it all in London but he's turned into a diva since then – it's all gone to his head!"
While the individual test medals start to be given out, the team competition continues, as team members' individual scores also count towards the overall team score. At the end of Tuesday Denmark had taken the lead, with France and Australia close behind. But that could all change on Wednesday (14 September).