Norway tries for sledge hockey turnaround
The upcoming European Championships offer Norway a chance to regain their regular spot on the podium.
03 Apr 2016
Imagen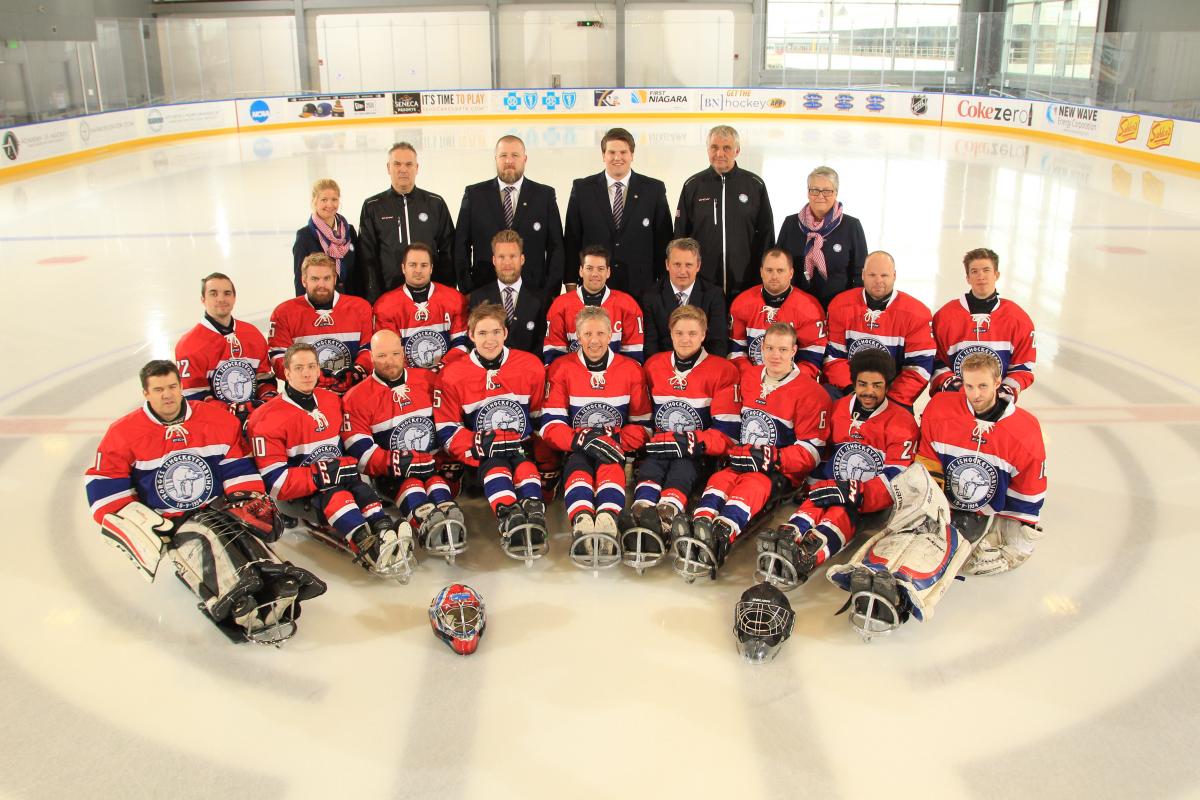 ⒸBill Wippert
By Stuart Lieberman | For the IPC
In each of their biggest competitions in 2014 and 2015, the Norwegian ice sledge hockey team has skated off the ice with their heads facing downward, with some players shedding a tear or two.
Sochi 2014 marked the first Paralympic Winter Games at which Norway missed out on the podium in sledge hockey, a sport that has been contested at every winter Paralympics since 1994.
Then, at the 2015 IPC Ice Sledge Hockey World Championships, Norway was handed a crushing 2-1 overtime defeat by Russia in the bronze-medal game, missing out on the podium by a single goal.
Norway does not want a podium mishap to happen a third time when they take part in the 2016 IPC Ice Sledge Hockey European Championships from 5-10 April in Ostersund, Sweden.
"Of course that's still in our heads," said Norwegian forward Magnus Bogle, who has been on the team since the 2011-12 season. "We felt we had good games with good chances to win. But it's not the focus we have now going into the European Championships. We are focusing on developing our game both offensively and defensively. We will arrive at the Championships hungry for a good result and with motivation to do better than the last European Championships, where we ended up third."
In addition to Norway and the host nation, the European Championships will draw Paralympic silver medallists Russia and reigning European champions Italy, along with Germany and the Czech Republic.
Following Norway's fourth-place finish in Sochi, Espen Hedge was promoted from assistant coach to head coach, taking over the reigns from Morten Haglund.
"To play under a new coach has been really exciting," Bogle said. "He's a good man, and he has a strong and good philosophy on how we should look and play. He's serious when he needs to be, but you will mostly see him with a huge smile and with his comments and pranks coming fast."
Bogle added that the new coaching staff – everyone from the equipment manager to the physiotherapist – and all of his teammates are no longer taking any podium finishes for granted, and the fact that they've finished fourth at their last two major international events has given them an extra source of motivation for the European Championships.
With a combination of veteran athletes such as Rolf Pedersen, Thomas Jacobsen and Lloyd Remi Solberg, middle-of-the-pack players like Bogle and then a group of up-and-coming youngsters, the Norwegians have a mix of skaters that is slowly being perfected.
Bogle, whose most memorable career moment was winning bronze at the 2011 European Championships, said that over the last two years, he has seen the most growth from Norway's youngest players.
"That's a strength that helps you when you are starting with the team and still are early in your career," Bogle said, of having them skate alongside their older teammates, some of whom have been playing on the team since the 1990's.
Although Bogle pinpointed Russia – a nation known for their physicality and speed in sledge hockey – as Norway's toughest opponent at the European Championships, he insisted the sport has had such parity in recent years that players have come to expect the unexpected.
"I think all of the teams in the Championships can win against each other, so I don't think I would be very surprised by any results," Bogle said. "Of course, you have some favourites, but the sport's getting tighter and the differences between teams smaller. It's one of the most interesting and cool things about the way sledge hockey is developing."