Officials look towards swimming Euros
Competition at the 2016 IPC Swimming European Open Championships will get underway on Sunday (1 May).
29 Apr 2016
Imagen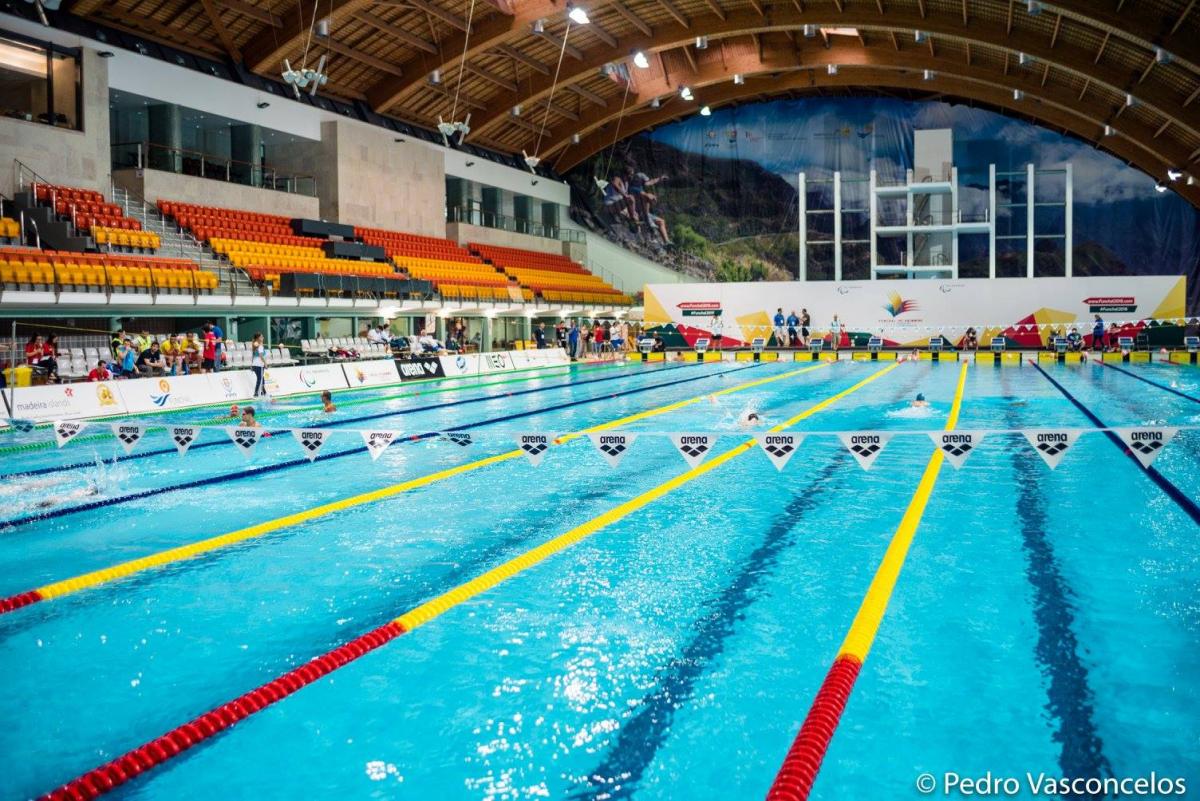 ⒸPedro Vasconcelos
By Portuguese Swimming Federation
"Having people from all over the world in this city makes me proud and I wish everyone well."
Officials have said that they are ready to stage "Portugal's biggest ever sport event" with just one day until the 2016 IPC Swimming European Open Championships get underway in Funchal on the island of Madeira on Saturday (30 April).
The event will bring 453 athletes from 52 countries to the island of Madeira for seven days of competition at the Complexo Olimpico de Piscinas da Penteada.
At a press conference on Thursday (28 April), attended by the entire Portuguese team, President of the Portuguese Swimming Federation (FPN) António José Silva, praised the organisers and spoke of the involvement of about 1,200 people.
Silva said that the event was only possible as a result of the "synergy" between the various entities such as IPC Swimming, the regional and central governments, the City of Funchal and the Swimming Association of Madeira, among others.
"Good luck to Portugal - for sure they will do a great Championship - as well as all athletes. We know they will leave here with the best impressions of the island and the organisation of this Championship," Silva said.
Ryan Montgomery, Director of Summer Sports at the International Paralympic Committee (IPC), said that he was sure the Euros will be "a major event in a fantastic complex," saying he was "delighted with the organisation."
Antonio Carneiro of the Portuguese Paralympic Committee recalled the motto of para-sport in Portugal - "equality, inclusion and sporting excellence" - and assured that since 2014, FPN has been "a great partner" in the development of sport.
Part of the municipality of Funchal, the Councillor for Sport, Madalena Nunes stressed her "pride" in Funchal hosting an event of such importance.
"Having people from all over the world in this city makes me proud and I wish everyone well," she said.
The Regional Director of Youth and Sports, David Gomes, thanked the FPN for "having confidence in Madeira to organise such an event."
He said: "Madeira loves to receive guests and I am sure that the people who pass by here will be marked by its brand."
Swimmer David Grachat, the 400m freestyle S9 2015 World Championships bronze medallist, introduced his team to the media and promised "a lot of commitment and respect for the flag of Portugal."
Madeiran local S10 swimmer Emanuel Goncalves said that the Championships will be "a very special moment."
Multiple Brazilian Paralympic champion Andre Brasil was also at the press conference. He said that "all competitions are important" and that it was his second visit to the island which is "an extraordinary place."
Portugal will be represented by 16 swimmers (12 male and four female).
Some of the best national swimmers will be competing for medals at Funchal 2016.
Six have obtained the minimum marks to be present at the Paralympic Games in Rio de Janeiro this September: Grachat, Simone Fragoso, Joana Calado, avid Carreira, João Pina and Nelson Lopes.
Five others, including Gonçalves, will try to qualify for Rio 2016 in Funchal.
Free tickets for the 2016 IPC Swimming European Open Championships, featuring 453 swimmers from 52 countries, are available to download at Funchal2016's website.
Live coverage and results will be shown at Funchal2016's website from 1-7 May. Morning sessions begin at 9:00am (WET) and evening sessions at 5:00pm each day.