Oliveira and Le Fur shine on marquee night
Alan Oliveira beat Oscar Pistorius, and Marie Amelie le Fur topped April Holmes and Marlou van Rhijn for sprinting gold.
02 Sep 2012
Imagen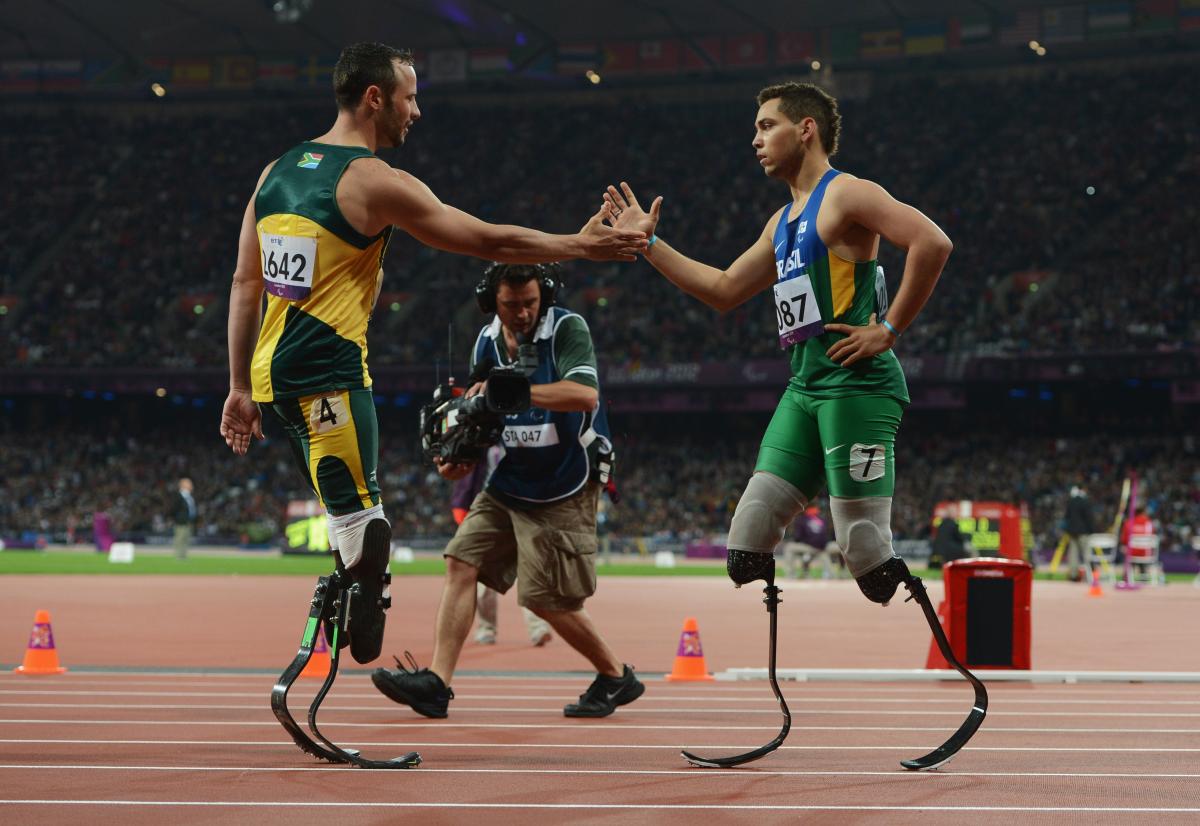 ⒸGetty Images
"It's what I always dreamed about and today I'm entering into the history of the Paralympic Games."
On what had long been earmarked as a marquee night of Paralympic athletics at the Olympic Stadium, sprinters Alan Oliveira and Marie-Amelie le Fur shone the brightest on an unforgettable evening in London.
All the talk ahead of the event had been of the most famous Paralympian on the planet, Oscar Pistorius, retaining the gold medal he won in Beijing in the 200m T44 sprint.
Ahead of the start, the South African received a rapturous ovation from the capacity crowd rivaled only by British athletes.
And by the time he had overtaken America's Blake Leeper inside the first 50m and then exploded off the bend well ahead of the field, the race was going according to script.
But that was not to discount the brilliant Oliveira.
The Brazilian produced outstanding acceleration along the home stretch, passing Pistorius in the closing stages to record one of the biggest upsets in memory in a time of 21.45.
"Many people told me that Pistorius is beyond (beating), that he's from another planet," Oliveira said.
"But I showed today that it's not this way, I can also do my best.
"It means a lot to me, it means breaking barriers, it means that nothing is impossible.
"It's what I always dreamed about and today I'm entering into the history of the Paralympic Games."
Pistorius finished second in 21.52, with Leeper taking the bronze in a time of 22.46.
Immediately after came another huge sprint race, the women's 100m T44, in which track legend April Holmes went up against Marie Amelie le Fur of France, and the Netherlands' Marlou van Rhijn.
Nicknamed "Blade Babe," van Rhijn had been tipped by some observers to win gold, but it was world champion le Fur who stole the show.
Van Rhijn got the slowest start of the three, and though she made up significant ground in the final few metres, it wasn't enough to take the honours from le Fur, who earlier in the day had won a bronze.
The French 23-year-old stumbled shortly after finishing, and wasn't certain that she'd won until the result appeared on the Olympic Stadium's big screen. As it did, the nearby French team, who had already hailed a sprint win for Mandy Francois-Elie in the 100m T37 final, burst into celebration close to the finishing line.
"All medals are important," a delighted le Fur said. "Today we won two gold medals and one silver medal, so a very good day for team France.
"My objective was to win the gold medal. I will celebrate later with my parents, who came to watch me. I still have the 200m in two days' time, so I will sleep, sleep and sleep."
Le Fur also paid tribute to both of her rivals, starting with Holmes.
"She is a good competitor," le Fur said. "She was hurt and injured herself earlier this year. She is very strong and can come back and win maybe in four years' time."
Le Fur also tipped Van Rijn for great things in years to come.
"She is a great athlete. I think in future she will break the world record."
For now, though, the spotlight is very much on le Fur, and Oliveira.
Their impact on a spectacular London night will linger long in the memory.