Ones to watch for athletics announced for Rio 2016
IPC selects 45 track and field stars who are likely to make a big impact at September's Paralympic Games.
15 Jan 2016
Imagen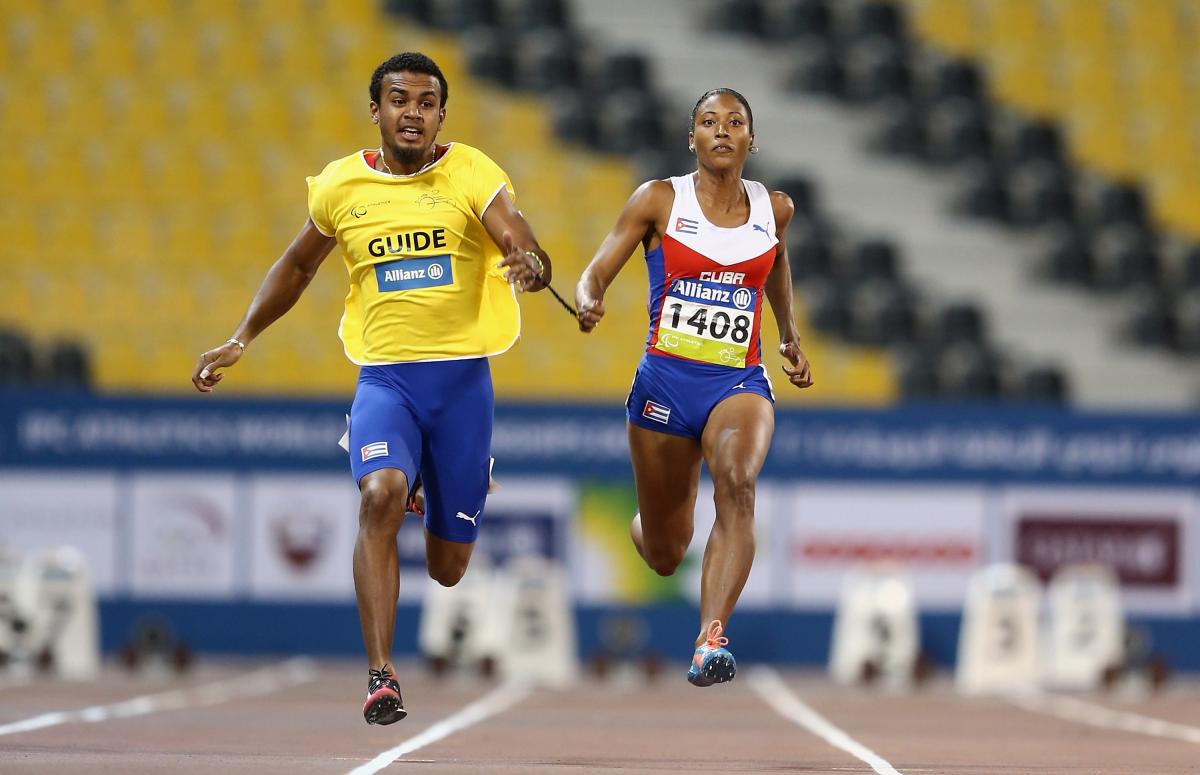 ⒸLOC Doha 2015 | Getty Images
By IPC
The International Paralympic Committee (IPC) announced the names of 45 track and field athletes as Ones to Watch for the Rio 2016 Paralympic Games on Friday (15 January).
The athletes named have won multiple Paralympic and world titles and are set for further success later this year when Rio stages the Paralympic Games between 7-18 September.
Around 4,350 athletes in total from 170 countries will compete in 528 medal events at Rio 2016.
In an effort to make is easier for the public and media to understand which athletes to look out for at the Games, the IPC since 4 January has been announcing Ones to Watch in all 22 sports, finishing with athletics.
Five Brazilians – Petruccio Ferreira, Felipe Gomes, Yohansson Nascimento, Terezinha Guilhermina and Veronica Hipolito – all feature in the 2016 list. Great Britain and the USA have the most athletes with six each from the respective track and field powerhouses.
Ten new additions for 2016, following excellent performances last year, include:
Angie Ballard (AUS)
The Australian excelled in 2015 by winning two world titles and setting new world records over the 400m and 800m T53. Rio 2016 will be her fifth Paralympic Games.
Petruccio Ferreira (BRA)
Although he missed last October's World Championships, the youngster made a huge impression in 2015 breaking the 200m T47 world record and winning 100m and 200m gold at Toronto 2015. He only took up para-athletics in 2014.
Felipe Gomes (BRA)
The Brazilian took gold in the 200m T11 at the 2015 World Championships, edging out US rival and world holder David Brown. He also won silver over 200m. In Rio he will be looking to defend his 200m Paralympic title.
Leinier Savon Pineda (CUB)
In 2015, Savon clinched the sprint double at both the World Championships and Toronto 2015 Parapan American Games competing in the T12 class.
Rawat Tana (THA)
Tana really came of age in 2015 when he topped the podium at the IPC Athletics World Championships winning the 1,500m and 5,000m as well as silver for Thailand alongside his teammates in the 4x400m T53/54. He is aiming to win his first Paralympic gold at Rio 2016.
Omara Durand (CUB)
The Cuban had a remarkable 2015 winning three world titles and three Parapan American Games gold medals. She is now firmly established as the world's fastest female para-athlete.
Isis Holt (AUS)
The teenager only took up athletics in 2014 and is already the world champion over 100m and 200m T35 and the world record holder over both sprints.
Amanda Kotaja (FIN)
Since taking up the sport in 2011, the T54 racer has won three European titles and won her first world title in 2015 with victory over the 200m. She is the 100m T54 world record holder and Rio 2016 will be her second Paralympics.
Barbara Niewiedzial (POL)
Niewiedzial proved invincible at the 2015 IPC Athletics World Championships winning all three of the events she raced in – the 400m, 800m and 1,500m T20. She won 1,500m T20 gold at London 2012.
Raoua Tlili (TUN)
Tlili is one of an elite group of para-athletes aiming for her third consecutive Paralympic gold medal come Rio 2016. The F41 thrower has been at the top of her sport for a number of years and in 2015 she won world titles in shot put and discus.
The full list of 45 athletes is as follows:
Men
Name, Country, Class
David Brown, USA, T11
Richard Browne, USA, T44
El Amin Chentouf, Morocco, T12
Aled Davies, Great Britain, F42
Michal Mateusz Derus, Poland, T46
Petruccio Ferreira, Brazil, T46
Felipe Gomes, Brazil, T11
Marcel Hug, Switzerland, T54
Walid Ktila, Tunisia, T34
Brent Lakatos, Canada, T53
Evan O'Hanlon, Australia, T38
Raymond Martin, USA, T52
Michael McKillop, Ireland, T37
Yohansson Nascimento, Brazil, T46
Jonnie Peacock , Great Britain, T44
Leinier Savon Pineda, Cuba, T12
Scott Reardon, Australia, T42
Markus Rehm, Germany, T44
Evgenii Shvetcov, Russia, T36
Jason Smyth, Ireland, T13
Rawat Tana, Thailand, T54
Jarryd Wallace USA T44
David Weir, Great Britain, T54
Women
Angie Ballard, Australia, T53
Yunidis Castillo, Cuba, T47
Martina Caironi , Italy, T42
Hannah Cockroft, Great Britain , T34
Omara Durand, Cuba, T13
Marie Amelie le Fur, France, T43
Margarita Goncharova, Russia, T38
Terezinha Guilhermina, Brazil, T11
Sophie Hahn, Great Britain, T38
Ilse Hayes, South Africa, T13
Veronica Hipolito, Brazil, T38
Isis Holt, Australia, T35
Amanda Kotaja , Finland, T54
Cuiqing Liu, China, T11
Vanessa Low, Germany, T42
Maria Lyle, Great Britain, T35
Tatyana McFadden, USA, T54
Na Mi, China, F37
Rachael Morrison, USA, F51
Barbara Niewiedzial, Poland, T20
Marlou van Rhijn, Netherlands, T43
Raoua Tlili, Tunisia, F40