Oscar Pistorius Latest Ambassador for International Inspiration Programme
Multi Paralympic and World Champion joins London 2012's legacy initiative.
23 Nov 2011
Imagen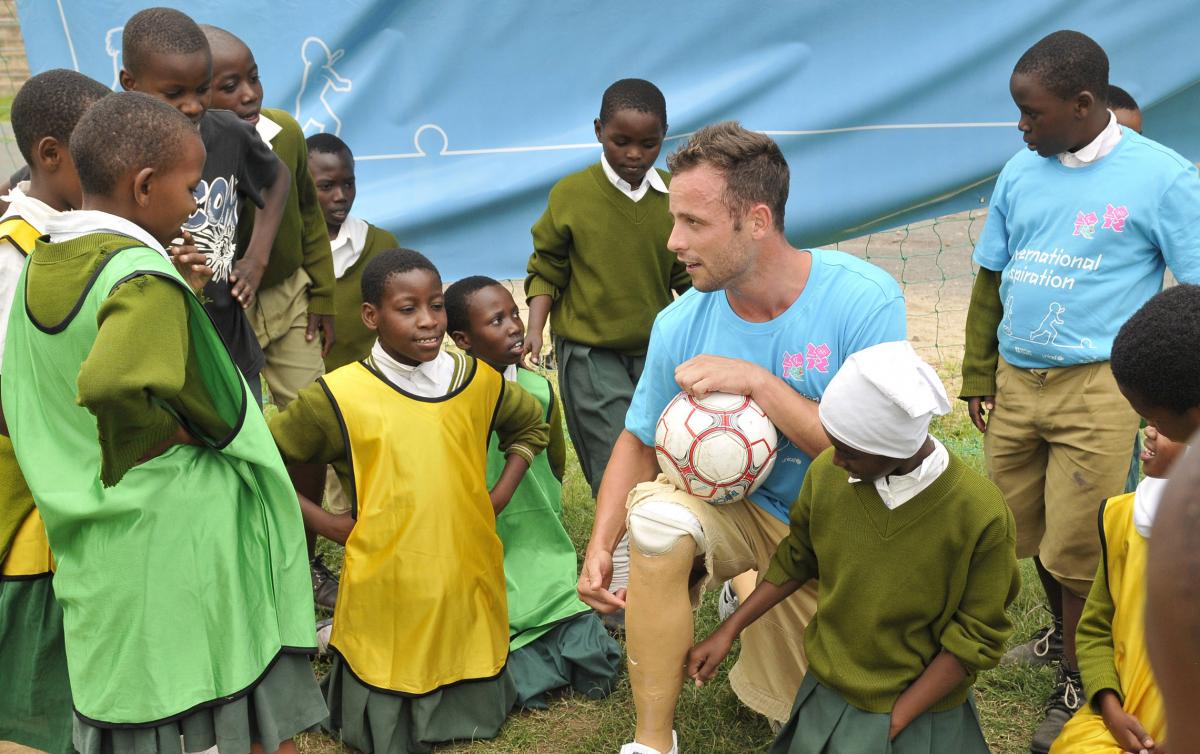 ⒸGetty Images
"It's fantastic to see that the London 2012 Games are really delivering on their promise to inspire young people around the world to choose sport."
The London Organizing Committee of the Olympic Games and Paralympic Games (LOCOG) announced Wednesday (23 November) that Oscar Pistorius, gold medallist and world-record holder, has become the latest ambassador to join London 2012's international sports legacy programme, International Inspiration.
Pistorius just returned from visiting International Inspiration projects in Tanzania, where he also helped launch International Inspiration's partnership with the Laureus Sport for Good Foundation, for whom he is also an ambassador.
International Inspiration brings to life the promise made by the London 2012 bid team where they pledged to reach young people all around the world and connect them to the inspirational power of the Games so they are inspired to choose sport. The delivery partners for the programme are the British Council, UNICEF UK and UK Sport.
As part of his visit, Pistorius witnessed the impact that International Inspiration, which uses PE, sport and play to engage young children of all abilities and backgrounds, is already having in Tanzania. He got involved in sporting demonstrations in athletics, women's football and volleyball, which are led by instructors who have benefited from Laureus-supported training programmes.
In Tanzania, International Inspiration will aim to reach more than 2 million young people by 2014 with sports based activities, mentoring support and life skills education. The programme will initially be focused on Arusha, Dar es Salaam, Zanzibar, Mwaza and Songea and will work in collaboration with local authorities and communities.
As a result of a seven year ban on sporting competitions in schools, which was only recently overturned by the Tanzanian Government, there remains a legacy of poor provision with many young people still unable to access quality PE and sport in their schools and communities. International Inspiration will help tackle this by supporting the delivery of a new sports policy to be launched by the Tanzanian President that aims to guarantee young people of all abilities access high-quality PE and sport.
The programme will also use PE and sport to help young people develop key life skills, raise awareness of social issues including HIV/AIDs and malaria, and promote empowerment, with particularly emphasis on girls and disabled young people.
To build a sustainable legacy and ensure that the programme can continue to positively impact children and young people for generations to come, International Inspiration will train local community teachers, women coaches and young leaders to deliver quality and inclusive sport and PE.
Seb Coe, Chair of LOCOG, said: "I am thrilled that Oscar Pistorius has joined International Inspiration as its latest ambassador. I know the difference that sport can make to someone's life and was lucky to see for myself the impact that International Inspiration can have on young people. We have always stated that we wanted to use the power of the Games to inspire children and young people around the world to choose sport and Oscar's involvement with International Inspiration will help us achieve this – he is a real inspiration to people both in Tanzania and around the world."
Oscar Pistorius said: "Growing up, sport had a huge impact on my life and has helped me become the person that I am now. Meeting and speaking to some of the young people who are benefiting from the International Inspiration programme here in Tanzania has just reinforced how much of impact it is having on their lives. It's fantastic to see that the London 2012 Games are really delivering on their promise to inspire young people around the world to choose sport."
International Inspiration is delivering on its international legacy promise a year earlier than planned and, having already achieved its vision of reaching 12 million children and young people around the world, will now focus on ensuring the programme is sustainable and will leave a lasting legacy in these countries after the final year of the programme in 2014.