Ostersund 2021: Germany and China remain undefeated
Both teams secure top-three finishes at the event and a trip to the Paralympic Qualification Tournament later this year
19 Sep 2021
Imagen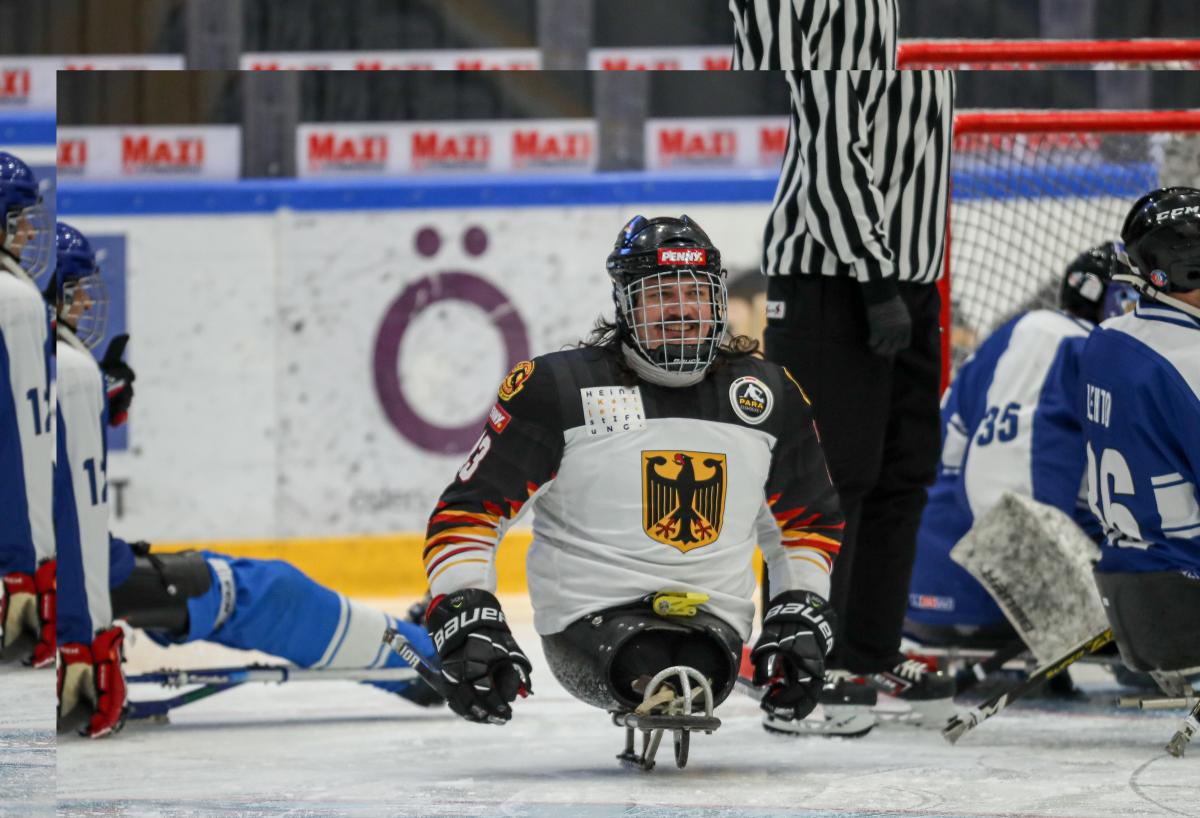 ⒸKarl Nilsson/Parasport Sverige
By Stuart Lieberman and Filip Ozbolt | For World Para Ice Hockey
With their third wins in three days at the World Para Ice Hockey Championships B-Pool on Sunday (19 September), both China and Germany have secured top-three finishes at the event and a trip to the Paralympic Qualification Tournament later this year. Both teams remain undefeated at the B-Pool event in Ostersund, Sweden, with nine points each atop the standings with only two days of games remaining.
China kept to its winning ways in its first matchup on the international stage against Japan, coming away with a 15-0 victory to remain undefeated in Ostersund. Through three games, China has outscored its opponents 45-0.
Eight different players scored for China against Japan, with captain Yu-Tao Cui and Beijing native Yi-Feng Shen each racking up four goals.
Additionally, Jin-Tao Tian scored twice, and the team also had scores from: Zhi-Dong Wang, Guang-Jian Hu, Hong-Guan Li, Xiao-Dong Song and Zheng Zhang.
Cui, Li and Shen lead all scorers at the tournament with seven goals apiece.
"Having already played two games here, we are getting better each time" Shen said. "We are all the time preparing for the Paralympic Winter Games and it's very important for us to get this experience here."
Yan Zhao Ji recorded the win between the pipes for China, while Osamu Odajima and Mitsuru Nagase combined for 19 saves for Japan.
Team effort wins for Germany
Germany defeated Finland, 13-1, behind four goals from forward Felix Schrader and three goals and four assists from defenseman Lucas Sklorz – a pair of players who have combined for 18 points so far in the tournament.
Bernhard Hering had two scores in the victory, while captain Bas Disveld, Frank Rennhack, Jacob Wolff and Christian Pilz all contributed to the scoreboard for Germany as well.
Forward Eemi Rovio, who only took up the sport three years ago, scored his team's first goal of the tournament midway through the third period to lead the Finnish effort.
Goaltenders Veit Muehlhans and Simon Kunst combined for the victory in the net, while Timo Karko had 31 saves for Finland, and now has 73 total saves in the tournament.
It has been a true team effort so far in Ostersund for Germany, which is looking to get back to the Paralympics for the first time since 2006.
"The three games were very tough, but I think we've done a great job," said German team newcomer Jan Malte Brelage, who had two assists in his World Championship debut against Finland.
"The team is perfectly in shape. I think China will be tough to play, but we're in great shape so maybe we will be able to beat them."
Shutout for Sweden
In the day's final game, Sweden shutout Poland, 6-0, for its second victory on its home ice as both four-time Paralympian Niklas Ingvarsson and PyeongChang 2018 Paralympian Robin Meng scored twice. Both of Meng's goals came in the first 10 minutes of the contest, and he now leads Sweden with five goals.
Maximillian Dickson Gyllsten and Peter Nilsson rounded out the scoring for Sweden, which now sits in third place in the standings with six points, ahead of Japan with three points.
"The plan was to make a lot of passes and play well on the offensive side, and we did that a lot more than yesterday when we had to play a lot of defense," said Ingvarsson, the assistant captain.
Swedish goalie Staffan Siren played two periods and Ulf Nilsson played one to combine for the victory, while Poland's Kamil Zgorzynski was in the net for all 45 minutes, recording 18 saves.
All teams will have a rest day on Monday (20 September) before the World Championships B-Pool continue on Tuesday (21 September) with matchups that include Germany vs. Poland, Japan vs. Finland and China vs. Sweden.
The teams are hoping to keep their Beijing 2022 Paralympic Winter Games hopes alive at the round-robin style tournament, which runs through 22 September.
The top three finishers advance to the Beijing 2022 Paralympic Winter Games Qualification Tournament later this year, and the top two finishers will also be promoted to the A-Pool for the 2022-23 season.
All games are being streamed live on World Para Ice Hockey's website and Facebook page. More information about the teams, complete schedule, and results can be found on the Ostersund 2021 microsite.