Ostersund 2021: Hosts Sweden off to a flying start against Finland
Germany and China cruise to victories as well against Japan and Poland on the opening day of the Worlds Championships B-Pool
17 Sep 2021
Imagen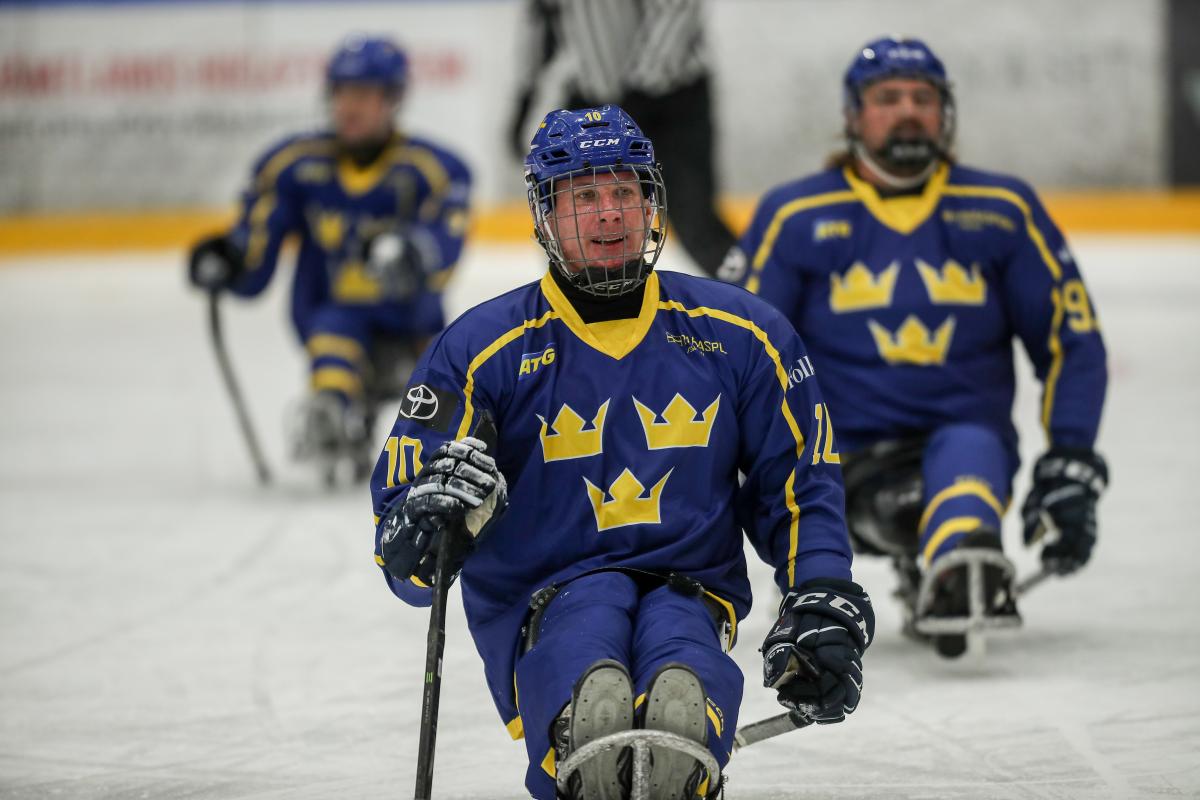 ⒸKarl Nilsson/Parasport Sverige
By Stuart Lieberman and Filip Ozbolt | For World Para Ice Hockey
Sweden, Germany and China sit tied atop the standings with three points apiece after all winning their opening matchups at the World Para Ice Hockey Championships B-Pool on Friday (17 September) in Ostersund, Sweden.
The tournament host nation wasted no time on its home ice, as Sweden cruised to a 6-0 victory against Finland. Niklas Ingvarsson, in his 21st season on the national team, and Rasmus Lundgren scored in the first period — both assisted by Maximillian Dickson Gyllsten and Robin Meng — and Dickson Gyllsten and Meng each had scores of their own in the second stanza to double Sweden's lead.
Meng, formerly a Paralympian in wheelchair basketball, racked up two more goals in the final period to complete his hat trick.
"I am surprised, to be honest. I usually don't score so much, I do other stuff for the team like defence. Of course, I am happy to score and the feeling is amazing", said Meng.
Goaltender Ulf Nilsson had 19 saves for Sweden and Timo Karko had five saves for Finland in its World Championship B-Pool debut.
Rising star Schrader leads Germany
Prior to that, Germany soundly defeated Japan, 7-0, behind two goals and two assists from 24-year-old rising star Felix Schrader and scores by five other skaters. Schrader is already well on his way to repeating his performance from the last edition of the event in 2019, at which he led Germany with 14 points.
Veteran players Bas Disveld and Frank Rennhack both found the net within the first two minutes of the game to give Germany an early two-goal advantage before defenseman Hugo Raedler piled on another score later in the period.
Schrader scored in the second and third periods, with forwards Bernhard Hering and Jorg Wedde adding goals in the final frame, both on the power-play.
Germany's Simon Kunst had a perfect game in the net with 11 saves, while Japan's Mitsuru Nagase had 20 saves.
Germany outshot Japan 27-11 on the day, with defenseman Lucas Sklorz playing a key role in his team's victory in his 10th season on the international level as Germany looks to get back to the Paralympic stage for the first time since 2006.
"It was a bit surprising for us because we hadn't had any good starts in our last few tournaments, but we are very convinced what we are doing is working and we deserved to win this match today," he said.
Fantastic Zgorzynski couldn't save Poland
China, the host nation of the next Paralympic Winter Games, came out blazing with an 18-0 win over Poland to open the tournament. The Chinese squad scored six goals in each of the three periods, with forward Guan-Hong Li netting a hat trick and six other players scoring two goals apiece.
Captain Yu-Tao Cui, Dong-Zhi Wang, Zhan-Fu Zhu, Xue-Song Bai, Jian-Guang Hu and Jin-Tao Tian all scored on multiple occasions.
"We are happy to have won the first game," Zhu said. "We'll do our best to win this competition."
Poland's Kamil Zgorzynski had 38 saves between the pipes for Poland, while Wei Wang was the winning goaltender for China.
China is playing in its second World Championships B-Pool after finishing third in 2019. All but one athlete remains on the roster since that tournament.
The World Championships B-Pool will continue in Ostersund on Saturday (18 September) beginning with Japan vs. Poland, followed by China vs. Finland and then Sweden vs. Germany.
The six teams are hoping to keep their Beijing 2022 Paralympic Winter Games hopes alive at the round-robin style tournament, which runs through 22 September.
The top three finishers from Ostersund will advance to the Beijing 2022 Paralympic Winter Games Qualification Tournament later this year, and the top two finishers will also be promoted to the A-Pool for the 2022-23 season.
All games are being streamed live on World Para Ice Hockey's website and Facebook page. More information about the teams, complete schedule, and results can be found on the Ostersund 2021 microsite.