Ostersund 2021: Japan still on the road to Beijing
Germany beats Finland while China triumphs against Sweden on Tuesday (21 September) to set up the final day match for the first place
21 Sep 2021
Imagen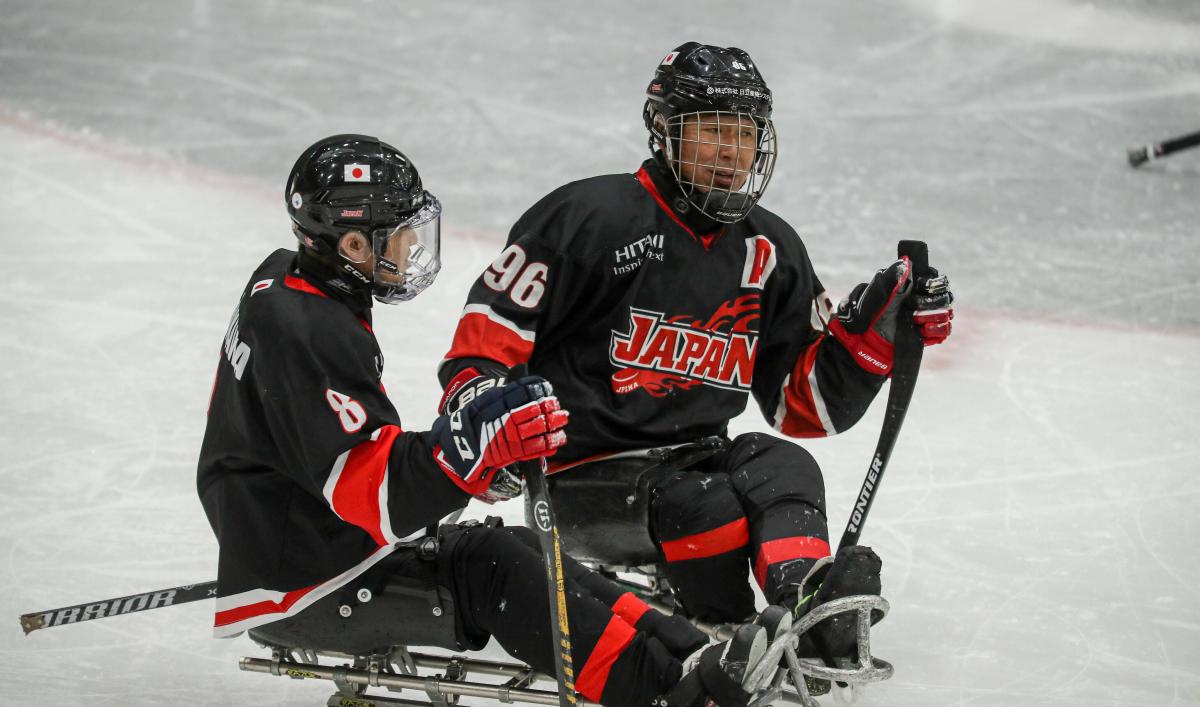 ⒸKarl Nilsson/Parasport Sverige
By Stuart Lieberman and Filip Ozbolt | For World Para Ice Hockey
Japan kept its hopes of qualifying for the Beijing 2022 Paralympic Games alive on Tuesday (21 September) by picking up its second victory at the World Para Ice Hockey Championships B-Pool in Ostersund, Sweden, with a commanding 8-0 win over Finland.
With one day left of games, Japan and Sweden are tied for third place in the standings with six points each; the top three finishers from the event earn a trip to the Paralympic Qualification Tournament later this year.
Captain Nao Kodama, who was introduced to the sport by 2010 Paralympic silver medalist Takayuki Endo, scored twice in the first seven minutes of Japan's game, including once on the power-play, to give his team the advantage against Finland right off the bat.
Masaharu Kumagai put up a hat trick, striking three times in the final two periods; Mamoru Yoshikawa scored his first two goals of the tournament and Norihiko Nasu found the net for the first time to round out Japan's barrage of scores.
Japanese goaltenders Mitsuru Nagase and Osamu Odajima combined for the shutout, while Timo Karko had 26 saves for Finland.
"We tried to play with all the tactics we've learned in this one. Our goal for the next game, though, is top secret," Kodama joked, as Japan now readies for a must-win final game against Sweden to advance to the Paralympic Qualification Tournament.
Seventh heaven for Schrader
Germany kept its undefeated streak intact with a 14-0 victory over Poland that featured seven goals from 24-year-old sensation Felix Schrader, including three from him in the first period and three in the final period. He now has a tournament-leading 13 goals.
Captain Bas Disveld and forward Bernhard Hering each scored twice, and Christian Pilz, Lucas Sklorz and Ingo Khuli-Lauenstein all added goals in the victory for Germany.  
Veit Muehlhans and Simon Kunst once again combined for the victory between the pipes for Germany, while goaltender Krzysztof Sekulski played all 45 minutes for Poland, recording 29 saves.
Germany has now guaranteed itself a top-two finish in Ostersund, meaning it will move up to the A-Pool next season.
"It felt more like a training match for us, but we always treat our opponents with dignity and respect, said Hering.
"Germany is glad we are going back to the big A-Pool stage."
Shen leads China to fourth victory
In the day's final game, China defeated Sweden, 6-0, to also remain undefeated in the tournament and guarantee itself a spot in the A-Pool for next season.
Three different players scored for China – which has now racked up 51 goals through four games –  including Hong-Guan Li, Yi-Feng Shen and Jin-Qiang Xu.
Shen recorded a hat trick with two goals in the second stanza and another in the third, and now leads all players at the tournament with 17 points. Xu scored twice in the game, including the final goal of the contest on a power-play, while Li scored less than three minutes into the match.
Yan-Zhao Ji recorded another shutout to maintain his 100 percent save percentage in Ostersund, while Ulf Nilsson had 22 saves for Sweden.
The final day of action on Wednesday (22 September) will feature a battle for the first place between undefeated China and Germany, along with Poland against Finland and Sweden versus Japan.
China and Germany have already secured top-two finishes in Ostersund, meaning they will advance to the Beijing 2022 Paralympic Winter Games Qualification Tournament later this year and will also be promoted to the A-Pool for the 2022-23 season. The final spot at the Qualification Tournament will go to the winner of Sweden-Japan.
All games are being streamed live on World Para Ice Hockey's website and Facebook page. More information about the teams, complete schedule, and results can be found on the Ostersund 2021 microsite.