Ottobock announced as the Official Provider for the Rio 2016 Paralympic Games
Brazil's largest provider of mobility products and solutions to provide technical service for the first Paralympic Games in Latin America
08 Sep 2014
Imagen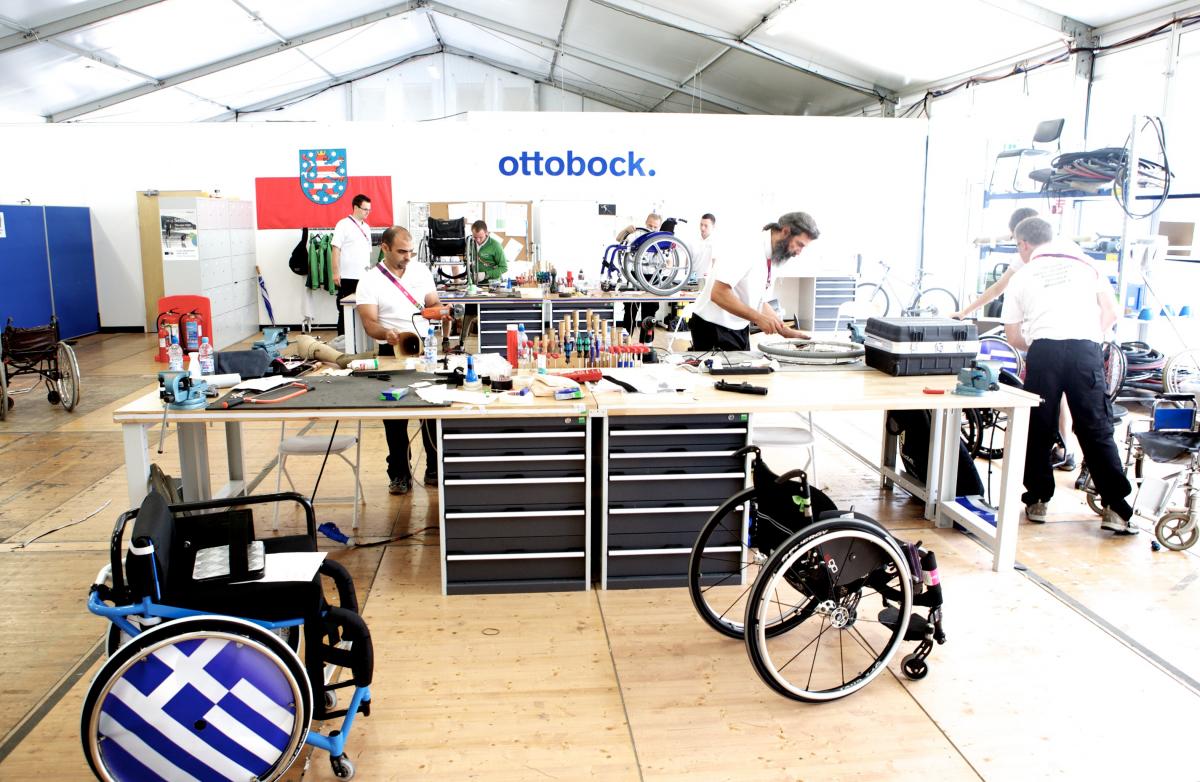 ⒸGiles Duley
By Ottobock
"Our Paralympic engagement is part of the company DNA and becoming a partner of the first Paralympic Games in Latin America is a natural progression of our commitment to both the region and Paralympic sport."
Ottobock Healthcare, world-leading supplier of innovative solutions for people with limited mobility and Partner of the Paralympic Games since 1988 has announced that it will be providing technical service for the Rio 2016 Paralympic Games.
Ottobock has been at the heart of the Paralympic Movement for more than 25 years.
The Rio 2016 Paralympic Games will be the 13th where Ottobock has provided technical service. As the Official Prosthetic, Orthotic and Wheelchair Technical Services Provider, Ottobock will provide a world-class team of prosthetists, orthotists, wheelchair technicians and welders from across the region and its network worldwide.
They will be responsible for supporting the needs of athletes from all competing nations and in all sports, maintaining and repairing any of the equipment they rely on to train and compete.
"Ottobock has a long history in Latin America, with a strong commitment to its people and the growth of the region. In 1975, we introduced prosthetic and orthotic care and have pioneered its development ever since. Our Paralympic engagement is part of the company DNA and becoming a partner of the first Paralympic Games in Latin America is a natural progression of our commitment to both the region and Paralympic sport," said Professor Hans Georg Näder, President and CEO of Ottobock Healthcare. "The vitality of the Brazilian people and the Paralympic spirit is a thrilling combination, and I am looking forward to Games with a passion that will be felt not only in Rio but by audiences worldwide."
Ottobock is the largest provider of prosthetics, orthotics and wheelchairs services and care in the region, as well as the primary provider of orthopaedic training. Offices in Argentina, Brazil, Chile, Colombia, Ecuador, Peru and Mexico employ 257 people. Working in partnerships with public health organisations, private clinics and charitable institutions they provide people living with disabilities across the region access to high quality mobility equipment and patient care.
To support the region's pace of growth a new headquarters has been built in Valinhos, Sao Paulo, with new facilities for the Ottobock Academy structure, enhanced services and a showroom displaying the latest in mobility technology.
The Rio 2016 Paralympic Games are expected to attract 4,350 athletes from more than 160 nations to compete in 22 sports. They will compete in 20 venues across Rio de Janeiro where Ottobock will provide comprehensive technical service.
"Ottobock's 25 years of experience as a Partner to the Paralympic Games and global resources are invaluable to us as an organising committee," said Carlos Arthur Nuzman, the President of the Rio 2016 Organising Committee for the Olympic and Paralympic Games. "We are delighted to have Ottobock on board to provide athletes the confidence and familiarity of a trusted partner. Their technical service support will ensure the smooth running of the Games and we look forward to bringing together the power of the Ottobock and Paralympic brands to engage people across the region and change perceptions of disability."
Facts and figures:
• Ottobock will have a team of 90 prosthetists, orthotists, wheelchair technicians and welders who will provide technical service in the Paralympic Villages as well as sport and training venues, providing an essential Games time service that is unique to Paralympic competition.
• Over 15,000 spare parts and 13 tonnes of equipment will be set up in two days ready for the workshops to open on August 28 and operate 24/7 until the end of the Games.
• With more than 4,350 athletes from 176 countries competing, it is expected that more than 2,000 athletes will need to visit one of the workshops.
• Ottobock has been a partner to the Paralympic Games providing technical service since the Seoul 1988 Paralympic Games.
• The Rio 2016 Technical Service Team will draw on Ottobock Paralympic expertise from all over the world, to work alongside colleagues from Brazil and Latin America.