Ottobock carries out 180 jobs at Sochi 2014
Halfway through the Sochi 2014 Paralympics, Ottobock's technical service workshops across five locations have answered athletes' needs.
12 Mar 2014
Imagen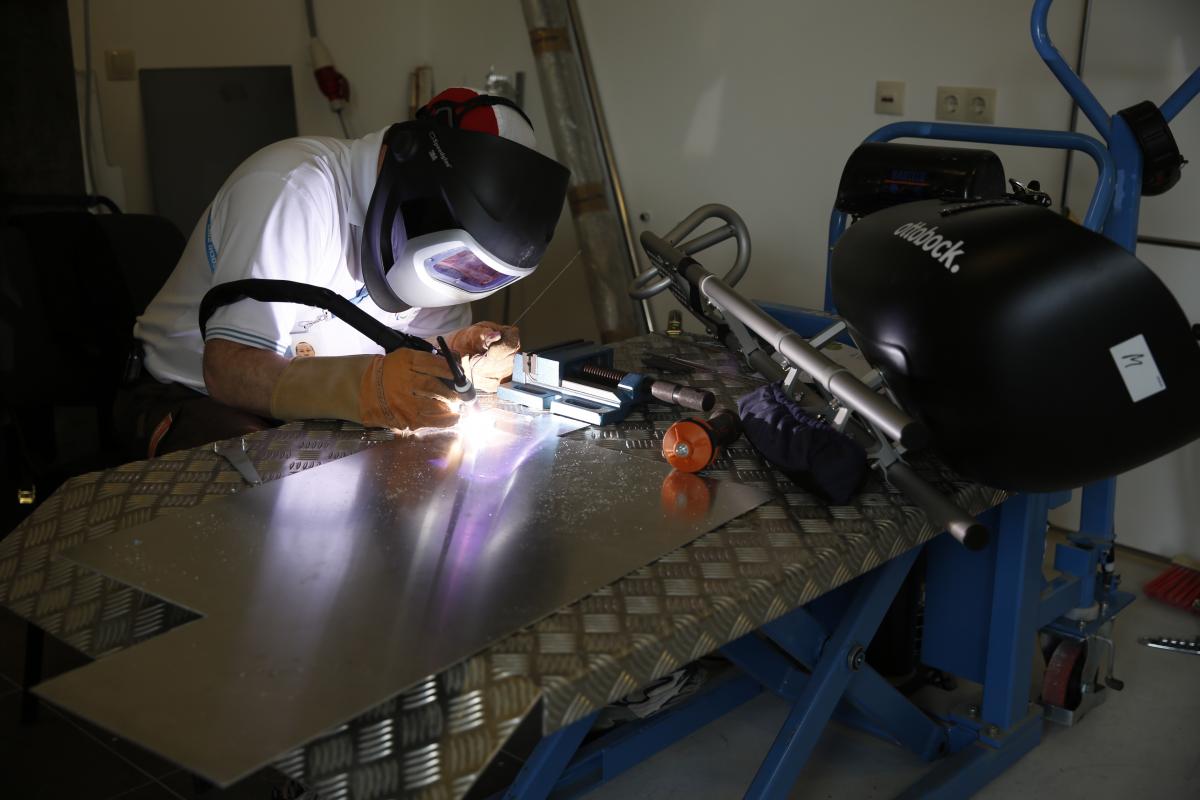 ⒸOttobock
By Ottobock
"Athletes know they can trust us when it matters the most. This is something all our technicians are extremely proud of and supporting athletes in this way is a real honour."
At the halfway point of the Sochi 2014 Paralympic Winter Games, the Ottobock technical service team is continuing to repair and service equipment to ensure Paralympic athletes are able to stay primed for action without interrupting the competition.
At technical service workshops spread across five locations, 180 jobs have been carried out, including repairs to competition equipment and adaptations to wheelchairs for Opening Ceremony flag bearers. All servicing requires specialist knowledge and a fast turnaround. With the wide variety of equipment used by Paralympians, the team of technicians have had to draw on their experience from 11 previous Games and work creatively to implement repairs across all sports for 36 out of the 45 nations competing.
Similar to the services provided by mechanics in motor racing, the teams are responsible for the repair and maintenance of equipment used by Paralympians and getting athletes back into the competition as fast as possible in workshops operated by Ottobock HealthCare, the official technical service provider for the Sochi 2014 Paralympic Games.
Visitors to the workshop have included France's Patrice Barattero and Germany's Stefan Loesler who will compete in snowboarding's Paralympic debut.
Patrice has helped pioneer the development of snowboarding equipment for amputees and visited the Ottobock workshop for some last minute technical advice before his competition on Friday (14 March).
"Patrice was one of the first athletes to use the ProCarve and has worked closely with the product developers," said Bart Carleer, Ottobock technician.
"He is very knowledgeable about the technology and performance but came in for an expert opinion, which is why we are here. It is not always about the specialist repairs, some athletes just want to talk through how they have their products set-up to put their mind at ease before competition.
"Both Patrice and Stefan are thrilled to be competing at their first Paralympic Games and what gives them most pleasure will be the opportunity to showcase their sport to the world and inspire other amputees to give it a try."
The largest demand for repairs so far has come from the alpine skiing, with 92 repairs. A further 58 repairs have been carried out for ice sledge hockey competitors, with specialist welders on-hand to service equipment damaged in this fiercely contested sport.
With four days of sport left to go, competition is heating up and Ottobock technicians expect to see the number of repairs increase as athletes push themselves and their equipment to the limit.
"The Paralympic Games are the culmination of four years of commitment and sacrifice for these athletes," said Peter Franzel, Ottobock Technical Service Organising Director.
"Almost all of them rely on equipment to train and compete and if there are problems it is Ottobock they turn to. We take this responsibility very seriously. In 25 years of supporting the technical service needs of athletes we have developed a reputation for reliability and dedication.
"Athletes know they can trust us when it matters the most. This is something all our technicians are extremely proud of and supporting athletes in this way is a real honour."