Para athletes dream of Champions League glory
Three of Para sport's biggest names share their passion for football
12 Sep 2017
Imagen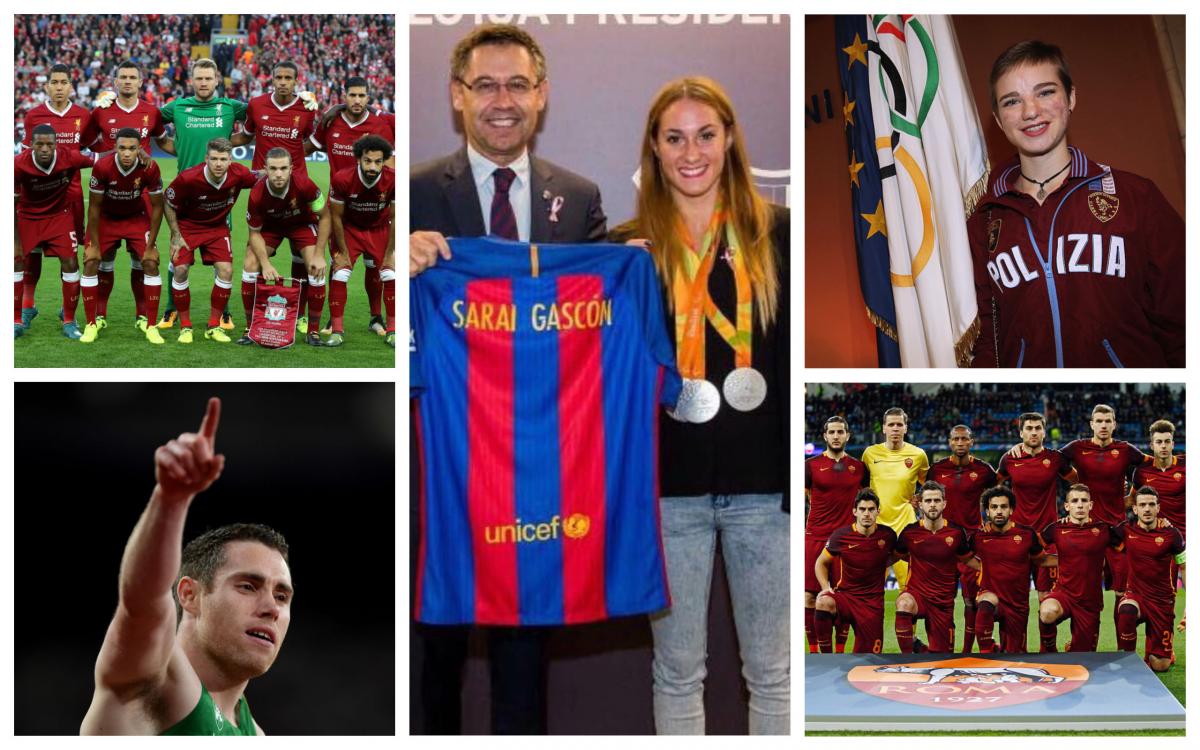 ⒸGetty Images / Sarai Gascon
By IPC
"Every time I go back it's that kind of hair stand up on the back of your neck, they sing 'You'll Never Walk Alone' and everybody puts their scarves up. Anfield is one of the special places for that kind of atmosphere and excitement."
Tonight (12 September) is a huge night in the European sporting calendar, as football's elite clubs kick off this season's Champions League.
As fans across the continent gather to watch the best players start the battle for club football's biggest prize, we caught up with three Para athletes who are hoping to cheer their teams to Champions League glory.
Sarai Gascon – FC Barcelona
Spanish Para swimmer Sarai Gascon is currently focusing on preparations for this month's World Para Swimming Championships, but she will still be keeping an eye on her lifelong club FC Barcelona. They begin their Champions League quest at home to Italian giants Juventus.
"My father and my family have always been Barcelona fans and I have followed this passion closely. I guess living here has influenced me as well [her home town is Terrassa, in the province of Barcelona]. But above all because it has always been a great team with many values.
"My favourite Barcelona player used to be Xavi Hernandez because he was born in Terrassa as me. But now [Lionel] Messi is my favourite player, I think he is the world´s best.
"I especially remember a match against Manchester City at the Camp Nou. I was invited following my participation at the Rio 2016 Paralympic Games. They gave me a Barcelona shirt signed by Messi, an honour. I did not expect it, I loved it."
But would Gascon rather see Barcelona lift the trophy than defend her world 50m freestyle S9 title?
"I would pick both things, to see Barcelona winning the Champions League and me winning the world title in Mexico City. But even though it would be great to see Barcelona winning another Champions League, I would prefer to win a medal at the World Championships because it would be a personal victory.
"In Mexico City, my goal is to reach the podium, the highest position the better. I always seek to achieve the best and will try to defend my world title. It is going to be hard because there is a rising competitive level."
Jason Smyth – Liverpool FC
Barcelona are one of the favourites to lift the trophy, but in contrast Liverpool FC are making their competition return after three seasons away, beginning with a match at home against Spanish side Sevilla. For Reds fan – and the world's faster Paralympian - Jason Smyth, the expectations for his team are a little lower.
"I think winning it is maybe a jump too far but get through the group absolutely. Liverpool, considering they were third seed of the draw, to me they got a very good draw. Spartak Moscow, Sevilla, both teams that can be beaten. So I think definitely get through the group, then you require a bit of luck depending where you finish.
"If we can keep the goals out at the back we are good going forwards so how far to go? I'd love to say all the way but you take small steps. I'll be optimistic and go quarter-final."
Smyth, who retained his world 100m T13 title at London 2017, has been a Liverpool supporter since he was a child. And despite his visual impairment, he says watching the team at their home ground of Anfield is a special experience.
"Obviously one of the challenges for me is I don't actually really see what's going on at the game. But the one thing that I've always loved and keeps me interested to go back as well is the atmosphere. Anfield is very well known for an incredible atmosphere.
"For me, every time I go back it's that kind of hair stand up on the back of your neck, they sing 'You'll Never Walk Alone' and everybody puts their scarves up. Anfield is one of the special places for that kind of atmosphere and excitement.
"That's what I love about going – I probably see more if I watch up close to the TV at home. But the atmosphere you can't experience unless you are there."
Beatrice Vio – AS Roma
Like Liverpool, AS Roma are back in the Champions League group stage this season after missing out in the play-offs last year. For Paralympic fencing champion Beatrice Vio, it's a welcome return to the competition.
"I love football and I am a real Roma fan. I'm happy that they're back at the Champions League and sometimes I go to Rome to watch them. He's not playing anymore but my favourite player was [Francesco] Totti. Once I had the chance to meet him and it was amazing."
The Paralympic Sport Award winner may be rooting for Roma, but it turns out there are split loyalties in the Vio household.
"We have a kind of family tradition, it's almost a house derby, I should say. My father Ruggero is an Internazionale fan but me, my mother Teresa, my younger sister Maria Sole and my brother Nicolo all support Roma.
So we always go to the stadium to watch Roma against Inter in Rome.
"The first time, Roma won and we celebrated a lot at home. But last time, Inter won so it was my dad's turn to celebrate."
With Inter not having made it into this year's tournament, hopefully the entire Vio family will be backing the same team when Roma host Atletico Madrid.