2017 Paralympic Sport Award winners revealed
Athletes recognised for outstanding achievements at Rio 2016
08 Sep 2017
Imagen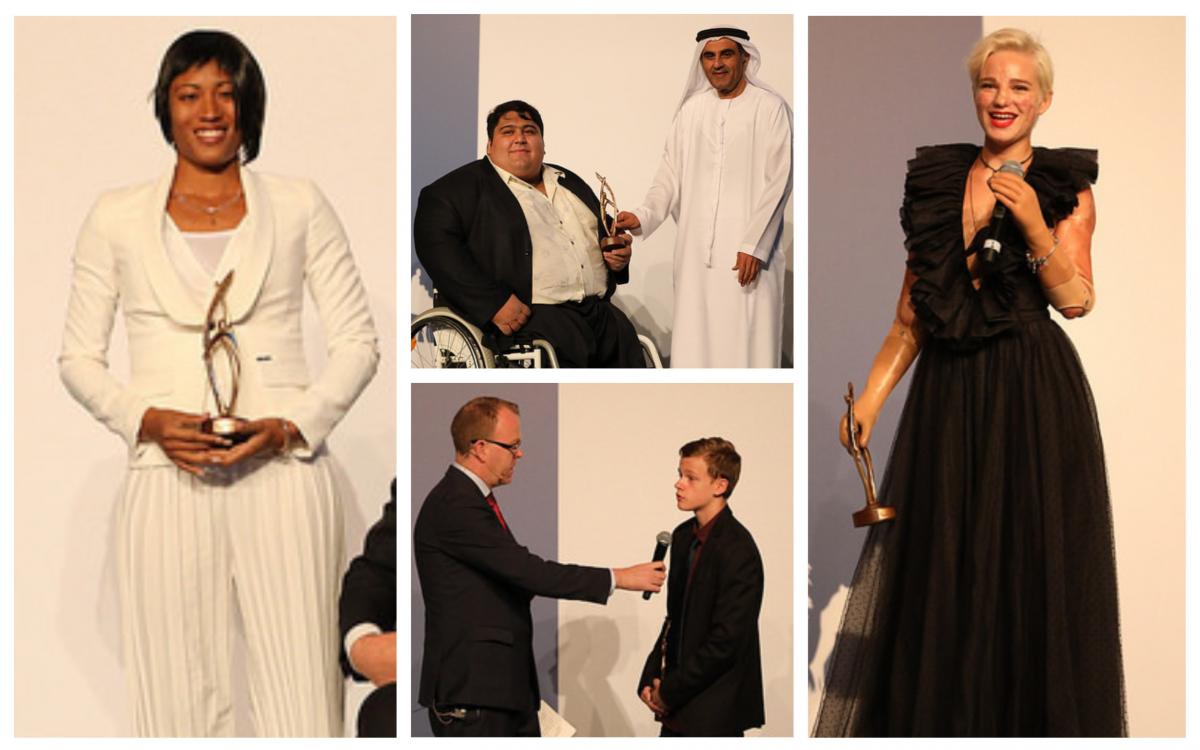 ⒸIPC
By IPC
"The outstanding message of such a selection to the world is to prove that impairment is not a limitation, and a Paralympian can achieve sport performances and records that the normal people cannot even imagine."
The International Paralympic Committee (IPC) has announced the winners of the 2017 Paralympic Sport Awards, which were revealed during a ceremony on Thursday (7 September) in Abu Dhabi, UAE.
Coinciding with the IPC General Assembly in the city, the awards recognised achievements from the Rio 2016 Paralympic Games. The sport awards cover six categories: Best Female, Best Male, Best Female Debut, Best Male Debut, Best Team and Best Official. Additionally, one athlete received the BP Courage Award, and three organisations took home Paralympic Media Awards.
The world's fastest female Paralympian Omara Durand lived up to expectations at Rio 2016, and her outstanding achievements earned her the Best Female award. The Cuban sprinter won a trio of Paralympic gold medals, smashing her own world records in the 100m and 400m T12 – both that she set at the 2015 World Championships. She even set a Paralympic record of 23.05 in the 200m T12.
"This is the biggest recognition I have ever received; I am so thankful," Durand said. "This award is very important for all Para athletes and I feel proud to have been selected Best female Para athlete."
The world's strongest Paralympian Siamand Rahman did likewise nearly one year ago in his sport. The Iranian powerlifter broke his own world record by lifting 310kg – a moment many were waiting to happen in Rio. It was Rahman's second consecutive Paralympic title.
"In my opinion, the outstanding message of such a selection to the world is to prove that impairment is not a limitation, and a Paralympian can achieve sport performances and records that the normal people cannot even imagine," Rahman said about receiving the award.
"Therefore, the Paralympians are changing people's perception of the world through their achievements and this is the most important point that I always think about."
Two teenage athletes showed poise and talent in their first – and certainly not their last – Paralympic Games.
Italian wheelchair fencer Beatrice Vio took the Paralympic piste at only 19 years old. Already entering Rio 2016 with hype as a young world champion, Vio captured gold in the women's individual foil category B. She was the only quadruple-amputee in international wheelchair fencing and also led the Italian team to a bronze medal in the team foil.
"I got [this award] for the event that was my dream since I started practicing wheelchair fencing: the Paralympics of Rio 2016," Vio said.
"I attribute my success to all my teams. First of all my family, my parents and my brother and sister; they are the basis of my life. Then the family of fencing, the girls of my team but also all the others are equally important for me: the coaches, the physiotherapists, the athletic trainer, the sparring partners, the guy who prepares our weapons — even our mythical photographer! But I could also add friends, work colleagues, prosthetic centre technicians. I am really lucky because I have many teams that support me. I wouldn't be anybody and reach any results without them.
"I hope this award can stimulate so many other children and boys who, like me, have found themselves a day to start again from scratch. Sport can help you to pick up your life again and make you understand, despite everything, how beautiful it is."
Even younger is Laurens Devos, who received the Best Male Debut award. The Belgian became the youngest male Paralympic table tennis champion at 16 years old after winning gold in the men's singles class 9. He did not drop a single set in the finals.
"The award means a lot for me because I did not expect that I would receive it," Devos said. I am very happy that I got it and I think everyone wanted to receive this award.
"My coach Carlo [Agnello], he worked hard for me so I am really thankful to him. He spent all his time on me. He took me to matches and he analysed all the matches. He knew what I needed to work on and because of that I became a stronger player."
The Best Team accolade went to Turkey's women's goalball team after an historic performance in Rio. In their first appearance at a Paralympic Games, Turkey upset favourites and three-time Paralympic silver medallists China 4-1 to claim their maiden Paralympic title.
"Thanks to this success achieved by athletes with visual impairments, they feel that they are valued and there is no discrimination and I think this is an honour and pride for them," said Turkish coach Gokhan Ince. "I believe that regular and continuous exercise have an effective role which bring about such success to us at the international level."
The Best Official award went to Kate McLoughlin of the Australian Paralympic Committee (APC). McLoughlin was the APC's first female Chef de Mission of any Paralympic team. Her leadership and support for the 177 athletes and 150 officials leading up to and during Rio 2016 helped lead Australia to fourth place on the medal tally in Rio.
The BP Courage Award, being given for the third time, was won by Iraqi wheelchair fencer Ammar Hadi for his perseverance despite personal challenges and adversity that the Iraqi conflict brought. He won Iraq's first wheelchair fencing Paralympic medal at Rio 2016.
Media awards
The Paralympic Media Awards recognised the various coverages during Rio 2016.
Best Broadcast went to the Canadian Paralympic Broadcast Consortium, an innovative model created to include high profile media organisations to produce and air the Games, all at one. The success of this model helped Canadians get a feel of the excitement unfolding – live – from home, and managed to do so in both Canada's official languages – English and French.
Spain's most sold newspaper MARCA received the Best Written award for producing numerous daily content both in print and online. During the Games, the organisation published two full pages in print about the competition and told inspiring human stories, including four pages the day of the Opening Ceremony. Its website published an average of 10 articles a day.
The Best Photography went to Bob Martin of the Olympic Information Services for spectacularly capturing German armless high jumper Reinhold Botzel clear the bar.
2017 Paralympic Sport Award winners:
• Best Female: Omara Durand (CUB)
• Best Male: Siamand Rahman (IRI)
• Best Female Debut: Beatrice Vio (ITA)
• Best Male Debut: Laurens Devos (BEL)
• Best Team: Turkey's women's goalball team
• Best Official: Kate McLoughlin (AUS)
• BP Courage Award: Ammar Hadi Ali (IRQ)
• Best Written: Marca (ESP)
• Best Broadcast: Canadian Paralympic Broadcast Consortium
• Best Photography: Bob Martin