Para-Athletics Explained: Guide Running
In the second edition of 'Para-Athletics Explained' we discover what it takes to be a para-athletics guide.
10 Mar 2016
Imagen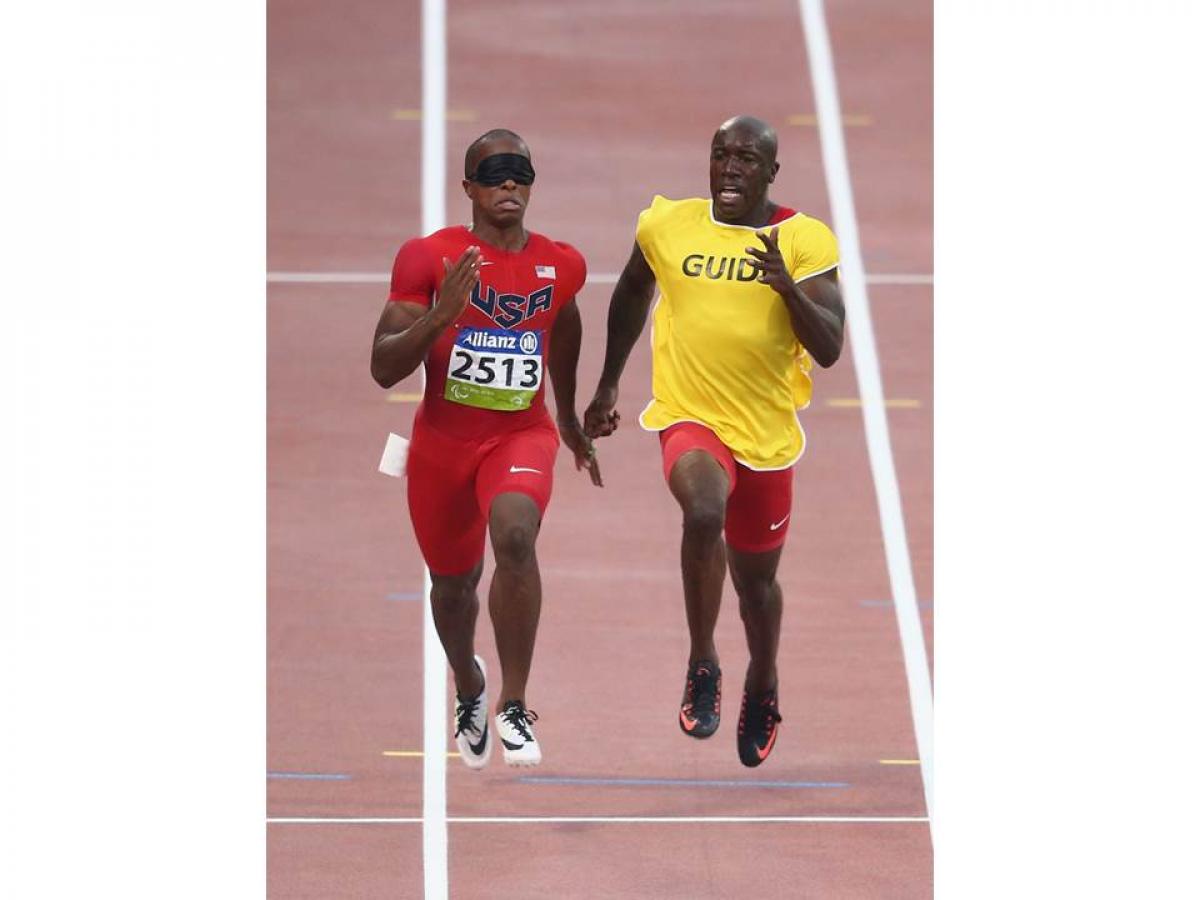 ⒸGetty Images
By IPC
In 2004 Jerome Avery was given the opportunity to guide at the Athens Paralympics. It was not a role he had planned – in fact, Avery had been hoping to compete for the US Olympic team in Greece, but failed to make the cut at the US Trials. A friend mentioned the opportunity to go as a guide instead – and he's never looked back.
The US sprint guide, who partners 100m T11 world champion and world record holder David Brown, talks about life as a guide runner.
---
How did you start out as a guide?
The first person I worked with was Lex Gillette (T11 long jumper). At the time I was a caller, which meant I didn't even have to run with Lex – just warm him up, and clap him down the runway.
This was at the beginning of the Games, and it just so happened the first race in the first round the guide runner for the US team pulled his hamstring. I knew it was my time to step up. I got on the track, ran with the guy, and in the first race he breaks the American record.
How did you get together with David Brown?
I was working with Josiah Jamieson, a T12 athlete. He didn't need a tether, so he could do a lot of his own training.
Coach Joaquim Cruz asked me to run with David. We paired up and did a couple of practises; coach asked if we could run in two races and see how it goes. He ran his personal best the first race; his second race he broke the world record. In the third race he became the fastest totally blind athlete and the only one to run sub 11 seconds. The rest is history - we became 'Team BrAvery.'
What do you believe are the key traits required in a guide?
Matching cadence and being vocal while you are running, being around an athlete 24/7; your communication skills are totally different, you have to be patient and unselfish. It is very important the guide should adjust to the athlete, not the other way around. You need to be able to make the athlete feel as comfortable as possible and you have to thrive on it - you can't feel pressure.
Out on the track and in position, I'm that guide that will pretty much get you excited. It's like you having your coach or your strength trainer in your ear pumping you up.
How fast does a guide need to be?
For the 100m you're going to have to at least run 10.4-10.5 seconds. In the 200m you would have to race at least 21.0 flat or a 21 low. My personal best was 10.17 and I occasionally jump in the meets to see where I am at - make sure I'm comfortable. It's definitely a big plus to be much faster than the athletes you are running with.
What are your key responsibilities?
At major events it's always packed so I keep David tight next to me. When we do our warm up he's always right behind me. We have to minimize all the errors, like bumps or potholes.
On the track we go straight to the blocks and I set them up. I let him do a block start then we'll do one together.
At competitions we are everywhere together – even doping control - I have to be tested when he breaks world records.
Do you talk during the race?
It's important to be vocal and let him know all his cues. We work on this in practise – I'm probably more vocal then. It helps my lung capacity too.
When the gun goes off I do get those moments where I get excited and want to race too. That's why I think it's important for me to count, or let him know exactly where we are - it helps me.
When we are hitting that last part of the race I'm yelling 'Fifty! Let's pick it up, 20m, 10m lean!' That's my cue to ease while he goes forward.
What type of tether do you use?
When I started with other athletes we were at about 12 centimetres. As we've gone on and got more comfortable, we're at almost 4 centimetres. We are connected with two strings through the fingers - pretty much touching hands. With a longer tether sometimes he would veer out one direction and I would go straight, which would cause us to lose time. Now everything is short and quick, there is no room for error.
How much do you train together?
Usually four times a week - the other two days I will do my workout. It gives me an opportunity to work on my speed, to work on that extra burst that I need to make him feel comfortable. Even though I am faster out the blocks I can't just leave at the gun – I have to look in my peripherals and watch him come out. So even if he explodes quickly out the blocks and I don't react to him, I can still get out without hindering him.
Trust is vital - how important is it to get along and enjoy each other's company?
If you didn't have that then the chemistry wouldn't work. The confidence in my voice I believe allows him to feel that he can go as fast as he wants.
We've built the relationship like brothers –we enjoy being around each other, we have fun. Of course at the end of the day you need to break, but when we come together we always motivate each other.
We are there for each other too. The 200m final in Doha was a hard race for both of us. It was tough for me to see him in that position. We both pick each other up.
NBC Olympics has recently published a feature video about the two sprinters which can be watched here.