Para athletics explained – visually impaired long jump
Find out from the Paralympic champion how he manages to be the best in the world despite having to wear a blindfold to jump.
18 Apr 2017
Imagen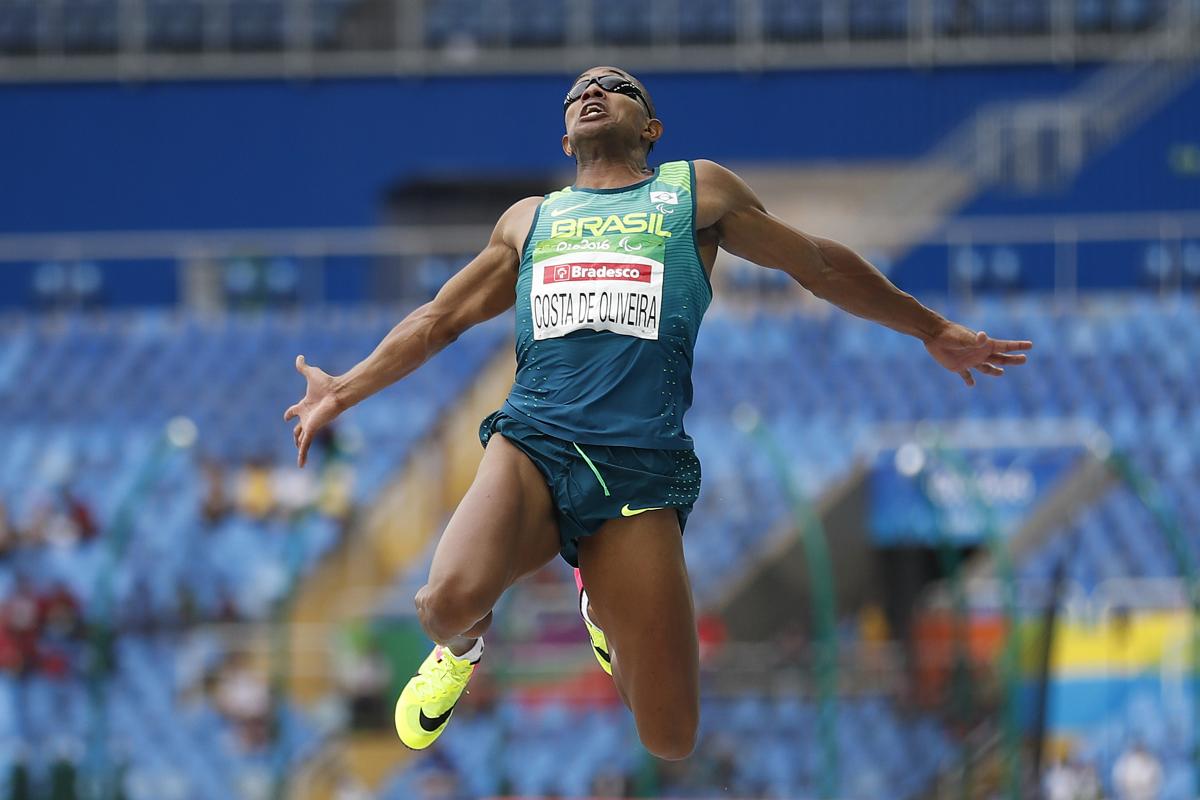 ⒸWagner Meier for the IPC
"I had a bad experience once, when I jumped and landed out of the sand."
In the long jump T11 class, competitors wear blindfolds. Silence in the stadium is essential as athletes sprint full speed down the runway before leaping in to the unknown, directed only by the voice or claps of their guide, standing near the sand.
So what does it take to be the best in the world?
Brazil's own Paralympic champion, Ricardo Costa da Oliveira, leapt a phenomenal 6.52m with his final attempt to seal gold at Rio 2016. Here he explains what it takes to reach the top of the podium.
1. Can you describe how you execute a long jump?
I always prefer my guide to position me right in the middle of the lane. As my first step is with the right leg, I produce more power with the left leg, therefore I tend to go leftwards. So when he positions me I try to move just a bit to my right so as to diminish chances of going out of the lane.
From this moment, my guide calls me and starts to count my strides. When he reaches 10, I know I'm ready to take off! When I'm in the air I just feel as free as it gets.
2. Trust, confidence and commitment are vital - how do you train for this and is one thing more important than another?
Trust is definitely most important. I believe it is kind of a backbone for every single thing you try to do in your life. Nothing works if there is no trust.
3. How do you build up a good working relationship with your guide?
I always practise with the same guide. He needs to be someone you really trust, because the odds of making a mistake are really high if you don't fully trust him. I would say the best way to build a relationship with a guide is talking with him, but not just about work. We talk about our daily routines, our habits and so on. That helps a lot.
4. What is the balance between mental and physical strength?
That's when I believe psychology comes into play. As I'm blind, I really need to picture myself running if I am to go out there and perform. I never ever think about making a mistake. I always need to be positive, so I can go to the track and execute what I have thought about beforehand. That's why I think mental strength is so important.
5. Guides can signal in different ways - clapping, shouting, etc. What works best for you?
I have been through all of them: shouting, clapping and counting. The last one is what has worked best so far. It gives me the right perception as for when I need to jump. It also makes me feel safer, because when the guide stops counting, I know I have to immediately cut off the jump, otherwise I can get hurt.
6. How easy is it to block out external noises - has it ever been a distraction?
At first it was pretty difficult, but again, psychology helps a lot when it comes to this. I learned how to focus on the only thing I need to when I'm positioned in the lane. And that's my guide voice.
7. Have you ever veered off course or collided with your guide?
I had a bad experience once, when I jumped and landed out of the sand. I really got hurt and it was caused by the fact that the guide could not stay inside the jumps sector at that time. Fortunately this rule was changed and it helps a lot to keep us from going off course. Now the guide's sound comes right from where you need to head to. It's way easier to run straight.
8. How did you deal with the pressure of that last jump at Rio 2016?
I tried as hard as I could to leave all the pressure behind and keep my cool. I knew I had to have a pretty good run, but a pretty intelligent one as well. In the first five jumps I couldn't go all-out in the running part because the odds of getting hurt are higher. However, I had nothing to lose at that point. I ran pretty fast and that was key in the outcome.
9. Can you tell immediately if you have done a good jump? Did you know at Rio that your last jump was good enough for gold?
Oh, I knew right away that that had been a pretty good jump. I developed the habit of saying "um" (the number one, in Portuguese) when I'm in the air. In that jump, when I screamed "um", I noticed I was still going upwards, which made me believe it was an amazing jump regardless of whether it would be enough for the gold medal. My only fear was if it was a legal jump.
Ricardo Costa da Oliveira will be one of around 1,300 athletes from over 100 countries competing at the London 2017 World Para Athletics Championships. To buy tickets, please click here.