Para-cycling: Mazzone sweeps H2 class, Eskau tops H5
Italy's Mazzone dominated his class with gold in all three events; Germany's Eskau rebounded from a tough season with gold in the road race.
03 Aug 2015
Imagen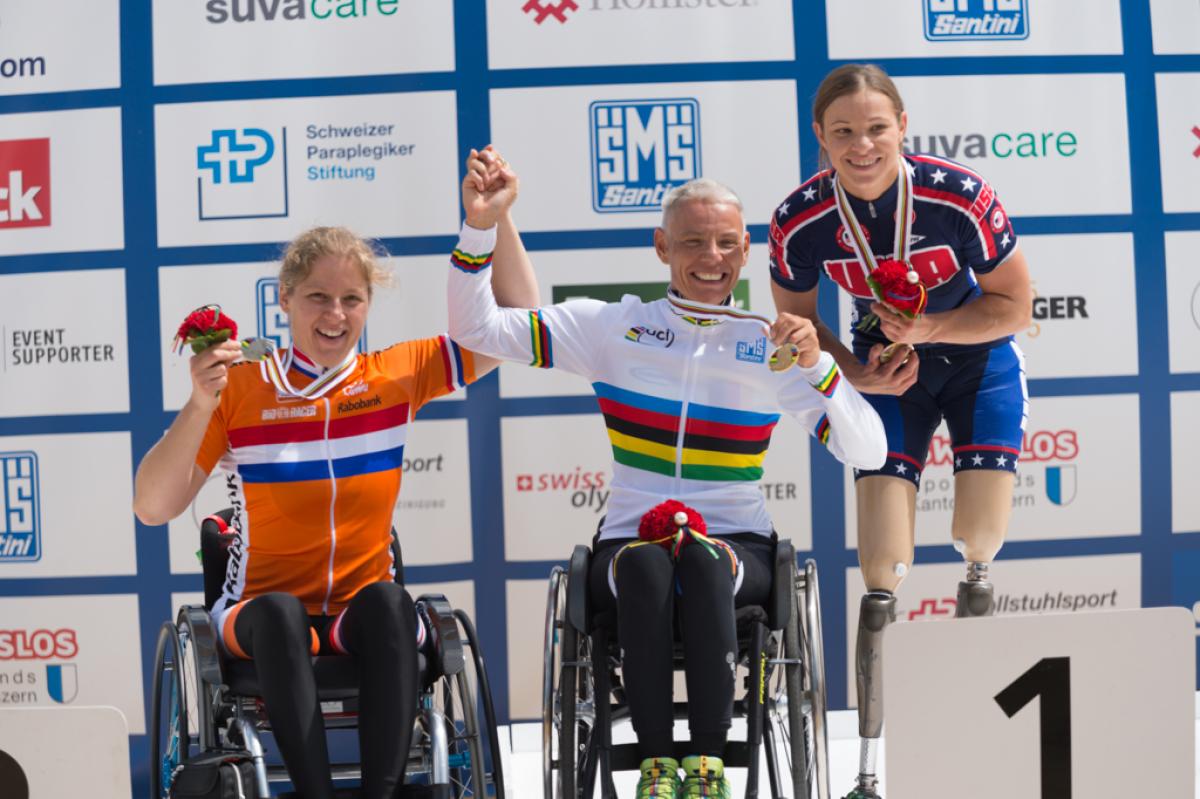 ⒸOliver Kremer www.pixolli-studios.de
By UCI
Italy's Luca Mazzone entered the final day of the UCI Para-Cycling Road World Championships in Nottwil, Switzerland, with two gold medals. He added another on Sunday (2 August), winning the H2 road race and adding to his collection in the time trial and relay.
Three-time gold medallist at the 2013 World Championships in Baie-Comeau, Canada, and twice crowned champion in Greenville, USA, in 2014, Mazzone showed his skills early in the 42km race with an escape from the rest of the pack. In the end, he completed the six laps with an advance of 1 minute 11 seconds over nearest competitor American William Groulx, who also finished behind the Italian in the time trial. Third place went to Sweden's Anders Backma.
"I tried to attack and make the biggest gap possible but you are never at any point sure that you are going to win in a World Championships," Mazzone said.
Italy was dominant in men's handcycling road races on Sunday – as had been the case in the time trials. Like Mazzone, Vittorio Podesta (H3) and Alex Zanardi (H5) completed an Italian triple medal run.
Zanardi earned victory with an impressive sprint final, completing the 46.5km in 1 hour 29 minutes 21 seconds, battling the Netherlands' Jetze Plat. Dutch cyclist Johan Reekers finished in third place, 33 seconds behind the leading duo.
Podesta finished the race with more than a three-minute lead on Swiss duo Heinz Frei and Lukas Weber, who won silver and bronze, respectively.
"Before the race I had three plans," Zanardi said. "The first was to break away on the last climb and celebrate on the last half of the lap to the finish line; that was not possible. My second plan was to get away in the downhill; that was not possible either. He (Plat) stuck to me.
"The third plan was to enter the stadium in first place," Zanardi said. "We were side by side - he surprised me a little. At that point I had to find a solution and I got to the last corner on the inside so he had to ride further."
Said Plat: "I decided to use the first lap to see how I was feeling. I felt strong so I knew I should make the race hard on the uphill. I knew I had to be in front before the last corner and I tried but I didn't manage to do that. I honestly could not have done more so I must be happy with the silver medal."
Defending World Champion South Africa's Ernst Van Dyk was halted by mechanical issues on the first lap and was not able to gain back time lost. He finished in seventh place, a full 12 minutes 45 seconds behind Zanardi.
The World Championship title in the H1 and H4 Classes went to South Africa's Nicolas Pieter Du Preez and Poland's Rafal Wilk, who earlier this week also dominated the time trials in their respective categories.
Eskau Returns to the Top
In women's racing, Germany's Andrea Eskau made short work of her competition in the H5 class, defeating by six seconds the athlete who defeated her in Friday's time trial - the Netherlands' Laura De Vaan. American Oskana Masters took third place.
First in the UCI rankings last year, Eskau has not had the 2015 season she would have wanted. Currently ranked fourth overall, the 44 year-old athlete was finally able to flourish in the Elzach, Germany, stage of the World Cup, earning her first medal there.
The German nonetheless sought to defend the title and rainbow jersey she earned at the 2014 Worlds in Greenville.
"It was different [Sunday] and I am really proud because I have not had a good season," said Eskau, who also earned a silver medal in the time trial. "I did not expect to win."
Fellow Germans Christiane Reppe and Silke Pan achieved a one-two podium finish in the H4 class. Reppe, current road world champion, completed the 42km race with a 3 minutes 18 seconds lead over teammate Pan.
Behind by 7 minutes 21 seconds, Switzerland's Sandra Graf earned the bronze.
In the H2 class, Friday's time trial results repeated themselves as South Africa's Justine Asher came in ahead of the Netherlands' Carmen Koedood and South Korea's Mikyoung Jeon.
Italy's Francesca Porcellato (H3) also earned her second gold medal in three days. After having won gold in the time trial, Porcellato made short work of the field in the 35km race, crossing the line 2 minutes 1 second ahead of American Alicia Dana and 4 minutes 15 seconds ahead of reigning world champion, Poland's Renata Kaluza.
Australia's Emilie Miller (H1) was the other gold medallist on Sunday.
With the conclusion of this year's World Championships, para-cyclists will take advantage of a month's rest before the final stage of the UCI Para-Cycling Road World Cup this season, which will take place in Pietermaritzburg, South Africa, from 11-13 September.
For complete results of the UCI Para-Cycling Road World Championships, please visit the UCI's website.