Para cyclists hit the road for World Championships in Portugal
Road World Championships to take place between 9 and 13 June
08 Jun 2021
Imagen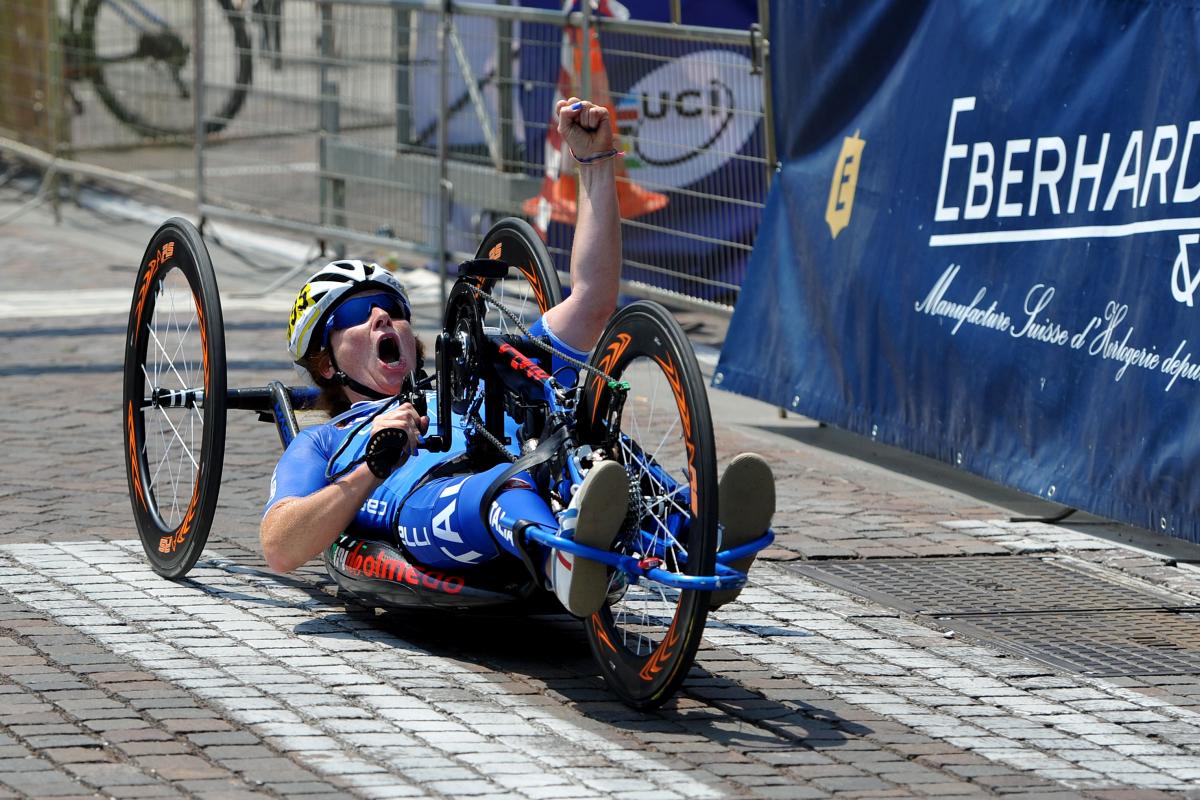 ⒸJean-Baptiste Benavent
By UCI
Excitement mounts for the five-day 2021 UCI Para Cycling Road World Championships which runs from 9-13 June at the famous motor racing circuit of Circuito Estoril in Cascais, Portugal.
The provisional starting list sees 39 countries represented, including a raft of multiple champions - among them Italy's Paralympian Francesca Porcellato. 
The athletics and cross-country skiing Paralympic champion has been one of the world's best female H3 cyclists since 2015, when she won the road race and time trial competitions at the World Championships in Nottwil, Switzerland. After facing the same hiatus that most of her fellow athletes encountered during 2020 and returning to competition with a win at the first 2021 Road World Cup in Ostend, Belgium, Francesca is ready for the next challenges. 
"It was a very strange 2020. In 30 years, I never stopped racing and 2020 was the first year without competitions, but I reprogrammed myself, with only the fun of doing what I like, without impositions of rhythms or specific objectives. I had a great time.
"The competitions in Ostend went well. Sixteen months away from international competitions had left me with some uncertainty but during the race in Ostend that disappeared."
Like many experienced athletes, Francesca kept her lead-in to the 2021 Road World Championships as 'normal' as possible. "I am preparing in the same way as in previous years, I have not changed anything. In my sporting career I have always had a lot of respect for my opponents, so I never underestimate anyone, always remembering who I am."
The Netherlands' H5 cyclist Tim de Vries acknowledges the difference that the COVID-19 pandemic made.
"Of course COVID has an impact, especially with all those tests we need to do prior to a race. But when you start racing it's just the race and you want to do as well as possible. A crowd makes it more atmospheric, but I am confident that this will come in the near future. For now it is most important to keep everybody healthy."  
His compatriot Vincent ter Shure (men's B) reveals a typical focus, checking out the form of the competitors he and his pilot Timo Fransen expect to face.
"Bate and Duggleby [Great Britain] are always good. They were not in Ostend so we have no comparison material. But we assume they are going to be good. Bangma and Bos [of the Netherlands] are also consistent and always ride hard. Polak and Ladoz [from Poland] also, and maybe the new French couple [Alexandre Lloveras and pilot Corentin Ermenault], they were good on the road race in Ostend."
Belgium's Griet Hoet (women's B), who combines road and track racing – claiming two podiums at the 2020 Track World Championships in Milton, Canada – acknowledges that she had not seen much of her competitors over the previous year, but is "pretty sure that everybody is working hard at the moment. 
"I think that Ireland and Great Britain will be top, but also the other competitors will be in good shape. I've been coached not to think about the others, but focus on my own programme!"
More information on the 2021 UCI Para Cycling Road World Championships is available on the event's official website.