Para triathletes seek qualification points in Besancon
The sixth and last event of the World Para Triathlon series will take place in Besancon, France, on 19 June.
18 Jun 2016
Imagen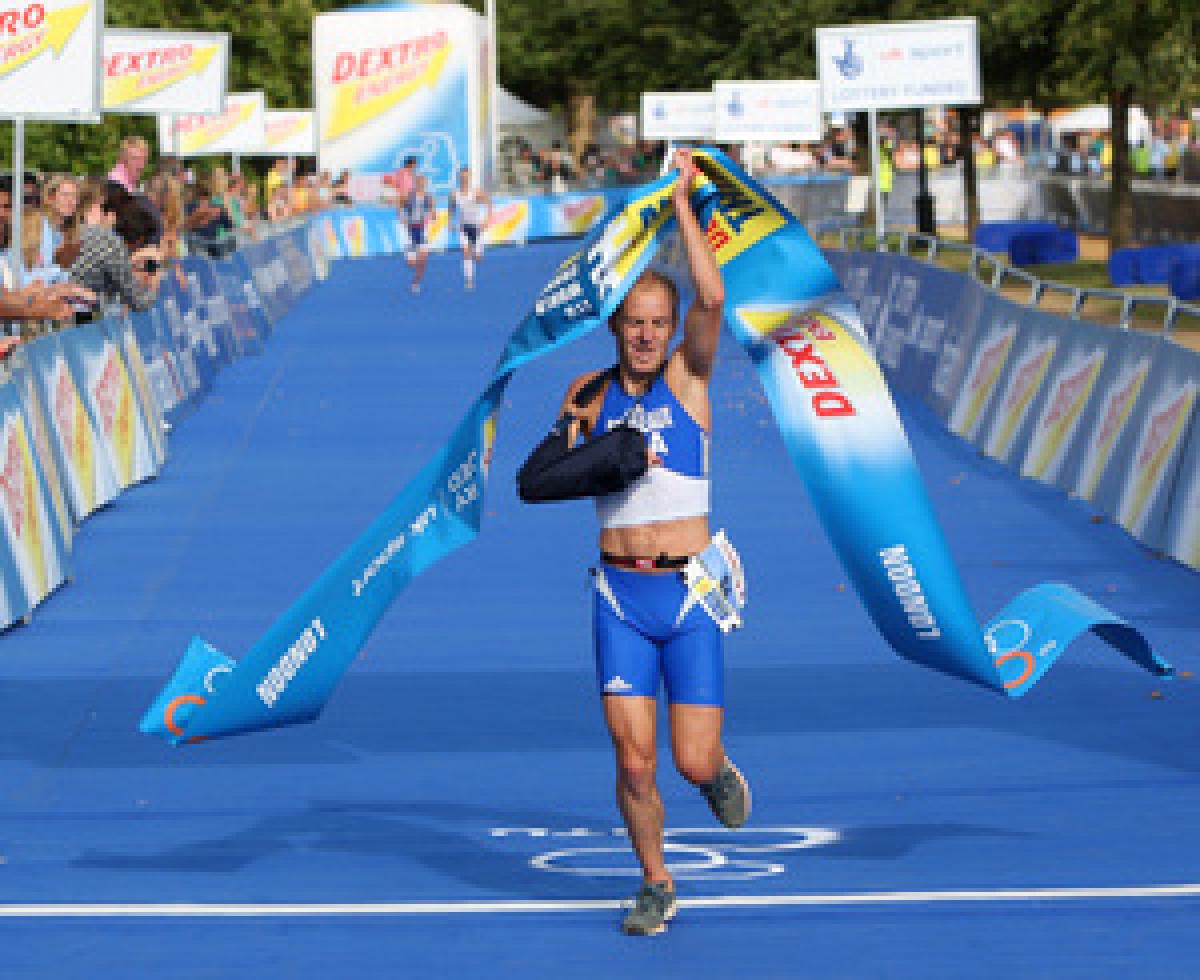 ⒸITU
By Megan Mindel | For the IPC
The sixth and final World Para Triathlon Event (WPE) of the year will commence on Sunday (19 June) in Besancon, France. For athletes still seeking tickets to the Rio 2016 Paralympics, Sunday's competition is one of the last events to earn qualification points, as the deadline to do so is 30 June.
Here are the athletes to watch for in each class:
PT1
The USA's world No. 1 Krige Schubert will be participating in his second World Para Triathlon Event (WPE) in 2016. He will face tough opposition from Netherlands' No. 4 Geert Schipper. Italy's Giovanni Achenza and Great Britain's Joseph Townsend will also be pushing for gold.
PT2
The class will have strong contenders from the host nation.
France's world No. 2 Stephane Bahier finished second at last month's European Championships and will be the favourite for gold in Besancon. Germany's Stefan Loesler and Italy's Giovanni Sasso are capable of causing an upset, though.
In the women's race, France's world No. 3 Elise Marc seeks to outperform the USA's world No. 1 Hailey Danisewicz and No. 4 Melissa Stockwell. Marc has already enjoyed two wins this year at the Buffalo City World Para Triathlon Event and the European Championships. Danisewicz and Stockwell will be looking for their first victories in 2016.
PT3
On paper, the men's PT3 race should be a tight contest between Spain's No. 11 Joaquin Carrasco and Brazil's No. 10 Leonardo Curvelo. But Kyrgyzstan's Nurbek Toichubaev will also be a threat.
Germany's No. 3 ranked Nora Hansel has remained undefeated throughout 2016 and is hoping to extend that winning streak in Besancon. But France's No. 10 Manon Genest can also shake up the podium.
PT4
French favourite Yannick Bourseaux is expected to top the men's PT4. But teammate Maxime Maurel and Japan's No. 7 Keiichi Sato are expected to push the pace for Bourseaux.
Great Britain's No. 2 Faye McClelland is hoping to edge out home favourite No. 6 Gwaldys Lemoussu at the finish line.
PT5
Great Britain's No. 1 Alison Patrick is looking for her third win in the series this year. Japan's Asian champion Atsuko Yamada and the Netherlands' No. 5 Joleen Hakker will be ready for the challenge too.
South Africa's David Jones, France's Arnaud Grandjean and Italy's Manuel Marson will battle in the men's race for the top of the podium.
Only the men's PT1, PT2 and PT4 and the women's PT2, PT4 and PT5 will be contested in Rio 2016.
More information on the 2016 Besançon International Triathlon union (ITU) World Para Triathlon Event can be found on the ITU's website.