Paralympic champion Markus Rehm targeting 8.50m in the long jump
German national champion hoping to break new ground at Swansea 2014.
23 Aug 2014
Imagen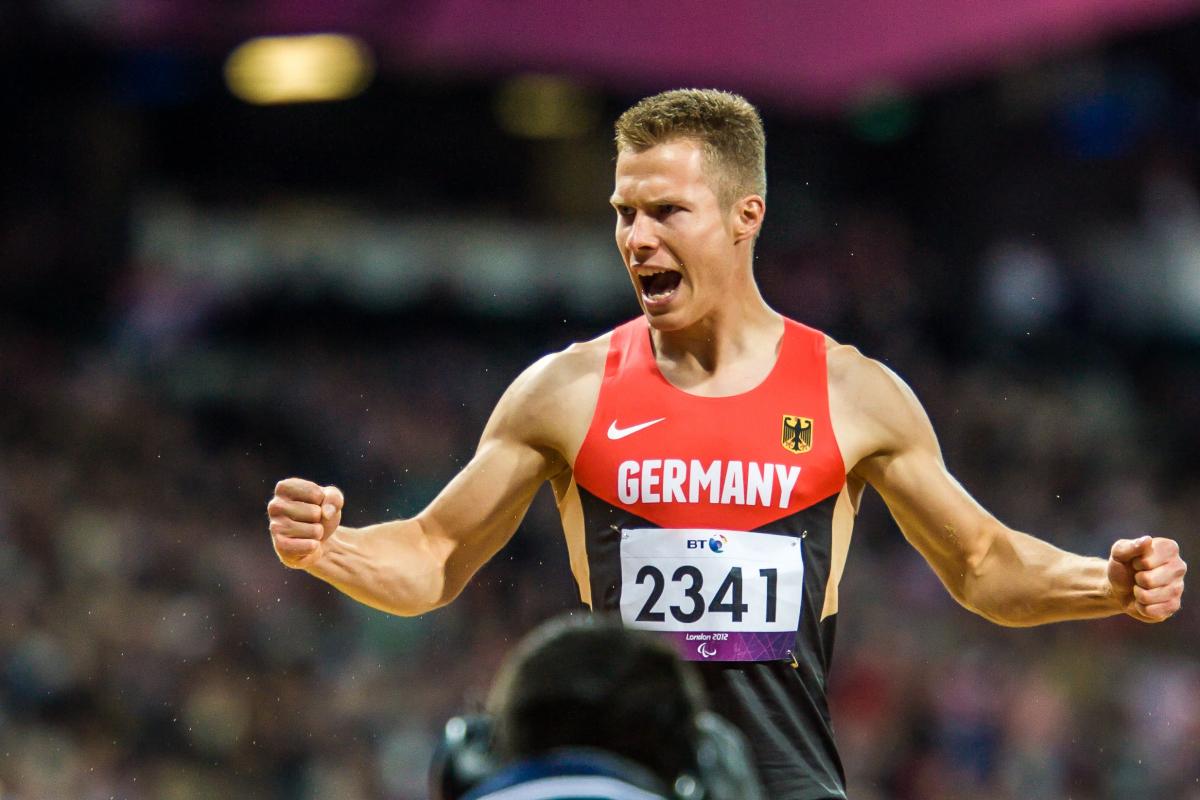 ⒸMarcus Hartmann
By IPC
"I have to think of a new target now. The next line is 8.50m. You always have to have a target to keep motivated, but they have to be realistic, that's my thinking of life as well."
Germany's world and Paralympic champion Markus Rehm cannot wait for the start of the men's long jump T44 competition at the Swansea 2014 IPC Athletics European Championships on Saturday (23 August).
The last time Rehm stepped out at a major athletics event, he smashed his own world record by 29cm, leaping 8.24m at July's able-bodied German National Championships to kickstart a media frenzy.
Now Rehm is ready to set himself a new challenge, as he strives to jump even further.
"I'm very happy about the result but I always want to improve," he said. "I have to think of a new target now. The next line is 8.50m. You always have to have a target to keep motivated, but they have to be realistic, that's my thinking of life as well.
"Of course everybody is going to expect that they will see me jumping eight metres and I really will try to do it. It's great for me as well to jump over eight metres, it's an amazing feeling."
That is not the only reason Rehm is desperate to get out and see what he is capable of in Wales. To keep him fresh and raring to go, Rehm's coach Steffi Nerius gives him strict orders not to do any jumping for at least a week prior to each major competition.
"My coach knows me very well," he said. "She knows I love jumping, and she knows that if she stops me jumping a week before the competition, when I see the long jump I really want to compete.
"I jumped at the end of last week at home in Germany; I haven't jumped here, and I'm really looking forward to my competition."
Whilst Rehm's world record leap may have come as a surprise to many, the Leverkusen-based para-athlete was well aware that he was in the form of his life.
"I knew at the beginning of the season that I was in a good shape, and improving from competition to competition," he explained. "I felt in June or July already that I was able to jump really well this year – I was jumping consistently – 7.80m, 7.87m - in Grosetto 7.96m with a bit of a tail wind.
"I knew I could do 8.00m this year – but in the end I did 8.24m.
"If I'm honest I didn't expect that good - but it was a combination of good situations. The temperature was perfect, we had a good crowd at the German Nationals and I was really motivated to show the people what we Paralympians are able to do.
"My family was there and I knew they were all behind me – it was great. I felt really good. I knew when I landed that it was really good.
"I expected 8.05m or 8.10m maybe, but when the distance came up I was shocked – it was like a dream. It was just an amazing jump."
Rehm may not have anticipated the public interest sparked by his terrific leap – from television interviews on Germany's national Sportstudio show, to newspaper coverage and photo opportunities - but he has taken it all in his stride.
"I wasn't at all prepared for the publicity if I'm honest," he added. "I knew before the nationals as I had already received many calls and questions - and I knew it was going to be more maybe after – but I never expected to win there.
"I thought maybe I'd get top three, but I didn't expect to win. After that it was just crazy, my mobile was ringing all day."
Infact Rehm is keen to use the resultant publicity not just for his own benefit, but to help those around him too.
"I think we can use it now for our whole sport. I just want to show what we – all the Paralympians – are able to do. It's a very serious sport and we train very hard. We don't want an advantage. We train really hard every day. It's just great to show what we are able to do after losing a leg."
There is no doubt Rehm will line up on Saturday as favourite for European gold – his nearest rival is world silver medallist Ronald Hertog from the Netherlands, who has a personal best of 7.25m - but he thrives on the personal targets he sets himself.
"I always can motivate myself. Ronald is really looking forward to beating me one day and this is great," he explained.
"That's what I'm training for – maybe I can motivate people to think 'I'm going to beat Markus one day' and this is great.
"It is the whole point of sport, and if we can bring more young people to the long jump then it's just amazing – one day we will have a higher level. This is just the first step, we will improve every year, and I'm sure Ronald will come closer and closer in the future."
The live stream from Swansea 2014, together with videos on demand of individual races, are available to embed on websites in some territories via the IPC's YouTube channel.
For further information please contact IPC Digital Media Manager Natalia Dannenberg-Spreier.
In addition, HD quality broadcast footage from Swansea 2014 is available from the IPC's Broadcast Manager Jose Manuel Dominguez.
Daily highlights will be available for digital channels via Omnisport, whilst individual races as video on demand can be embedded via Perform's e-player
Related Images