Paralympic dream inspires US students
College class supports athlete's quest to reach Tokyo 2020
26 Nov 2018
Imagen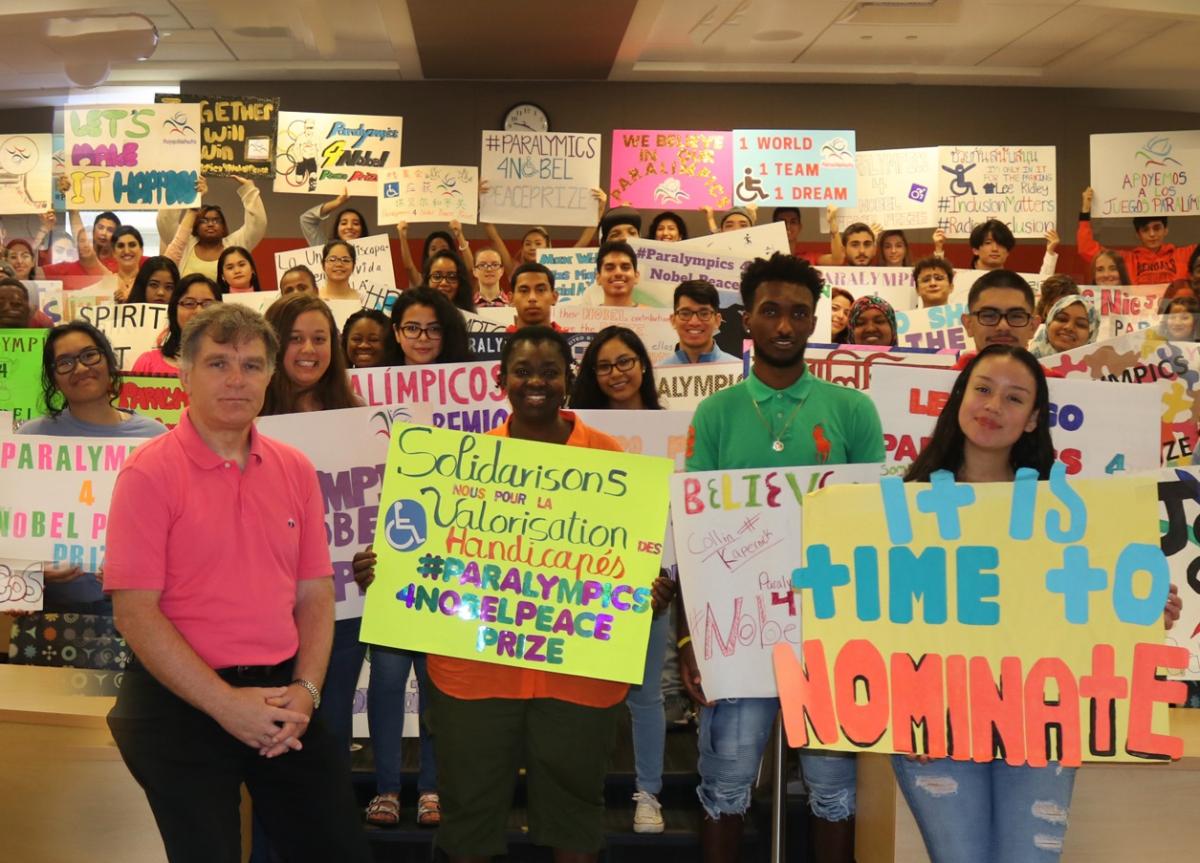 ⒸLeszek Sibilski
By IPC
"As a teacher, you wait for moments like this. This is the best payment for your efforts, your involvement, your extra hours … when you see your own students taking advantage and taking ownership of what you provided them with, and they carry it, and you just facilitate them."
Students at a community college in the USA have been so inspired by the impact Para sport is having around the world that they are helping one aspiring athlete to achieve her dream of competing at the Tokyo 2020 Paralympic Games.
Students in Leszek Sibilski's sociology class at Montgomery College, Maryland, made the decision after watching a documentary on Si Amar Kawthar, a teenage female Paralympic shot put hopeful from Algeria.
Inspired to take action
Sibilski said the film left his class speechless. One student raised her hand to ask how they can support the aspiring Paralympian. Sibilski then gave a presentation to a local Visionary Foundation about sponsoring Kawthar, and an agreement was made to support her on the road to Tokyo 2020.
"If [Kawthar] can be a part of Paralympics, that will be a proud moment for us," said Shajia Afrin, a public health major.
In addition to Kawthar's story, Sibilski's class also watched other videos on sports and disability, such as the infamous wheelchair rugby documentary "Murderball" and highlights from the PyeongChang 2018 Paralympic Winter Games.
Afrin says the experience has changed her views completely.
"I am from Bangladesh and disabled [people] are considered as burden for a family as well as for the society. To be honest, I was indifferent towards disability too. I did not know they are capable of playing sports like any other able [bodied] athletes. Also, I did not know that there are so many disabled people in the world."
"While I was reading the articles or watching the videos, I was so inspired," Afrin said. "I saw a video of the winning moment of a Para athlete who did not have both of his hands, and it was so emotional for me. I enjoyed talking with other people about the Paralympics."
Victoria Neer, a biological science major from Moldova, added: "When I saw an excerpt of the Winter Paralympics on YouTube, I was impressed to see a skier skiing with one leg, thus I realised that disabled people can accomplish everything if they wish, and there are no obstacles to participate and demonstrate a great potential."
Setting an example
Watching and reading about disability from a distance is one way to educate, but Sibilski also wanted his students to see it first-hand.
That chance came when two other students approached him about inviting a 1992 Barcelona Paralympian, Iranian table tennis Paralympian Sara Azizi, to speak to the class.
Sibilski organised a seminar in mid-November, and the turnout was beyond what he expected.
"I had a full house," Sibilski said. "Faculty members from the department of physics came with their students to listen to her story… The desire, the potential is here. But we have to use educators and schools to promote the Paralympic Movement."
The attendees watched a documentary and then had a question-and-answer session with Azizi.
"Since hearing the story of the Iranian Para athlete, my impressions have only grown more positive," said Shinta Hernandez, the college's sociology department chair. "Social justice first comes with acceptance of various groups of people, so it is important for students to accept people for who they are on the inside."
"Radical inclusion"
The impact of the work Sibilski has done continues to grow; of the 97 students signed up for his class, 73 have applied to be volunteers at the 2020 Paralympics.
An Iraq and Afghanistan War-veteran student, Andrew Thomas, also offered collaboration with wounded veterans at Walter Reed Army Medical Centre.
Moreover, the students are working toward a bigger end-of-semester project with a deadline on 3 December: the United Nations' "International Day of Persons with Disabilities."
That is to nominate the International Paralympic Committee (IPC) for the Nobel Peace Prize.
"The thing that motivates me to take this campaign forward is when I found out there were 18 veterans on the (US) Paralympic team," said Thomas. "In finding out how many of our injured vets still had that fire and will to want to represent their country took my motivation for this project to a whole new level."
For Sibilski, his students themselves have been inspiring.
"As a teacher, you wait for moments like this," he said. "This is the best payment for your efforts, your involvement, your extra hours … when you see your own students taking advantage and taking ownership of what you provided them with, and they carry it, and you just facilitate them."
"Radical inclusion is part of our DNA," Sibilski said. "It is when you do not hesitate, when you just go in and accept anyone without any conditions."