Paris Grand Prix: World record for emotional Elizabeth Gomes
Brazilian star gains momentum against the odds.
15 Jun 2018
Imagen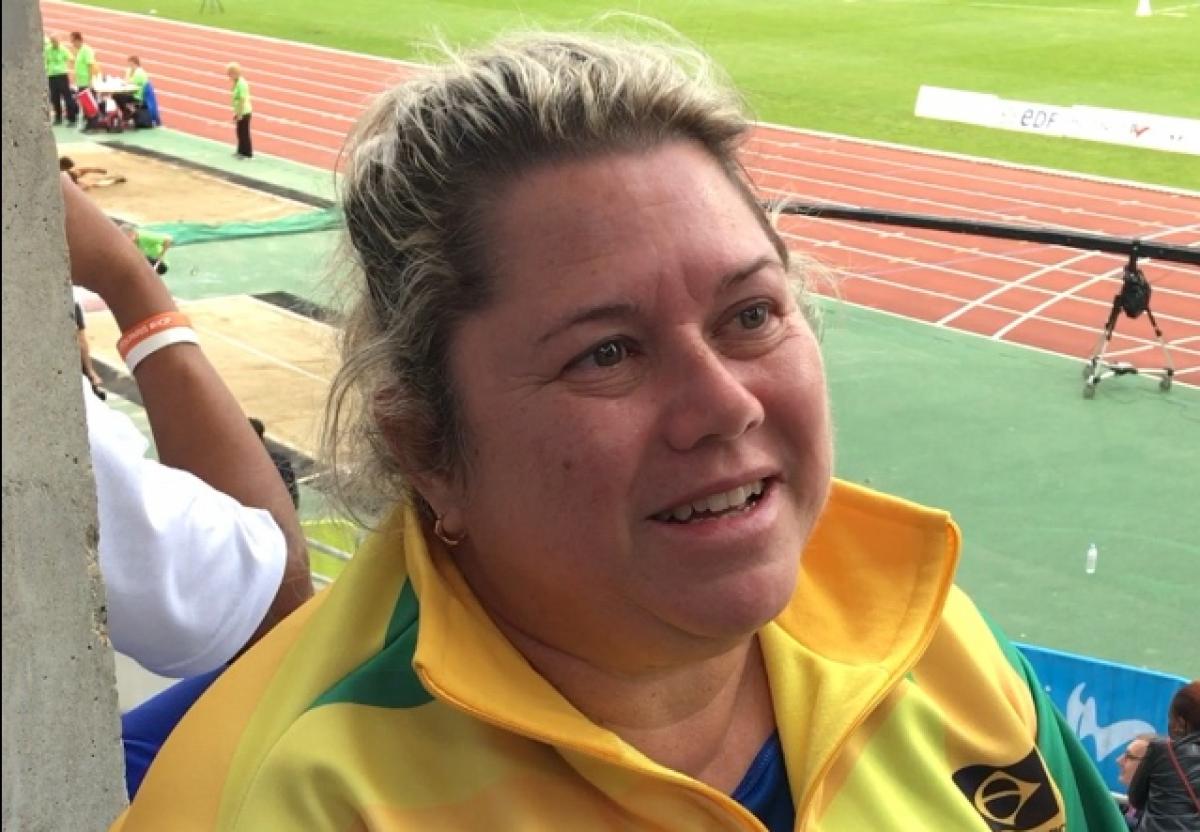 ⒸIPC
I fight every day against this disease; I live every day like the last one. I'm very happy to show people that we have the capacity to do whatever we want to do.
Brazil's Elizabeth Gomes defied expectations with a new discus world record on Thursday (14 June), the first day of competition at the Paris Grand Prix in France.
The 53-year-old, who has multiple sclerosis, was reclassified earlier this year to the F52 class due to the worsening of her condition.
The degenerative disease means she has suffered a significant loss in power and strength in recent months, but the former wheelchair basketball player is determined to not let her illness get in the way of her Para athletics career.
"I was training a lot – not expecting a world record, but expecting a good performance – but I thank God because the discus was in a good position in my hand," said an emotional Gomes, who threw a best of 16.82m - nearly 40cm more than her previous best.
"This situation now is very different for me because my multiple sclerosis is getting worse. My power is decreasing and the movement in my hand is getting worse, so I have to throw in a different way.
"I fight every day against this disease; I live every day like the last one. I'm very happy to show people that we have the capacity to do whatever we want to do."
Brazil sent a large team to compete at the Stade Charlety and, like Gomes, they didn't disappoint.
Paralympic and World champion Petrucio Ferreira lined up in the 200m T47 and showed just why he is the man to beat as he raced home in 21.39, just 0.18 seconds outside his world record.
The 21-year-old, who clocked 10.51 over 100m in April, has his sights set on becoming the fastest Paralympian in the world, and believes that time – 10.46 seconds, set by visually impaired sprinter Jason Smyth in 2012 - is well within his reach.
"It's great to improve my marks – the bigger project though is to be the fastest Paralympian in the world. I'm preparing for that and I believe I can be the best," said Ferreira.
Mateus Evangelista (23.55) and South Africa's Charl du Toit (23.57) each won gold in the T37 class at last year's World Championships – Evangelista won the 100m while du Toit won the 200m and 400m – and the pair were head-to-head once again, battling it out for the win in the French capital.
It was Evangelista who came out on top in a thrilling contest, charging to the line just 0.02 seconds ahead of his big rival.
"I'm happy about this test, Charl and I are great friends and this is very important to me with the World Championships next year. Charl and I will compete together for many more years. He is a great athlete so I win this time, but it might change next time."
There were wins too for current world number two Thalita Simplicio da Silva (25:55) in the 200m T11/12; Silvania Costa da Oliveria (5.10m) in the long jump T11; Claudiney dos Santos (45.21m) in the discus F56 and Thiago Paulino (14.28m) in the shot put F57.
Frenchman Timothee Adolphe (22.82) impressed the home fans as he stormed home to win the men's 200m T11.
The 28-year-old suffered the disappointment of double disqualification at last year's World Championships, missing out on the podium in both the 200m and 400m less than a year after suffering a similar fate at Rio 2016, where he was disqualified over one lap.
Acknowledging the despair he felt after both events, Adolphe is now focussed on success on the European stage and victory at Berlin 2018 in two months' time.
"Emotionally it was difficult to get over this and I had to recover from injury too. This gives us a good idea on our level internationally, and it gives me the desire to come back," said Adolphe.
"I have a lot of determination for the 200m and 400m – I want to defend my 100m and 200m titles and I also want to add the 400m."
Double Paralympic champion Marie-Amelie Le Fur leapt a best of 5.32m in her first competition since Rio 2016, while former world champion Mandy Francoise-Elie (27.88) clocked a new world lead in the 200m T37.
The hosts also secured a one-two in the men's 800m T53/54 as Julien Casoli (1:36.66) took the win ahead of teammate Pierre Fairbank (1:38:54).
Germany's triple world champion Johannes Floors, who competes in the T62 class, continued his impressive run of form as he clocked 21.31 over 200m.
Another triple world champion, Ukraine's Leilia Adzhametova (24.89), quickly took control in the women's 200m T13, speeding out the blocks before holding her form well down the home straight.
The 24-year-old will be the favourite to add European gold to her world and Paralympic titles when she lines up at the Berlin 2018 in two months' time, but she's taking nothing for granted.
"Sport is a very unpredictable thing, you can never be 100 per cent sure about your success. I'm not very self-confident because I respect my rivals and we are all very close to each other, so I like to compete against them. You never know who will be the first - I just have to do my best and time will show who is on top," said Adzhametova.
Briton Ali Smith (29.16) stormed home to a convincing victory in the 200m T38 while Germany's T44 Para athlete Irmgard Bensusan (26.67) and Argentina's T36 sprinter Yanina Martinez (31.71) also enjoyed comfortable wins.
Poland claimed double sprint success as Alicja Fiodorow (25.55) won the women's 200m T47 and her teammate Jakub Nicpon (23:15) came out on top in the men's 200m T13.
There was a close contest in the men's 200m T35 as Argentina's world silver medallist Hernan Barreto (25.92) and Brazil's Paralympic silver medallist Fabio da Silva Bordignon (26.20) battled it out on the track – Barreto came out on top and was suitably delighted.
"We proposed to come here with good intentions and with the desire to go to Tokyo 2020. For me it's extremely important because I didn't make the mark I wanted to at Rio 2016 and now I'm very happy as I look forward to the next Games," said a smiling Barreto.
The Biacsi twins dominated the women's 800m T20 – Bernadette (2:20:12) crossed the line just ahead of her sister Ilona (2:20:20).
Hungary's Luca Ekler leapt a season's best of 5.47m to maintain her place at the top of the long jump T38 world rankings; South Africa's T12 athlete Hilton Langenhoven leapt 6.85m in the men's long jump event.
Algeria's Nadia Medjmedj threw the shot put a best of 9.36m in the F56 class and in the men's javelin competition, India's Sundar Singh Gurjar (F46) threw 61.36m.
Full results can be found here. Competition concludes on Friday 15 June.