Peacock victory crowns GB's night at Olympic Stadium
Star retains his Paralympic title as four new world records are set during an exhilarating evening of athletics action.
09 Sep 2016
Imagen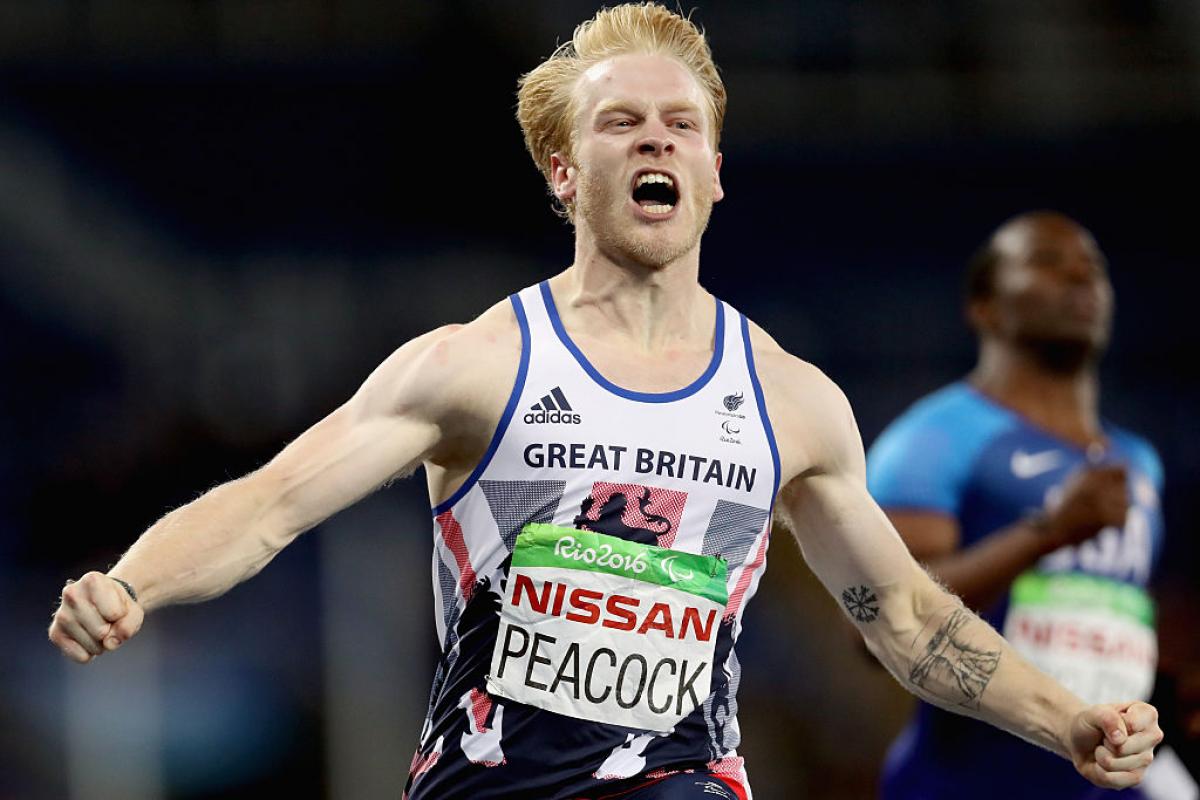 By IPC
Great Britain's Jonnie Peacock stole the show in the men's 100m T44 final on Friday (9 September), retaining the Paralympic title he won four years ago in terrific style.
It was one of four gold medals won by Great Britain on a night which also included four new world records in the city's Olympic stadium.
The fastest in qualifying and a known performer on the big stage, Peacock pulled clear of the field and held his form brilliantly as he crossed the line in 10.81, equalling the Paralympic record he set in the heats.
US number one Jarryd Wallace had also started strongly but he was unable to match Peacock's strength and speed and faded to fifth as T43 sprinter Liam Malone (11.02) came through for silver and Germany's European silver medallist Felix Streng (11.03) won bronze.
"I knew that Jarryd on my outside was going to be out of the blocks fast. He did it to me at the Anniversary Games. I did about eight hours of packing two days before that and it was not supposed to happen but I was a little bit tired and lethargic that day," said Peacock.
"I had the sharpness today, I had the power. Every week that has gone past I have felt stronger, more technically sound and I just trust my process. Thanks to the guys back home."
Cuba's triple world champion Omara Durand – the fastest female Paralympian in the world – raced into the history books once again as she lowered her own world record to take gold in the 100m T12.
"I am so happy to be the fastest women in the Paralympic sport. Winning one more medal, setting a new world record is great. Everything happening to me is magnificent," said the 24-year-old who made victory look easy as she sprinted gracefully to the line in 11.40 seconds, knocking 0.08 off the mark she set at last year's World Championships.
"I know that right now all Cuba people are encouraging me, watching the race on TV and enjoying the result. It gives us a lot of life, strength and courage to go ahead."
Azerbaijan's Elena Chebanu (11.71) set a new Asian record to take the silver ahead of Germany's bronze medallist Katrin Mueller-Rottgardt (11.99).
Georgie Hermitage (13.13) had kicked off Great Britain's gold medal rush earlier in the evening, smashing the women's 100m T37 world record as she claimed her first Paralympic title.
Hermitage, 27, equalled her own world record mark in Thursday's (8 September) heats and she left her rivals behind once more in the final, knocking a further 0.26 seconds off her best as she crossed the line, one arm aloft.
"I am a Paralympic gold medallist, it is an amazing feeling ," said Hermitage, who also competes in the 400m T37 and 4x100m T35-37 relay.
"I couldn't have asked for more today. I was worrying so much in warm-up and call room, I am such an over-thinker but I've won on the biggest stage and I'm delighted.
"To win the gold today is such a relief and shows all the hard work has paid off."
Silver went to former Paralympic champion Mandy Francois-Elie (13.45) while Venezuela's Yescarly Medina (13.85) set a new Americas record to win bronze.
A second gold medal quickly followed for Great Britain as reigning world champion Sophie Hahn (12.62) equalled the Paralympic record she set a day previously to win the 100m T38.
Hahn, quickest out of the blocks, held off Brazil's Parapan Am Games champion Veronica Hipolito (12.88) and her British teammate Kadeena Cox (13.01) as she too won her first Paralympic title.
Libby Clegg (11.96) added to British successes as she clinched gold in a close-run women's 100m T11.
Clegg, who was reclassified to the T11 class earlier this year, broke the world record in the morning's semi-finals and she dipped under the 12-second barrier again, finishing 0.05 seconds outside her world record mark and just 0.02 seconds ahead of China's silver medallist Guohua Zhou (11.98).
Bronze went to China's world champion Cuiqing Liu. Brazil's London 2012 champion Terezhina Guilhermina crossed the line in fourth place and was later disqualified.
The USA's star wheelchair racer Tatyana McFadden (16.13) had to settle for silver in the women's 100m T54, the first of seven medals she is contesting in Rio de Janeiro.
Gold went to China's defending champion Wenjun Liu (16.00), who looked strong from the gun and powered clear to take the tape ahead of McFadden and China's bronze medallist Yingjie Li (16.22).
Liu's teammate Qichao Sun (48.57) also won gold, racing home in the men's 400m T12 with a new Asian record. Morocco's Mahdi Afri (49.00) and Portugal's Luis Goncalves (49.54) won silver and bronze respectively.
Canadian world champion Brent Lakatos (14.44) secured his first Paralympic title with victory in the men's 100m T53. The 36-year-old world champion and world record holder had pulled clear of his rivals by the half-way mark and never looked in doubt as he powered home.
"I got out there on the line, so focused and I remember starting the race," said Lakatos.
"I had a good start and then after about 30m I could see out of my peripheral vision that they were falling behind slightly and so, 'Just hold on, you got this. Come on finish line.' I made it. It's amazing."
Thailand's Pongsakorn Paeyo (14.80) won silver and China's Huzhao Li (14.85) completed the podium.
Ukraine's Ihor Tsvietov (12.31) set a world record in the heat's on Friday morning and he proved too strong for his rivals once again as he took gold in the men's 100m T35. Brazilian Fabio da Silva Bordignon (12.66), who had started strongly, took the silver while Argentina's Hernan Barreto (12.85) took bronze.
There were two world records out in the field too.
Trinidad and Tobago's Akeem Stewart saved his best until last in the men's javelin F44, throwing a massive 57.32m in the sixth round to set a new F43 world record and win his first Paralympic title. Canada's Alister McQueen (55.56m) won silver and New Zealander Rory McSweeney (54.99m) clinched bronze.
China's world champion and world record holder Lijuan Zou won the javelin F34 with a third round effort of 21.86m, adding 88 centimetres on to her previous best. Silver went to Finland's Marjaana Heikkinen (18.42m) and bronze was won by Germany's Frances Herrmann (18.16m).
Victory also went China's way in the women's discus F11 as the reigning Paralympic and world champion Liangmin Zhang (36.65m) struck gold once again. Her compatriot Hongxia Tang (35.01m) won silver and Brazil's Izabela Campos (32.60m) won bronze.
The men's high jump T42 rounded off the action on day two and it was an event that captivated the crowd too – cheers ringing round the stadium at each clearance.
India's Mariyappan Thangavelu was the only Para athlete to clear 1.89m, a new Asian record. The USA's world champion Sam Grewe (1.86m) set a new personal best as he clinched silver ahead of Bhati Varun Singh (1.86m) on countback.