Perales, Rung share gold as Mereshko lowers 400m free world best
Ukraine's Yelyzaveta Mereshko shaved four seconds off the time of her British rival Eleanor Simmonds in the women's 400m freestyle S6.
06 May 2016
Imagen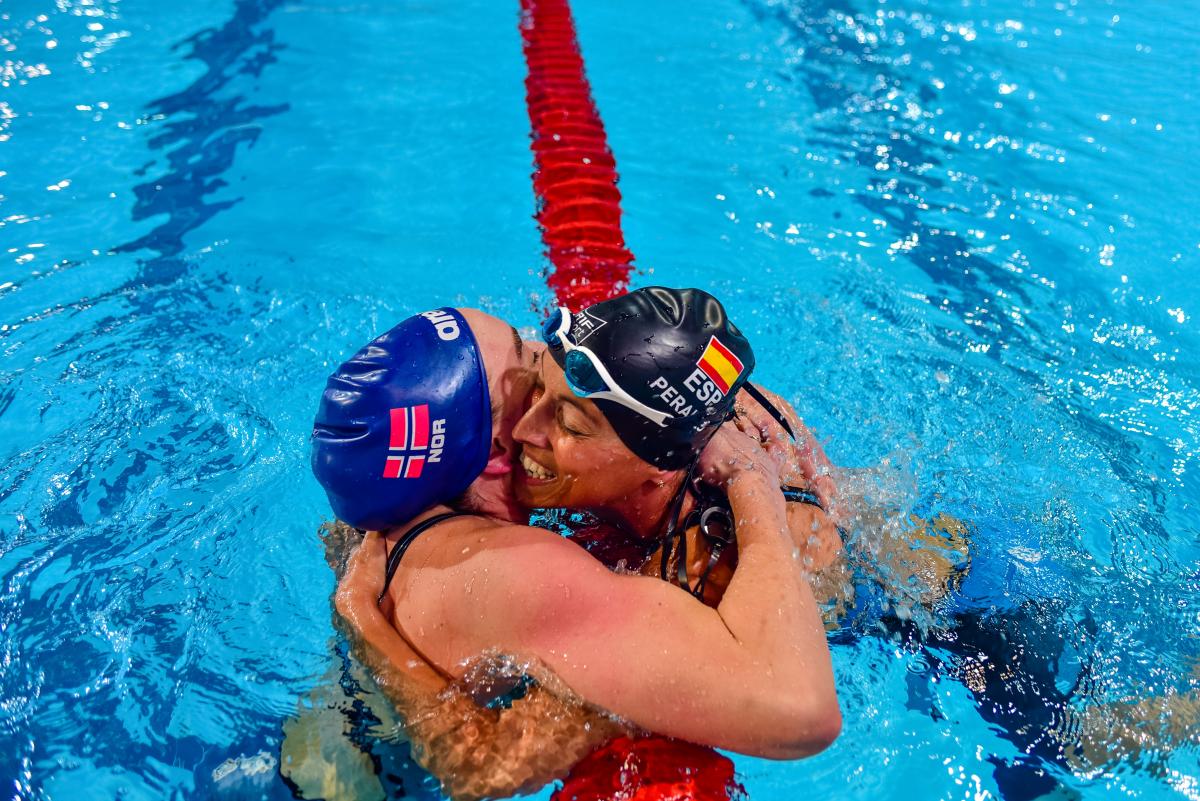 ⒸPedro Vasconcelos
"This afternoon I gave everything to make it happen and it did. Now I can rest!"
Spain's Paralympic, world and European champion Teresa Perales shared gold in her favourite event with her great friend and rival, Norway's Sarah Louise Rung, at the 2016 IPC Swimming European Open Championships in Funchal, Portugal, on Friday (6 May).
Nothing could separate the pair as they both touched in at 1:21.97 in the women's 100m freestyle S5.
Four-time Paralympian Perales has held the Paralympic title since Athens 2004 whilst Rung has become her main competitor across all events since her own international debut in 2009. The pair have recently returned from a joint training session and have eight Paralympic titles between them.
"I am busy chasing Teresa all the time because I know this is her event," Rung said. "I'm glad it turned out to be a draw!"
Israel's Inbal Pezaro (1:24.73) completed the podium.
The next major headline of the day came from Ukrainian world champion Yelyzaveta Mereshko in the women's 400m freestyle S6, who smashed the world record of Great Britain's Eleanor Simmonds set just last week by the absent Paralympic champion.
Mereshko sensationally took Simmonds' title at the 2015 IPC Swimming World Championships, the first time she has been beaten in the race since 2008.
On Friday Mereshko pushed herself once again, shaving exactly four seconds off the world best, touching in at 5:14.69 to add another chapter to the gripping rivalry.
"I'm delighted with my fourth gold and world record," Mereshko said. "This afternoon I gave everything to make it happen and it did. Now I can rest!"
Her teammate Viktoriia Savtsova (5:37.52) was second ahead of Great Britain's Eleanor Robinson (5:43.77) in third.
There was a further shared podium in the women's 100m breaststroke SB11 as Sweden's European, world and Paralympic champion Maja Reichard finished in exactly the same time as Dutchwoman Liesette Bruinsma to take joint gold: 1:25.47. Fifteen-year-old Bruinsma initially took the lead from Reichard after the first 50m, but the Swede came back in the closing stages.
"I did a PB [personal best] by one second so I'm so satisfied," Reichard said. "I have had a great Championships and I've PB'd on everything and did a world record in the 50m free so I'm very satisfied."
Ukraine's Yana Berezhna (1:30.55) was third.
Russia's world champion Anna Krivshina (1:07.05) added to the record-breaking action in the women's 100m backstroke S13, her first gold of the competition.
Tearing down the last 50m, Krivshina lowered her own three-year-old best by 0.24 seconds.
Uzbekistan's Shokhsanamkhon Toshpulatova (1:08.50) kept her Asian record run going with Open silver. Ukraine's Anna Stetsenko (1:09.90) secured the Open bronze and European silver. Slovakia's Karina Petrikovicova (1:14.85) completed the European top three.
There were two world records in the women's 50m backstroke S2. Singapore's Pin Xiu Yip (1:00.64) led the field to the wall to claim Open gold in a new S2 world best time, whilst Norway's Ingrid Thunem (1:06.53) lowered the S1 mark for European gold and Open silver.
Russia's world champion Alexander Agafonova claimed European silver ahead of Ukraine's Iryna Sotska (1:10.02) with regional bronze.
Italy's Arjola Trimi (3:10.61) lowered her own world record in the women's 200m freestyle S4 for her second gold and second new world best of the week. Mariia Lafina (3:23.06) and Olga Sviderska (3:31.98) added silver and bronze respectively to the Ukrainian medal haul.
Ukraine's world and European champion Dmytro Vynohradets took down the regional record on his way to his sixth gold of the week in the men's 200m freestyle S3 with a time of 3:21.30.
He dominated ahead of Russia's Alexander Makarov (3:28.22) in silver and Italy's Vincenzo Boni (3:33.03) in third.
Belarusian Paralympic and world title holder Ihar Boki (56.81) took his fifth gold of the competition in the men's 100m backstroke S13. Ukraine's Iaroslav Denysenko (59.61) sealed silver in front of Uzbekistan's Kirill Pankov (1:00.51) who got the Open bronze in a new Asian record time. Finland's Antti Antero Latikka (1:03.59) completed the European podium.
Italy's Federico Morlacchi (1:12.96) won his fourth gold medal of the Championships in the men's 100m breaststroke SB8. Austria's Andrea Onea (1:13.75) was on his shoulder throughout the race, but European champion Morlacchi had the edge. France's Charles Rozoy (1:14.52) was third.
Morlacchi's world champion compatriot Federico Bocciardo (5:03.02) took his first gold of the week in the men's 400m freestyle S6. Russia's Viacheslav Lenskii (5:19.57) secured silver as the Netherlands' Thijs van Hofweegen (5:24.45) took his second bronze.
Russia added five gold medals to their total, maintaining their second place in the medals table with 27 gold, 26 silver and 23 bronze.
World and Paralympic champion Olesia Vladykina (1:18.98) excelled in her favourite event, the women's 100m breaststroke SB8. The 28-year-old remains unbeaten in the race at a major event since 2008. Poland's Paulina Wozniak (1:21.47) and Great Britain's Claire Cashmore (1:21.53), who tied with Vladykina for gold at the last edition, was third.
Sergey Sukharev (1:03.93) was the victor in the men's 100m freestyle S7, ahead of Great Britain's Jonathan Fox (1:04.18) in second. Colombia's Carlos Serrano (1:04.21) took Open bronze. Sukharev was joined on the European podium by teammate Andrei Gladkov (1:04.28).
Roman Zdhanov (3:02.38) secured his fourth gold of the week in the men's 200m freestyle S4. France's David Smetanine (3:07.75) was second and Slovenia's Darco Duric (3:08.38) third.
Paralympic champion Pavel Poltavtsev (1:05.81) won the men's 100m breaststroke SB9 ahead of Ukraine's Denys Dubrov (1:07.71) and Russia's Aleksei Bugaenko (1:08.91) in second and third respectively.
The men's 4 x 100m medley relay 34 points world champion team also won gold in 4:10.60 ahead of Ukraine (4:19.15) in silver and Italy (4:28.34) with bronze.
Ukraine also notched another four medals on Friday evening, and have 35 gold, 31 silver and 21 bronze heading into the final day.
Paralympic, world and European gold medallist Hennadii Boiko (1:06.92) won his third gold of Funchal 2016 in the men's 50m backstroke S1. Italy's Francesco Bettella (1:11.27) collected silver in front of Boiko's teammate Anton Kol (1:13.19).
Serhii Palamarchuk (58.52) retained his title with an impressive performance in the men's 50m backstroke S2. Poland's Jacek Czech (58.92) was just marginally behind as Ievgen Panibratets (1:00.86) collected another medal for Ukraine in third.
European champion Oleksandr Mashchenko (1:15.22) was the victor in the men's 100m breaststroke SB11. Spain's Israel Oliver (1:15.51) tried to overturn the Ukrainian's lead but settled for silver. Viktor Smyrnov (1:18.49) was third for Ukraine.
Serhii Klippert (1:01.20) left with his first gold in the men's 100m backstroke S12, improving on his silver medal from 2014. Russia's Roman Makarov (1:01.24) and Azerbaijan's Raman Salei (1:01.77) completed the top three in second and third respectively.
British swimmers collected a trio of world titles to bring their total to 16 gold, 12 silver and nine bronze and keep their third place in the table.
Hannah Russell (1:06.18) missed out on her own world record by just 0.03 seconds in the women's 100m backstroke S12, but successfully defended her European title against Russian world champion Darya Stukalova (1:10.44) in silver. Ukraine's Yaryna Matlo (1:13.55) was third.
"I came in there and I wanted to make sure I could really prove to everyone what I was doing," Russell said. "I've been training so hard and to be able to get that back, because last year I got beat [at the World Championships], to get back to the top of the podium, it was amazing."
Great Britain's Andrew Mullen (1:16.11) sensationally took the men's 100m freestyle S5 title from Spain's Sebastian Rodriguez for his second gold of the competition. Russia's Dmitrii Cherniaev (1:16.91) was second, followed onto the podium by Rodriguez (1:17.26) in third.
Susannah Rodgers (1:13.42) claimed anothergold for Great Britain in the women's 100m freestyle S7. Leading on the turn, Rodgers retained her European title ahead of Germany's Denise Grahl (1:15.01) and her compatriot Verena Schott (1:19.30).
The Netherlands' Chantalle Zijderveld (1:17.96) improved her case for taking gold on her Paralympic debut in September, retaining her European title in the women's 100m breaststroke SB9.
"It was the same time as the World Championships last year," Zijderveld said. "I swam a world record a few weeks ago and I wanted to come a bit closer to that but a 1:17.00 is also very good, and I'm happy that I defended my title and got the gold again.
"I'm racing all seven events so it's a hard week, but I'm feeling good."
Great Britain's Harriet Lee (1:18.71) took silver whilst Russia's Nina Ryabova (1:20.73) was third.
Live coverage and results will be available every day until 7 May at www.Funchal2016.com. Morning sessions begin at 9:00am (WET) and evening sessions at 5:00pm (WET) each day.
Live updates and behind the scenes coverage will be posted at @IPCSwimming and Facebook.com/IPCSwimming or search #Funchal2016.
Broadcast
For non-rights holders, the following material will be available:
Daily newsfeed x 1 (following News Access Rules)
Race clips (at cost)
For more information and for access to broadcast footage, please email sascha.beck@paralympic.org.
Photographs
A selection of rights-free images will be available for download from the heats and final every day at www.flickr.com/photos/paralympic/.
For high resolution versions, please email eva.werthmann@paralympic.org.
Contacts on site
Lucy Dominy, IPC Public Relations and Campaigns Manager, +49 151 29806543
Eva Werthmann, IPC Media Operations Senior Manager, +49 171 7433327
Sascha Beck, IPC Broadcast Manager, +49 151 5198174
Related Images