Powerlifting world records set in Brazzaville
Nigeria and Egypt all leave the first Paralympic ranking competition in Africa with world bests.
21 Sep 2015
Imagen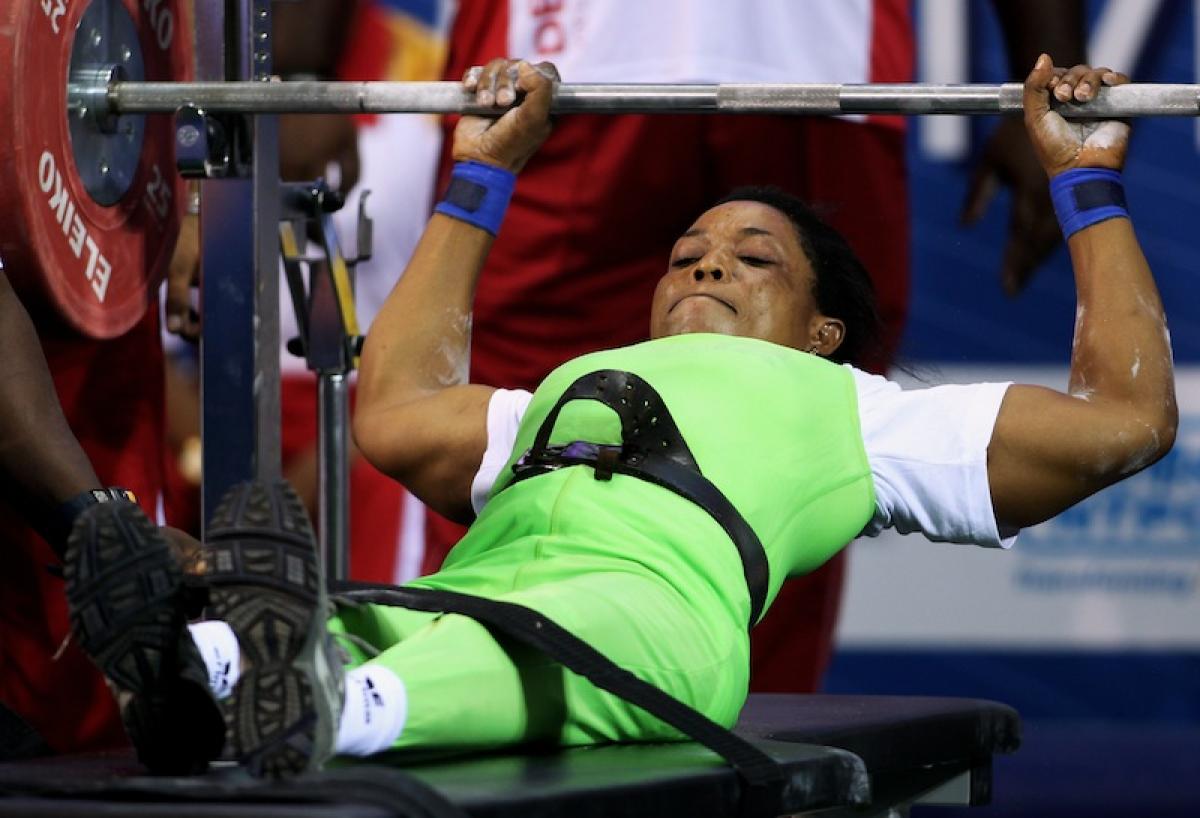 ⒸGetty
By IPC
Nigerian lifters took eight golds and world records across four categories in Brazzaville, Congo, last week (15-18 September), at the first Paralympic ranking competition to take place in the region.
The combined women's up to 55kg and up to 61kg saw the most record-breaking action, with both world bests falling.
Nigerian Esther Oyema broke the up to 55kg record three times on her way to gold, finishing with a 133kg flourish. The scoring system used to combine the weight classes saw her win with 139.32kg.
Egypt's Fatma Omar also added to the up to 61kg world record twice, settling on 141kg and ending on a factored 137.34kg to take silver. Nigeria's Lucy Ejike (136.50kg) took bronze.
Then in the women's combined up to and over 86kg, Nigeria's Loveline Obiji (125.83kg) took gold and a new up to 86kg world record of 149kg.
Obiji defeated Egypt's world champion Randa Mahmoud (121.04kg). The women's over 86kg world champion Precious Orji (117.25kg) was third, having broken the world record twice on her way to the podium. Orji's new mark is 164kg.
Nigeria's Yakubu Adesokan claimed back the world record in the men's up to 49kg, with a 182.5kg third lift. The mark had been taken by Vietnam's van Cong Le at the IPC Powerlifting Asian Open Championships in Almaty, Kazakhstan, in July.
Algeria's Ahmed Hadj Biour (131kg) and Togo's Alion Bawa (110kg) claimed silver and bronze respectively.
Bose Omalayo (137.5kg) increased her own world record in the women's up to 79kg. Having failed on a 136kg second lift, Omalayo went all out in the third and successfully added 0.5kg onto the previous mark to claim gold for Nigeria.
Egypt's Geehan Hassan (120kg) took silver and Libya's Sahar El-Gnemi (90kg) the bronze.
Nigeria's Olumide Kehinde set a new African record in the men's up to 65kg, expertly building to a 214kg final lift. Egypt's Shaaban Ibrahim (196kg) led Algeria's Hocine Bettir (183kg) onto the podium.
In the combined women's up to 67kg and up to 73kg, Nigeria scored another gold and African record.
Ndidi Nwosu finished on 132kg and a combined weight of 122.50kg to take the regional mark. Egypt's Amal Mahmoud (112.42kg) and compatriot Amany Ali (108.12kg) were second and third.
Roland Ezuruike (182kg) continued a great competition for Nigeria, with gold in the men's up to 54kg. The Cote D'Ivoire's Alidou Diamoutine (170kg) was second, overtaking Egypt's Taha Abdelmagid after he failed to improve on his first round haul of 165kg.
There was a new African record for Nigeria's Latifat Tijani (98kg) in the women's up to 45kg, ahead of Egypt's Zeinab Oteify (95kg). Algeria's Samira Guerioua (82kg) sealed bronze with 82kg.
Egypt's Sherif Othman broke the men's up to 59kg for the second time in 2015, lifting 210.5kg to increase his dominance in the category.
Othman reigned supreme over Nigeria's Anthony Ulonnam (190kg) and Cameroon's Conrat Frederic Atangana (160kg). The win reinforces Othman's reign as the Rio 2016 Paralympic Games edge closer.
Having finished just outside of the medals at the 2014 Worlds, Egypt's Hany Abdelhady was back in form with a new world record in the men's up to 88kg.
Abdelhady added 3kg onto the previous best to take gold with 233kg. Nigeria's Opeyemi Jegede (204kg) collected silver.
Egypt's reigning world champion Mohamed Elelfat exerted his own influence over the men's up to 72kg, taking gold with 212kg. Nigeria's Nnamdi Innocent (200kg) collected silver whilst Benin took their one and only medal with bronze courtesy of Cosme Akpovi (155kg).
Elefat's teammate Nawal Ramadan (92kg) added to her country's medal haul with gold in the women's up to 41kg. Nigeria's Nsini Jonah Ben (90kg) collected silver and Kenya's Hellen Wawira Kariuki (65kg) the bronze.
Egypt's Metwaly Mathana (220kg) put in a strong showing in the men's up to 80kg, clearing Nigeria's silver medallist Tolu-Lope Taiwo (192kg) by some margin. Cameroon's Maurice Francis Biwole Nkodo (166kg) put in three good lifts to take the bronze.
There was a shock in the combined men's up to 97kg and 107kg.
Egypt's 2014 up to 97kg World Championships silver medallist Mohamed Eldib (204.57kg) beat Nigerian world champion Abdulazeez Ibrahim (194.68kg) to gold. Egypt's Mohamed Elsayed (191.21kg) completed the podium.
The competition was part of the 2015 All African Games and aimed to increase the profile and standard of events in Africa.
IPC Powerlifting held three national referee, national classifier and introduction to para-powerlifting coaching courses in conjunction with the event.
The 2015 IPC Powerlifting season will conclude with the European Open Championships in Eger, Hungary, from 24-28 November.