Preview: Virgin Money London Marathon T54 wheelchair race
Defending champions Joshua George and Tatyana McFadden, as well as David Weir and Marcel Hug look ahead to Sunday's race.
22 Apr 2016
Imagen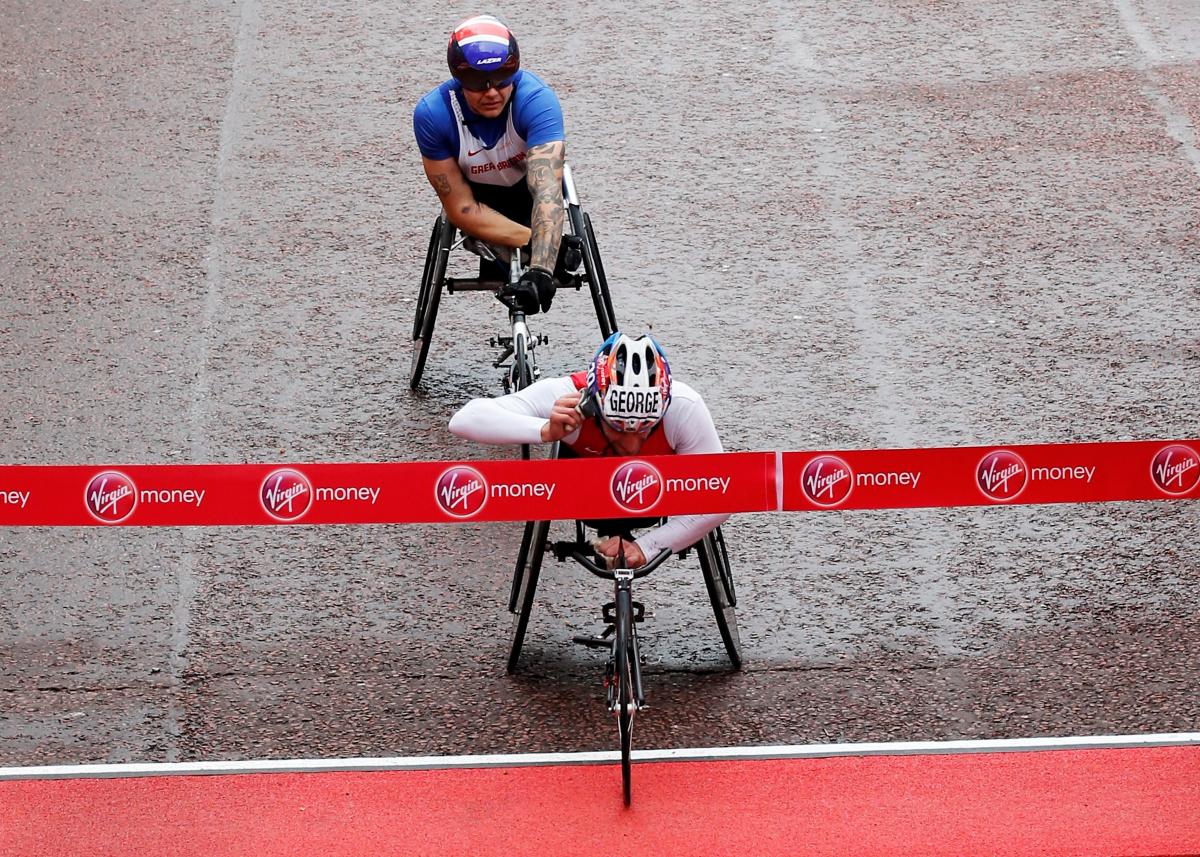 ⒸGetty Images
Defending champion Joshua George believes he is capable of another winning performance at the Virgin Money London Marathon, which doubles as the IPC Athletics Marathon World Cup, on Sunday (24 April) in the British capital.
The American sprinted down the Mall to victory – and the marathon world title - a year ago; it was his first ever win on the streets of London, as Great Britain's David Weir had to settle for second place in a closely fought finish.
"I think I have a good race buried in there. I actually came in to this year in incredible shape with incredible fitness, and although I've had some minor setbacks I know that that performance is in there," said George.
Prior to last year, the 32-year-old's best-placed finish in London was back in 2008 when he finished seventh; now he is determined to maintain his place as one of the best marathon racers in the world.
For George, who won 800m T53 world gold in 2013 and broke the world record over two laps last year in Switzerland, that means focussing even more on the roads.
This year sees the start of the Abbott World Marathon Majors Wheelchair Series, with London second in the series this year following Monday's (18 April) race in Boston, USA. With a USD 50,000 prize to the male and female winners at the end of the eight races, the incentive to do well has undoubtedly intensified.
"Wheelchair racing has been tricky for me as I'm naturally better on the track, I'm more of a middle distance guy. I love the track, but it was more that I wanted a career as a wheelchair racer," he explained.
"You don't want money to dictate what you are doing but at the same time if you are trying to be a professional athlete you have to go to where you can be a professional – and that happens to be the road.
"It took me a long time, I've been doing marathons for eight or 10 years before I finally started doing well the last couple of years, so it's been a long road but I really feel I've reached that top group in the marathon now."
For George, last year's win has given him the confidence and belief that he can hold his own amongst the world's best.
"I had a really good year last year and I'm just trying to maintain it. Racing is fun when you are in the lead pack and the way the men's field is right now it's so deep that if you are in the lead pack, you've got a shot - and that's where I want to be.
"The whole first half of my marathoning career I would see guys like Dave (Weir), Ernst (Van Dyk) and Kurt (Fearnley) and then later on Marcel (Hug). You see these guys that are on the podium every single marathon, and so it's just great to be able to challenge them now."
Home favourite Weir is aiming for his seventh London marathon title and the Paralympic champion is feeling fitter than ever despite a disappointing finish in Boston earlier this week.
"I've been more dedicated than I've ever been," said Weir. "I could just tell by old pictures and stuff, by my weight and the miles I've done. It was just one of those days when I blew up and you've got to move on – now it's a different course and a different day."
As for Hug, a second successive Boston win does not mean he is taking anything for granted this weekend.
"I'm feeling good," said Hug. "Of course I was feeling a little bit tired but now it's better. I still know it's a different day and a different course. Boston was a tight finish so anybody could win next time."
Where the men's race may be a more open contest, Tatyana McFadden lines up in London as the clear favourite in the women's wheelchair race - despite suffering a rare defeat in February when Japan's Wakako Tsuchida beat her to the line at the Tokyo marathon.
The American is going for her fourth consecutive win on the streets of London, having already kicked off her Abbott World Marathon Majors campaign with victory in Boston. But that history of success in the British capital does not make it any easier.
"It gets tougher every year," said McFadden. "Athletes get stronger and smarter. Each time I do the marathon it's always so different and so exciting. It's always challenging – London is such a flat race so you have to be careful tactically. It's much more than just power and strength.
"I'm just trying to be better and faster myself, and I'm really just enjoying how far the sport has come."