Proud Paralympian relaunches at Rio 2016
Dedicated athlete education programme gives a special focus on encouraging votes in the IPC Athletes' Council elections.
06 Sep 2016
Imagen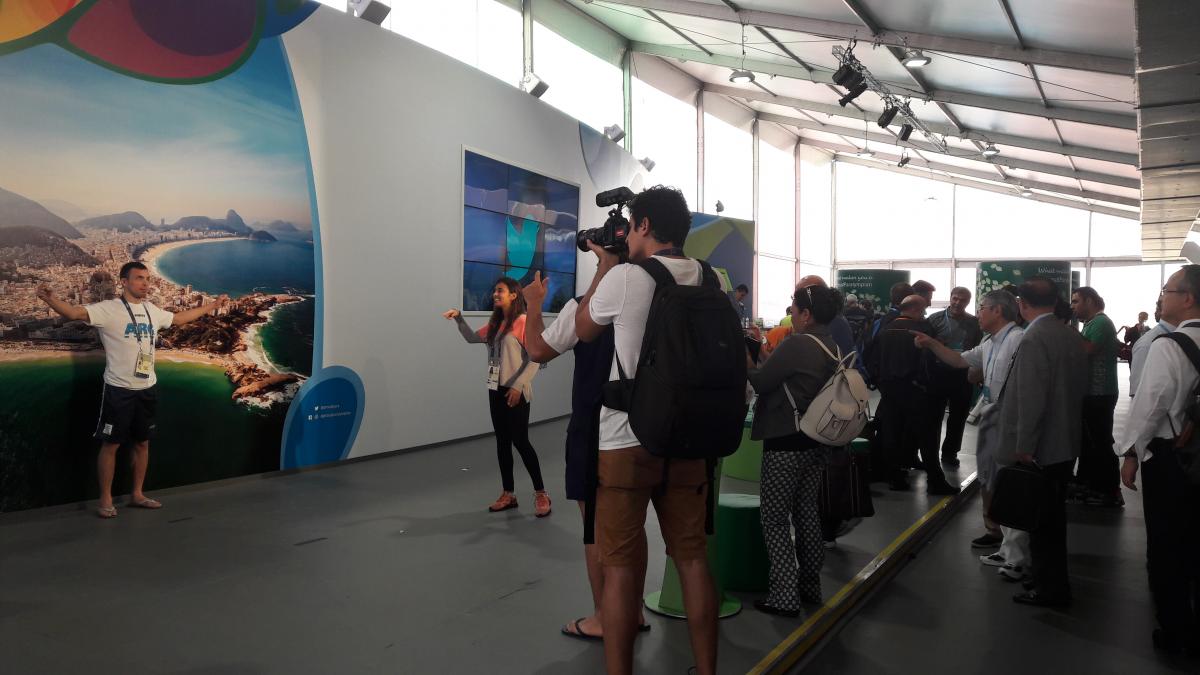 ⒸIPC
By IPC
The International Paralympic Committee (IPC) has relaunched its dedicated education programme for athletes, Proud Paralympian, at the Rio 2016 Paralympic Games.
Proud Paralympian is designed to help athletes reach their best both on and off the field of play by offering advice, guidance and materials on a host of subjects including careers, anti-doping, engaging with the media and fans and the history and values of the Paralympic Movement.
A space in the Athletes' Dining Hall in the Rio 2016 Athletes' Village, manned by Paralympians, was visited on its first day of operations by the IPC President Sir Philip Craven. He was joined by members of the Independent Paralympic Athletes (IPA) Team and athletes from the Americas who have taken part in Para sport development activities in the build-up to Rio 2016.
Sir Philip said: "Over the past two years we have completely gone back to the drawing board with Proud Paralympian, involving athletes in revising all the materials and defining what they need to have successful careers, as well as moving to life after the highest levels of sport.
"It is vital to provide support to athletes at all stages, whether they just want to know more about their rights or are wondering how they can gain more of a profile.
"It is also really important that they are aware of their role in changing perceptions, as well as getting involved in the future of the Paralympic Movement through the Athletes' Council elections.
"I hope they all take a few minutes to come and have a look at what Proud Paralympian can do for them, and vote in the all-important elections here in Rio"
Former Brazilian wheelchair tennis player Samanta Bullock, who is one of four Paralympians helping to lead the relaunch in Rio, said: "As a Proud Paralympian myself, I am delighted to be involving athletes in the Paralympic Movement and helping them to reach their best.
"Knowing how to use everything you have available to you as a Paralympian is so important for a successful career, it is not just about winning medals. You can be an inspiration to an entire generation of people just by living the right values and putting yourself out there as a role model to others."
The Proud Paralympian space is open every day between 5-16 September from 09:00-21:00. US swimmer Illeana Rodriguez, alpine skiers Piotr Marek of Poland and Mexico's Arly Velasquez, Japanese Nordic skier Miki Matheson and compatriot Eri Yamamoto will also be on hand to speak to athletes as Proud Paralympians themselves.
At the relaunch on Tuesday (6 September), Sir Philip took part in some of the activities, including wearing a Proud Paralympian temporary tattoo and visiting the voting area for the Athletes' Council.
Mexican javelin thrower Eliezer Gabriel and Ecuadorian runner Darwin Castro, who have benefitted from sports training given in the Americas by the development arm of the IPC, the Agitos Foundation, had their photo taken for a giant cover of The Paralympian. IPA Team members Ibrahim Al-Hussein and Shahrad Nasajpour also received some careers counselling from Adecco.
A variety of activities and materials are available to all athletes in the Proud Paralympian area, including games, an Instagram booth, information about using social media effectively and advice about transitioning to a career after sport.
Athletes can also learn about each of the record 22 candidates for the IPC Athletes' Council, and vote for their top six representatives in the elections taking place during Rio 2016.
Proud Paralympian is being revised by the Agitos Foundation with the help of recruitment and careers provider Adecco, and support from International Federations and National Paralympic Committees.
Proud Paralympian can be found on Facebook, Twitter and Instagram where pictures and updates of athlete activities will be posted during Rio 2016 and beyond.