Rahman delivers golden performance
Iranian powerlifter sets new Paralympic mark to clinch gold medal.
05 Sep 2012
Imagen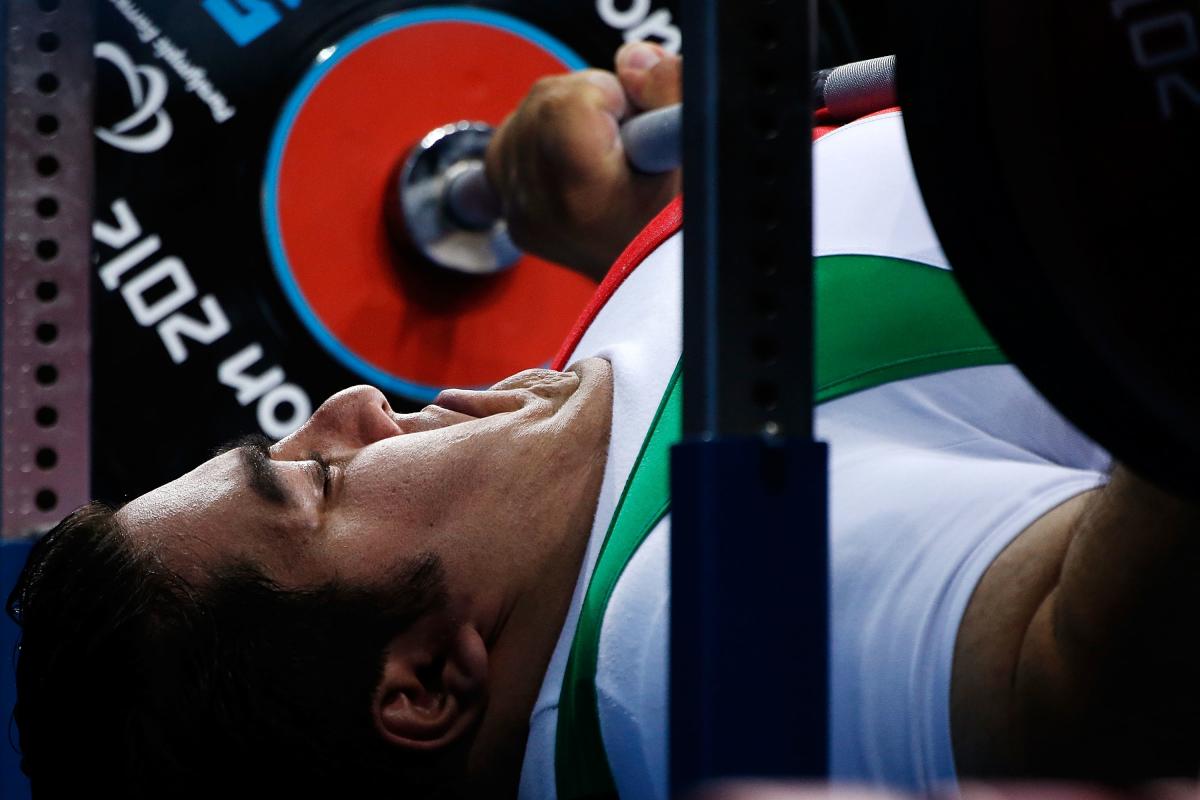 ⒸGetty
"It is my first experience of a Paralympic Games and I'm very happy to beat the Paralympic record."
Siamand Rahman took four deep breaths, lifted his hands to the sky and then braced himself for the biggest moment of his life.
As silence swept through the ExCeL, Rahman got ready to deliver – and how he did.
Less than two minutes after entering the arena, Iran's powerhouse set a new Paralympic record of 270kg with only his first lift of the men's +100kg final.
That lift was 33kg heavier than anyone else's first attempt, with Iraqi Faris Al-Ajeeli leading the rest of the pack on 237kg.
Officials even had to bring out specially made 50kg weights to use on the bar during Rahman's lifts.
On his second lift, he added another 10kg, taking his total up to 280kg, and comfortably set another Paralympic record.
By the time he went after a new world record, lining up 301kg on his third lift, Rahman had long since clinched the gold medal in what in reality was always a one-horse race.
He is by far the strongest Paralympian on the planet. His successful lift of 280kg was 38kg beyond Faris Al-Ajeeli, who claimed the silver medal by lifting 242kg.
But Rahman, still only 24 years old, insists he has far more to come.
"I've lifted 310kg many times before, and even here in London in training," he said.
"I wanted to do more than 301kg, but they would not let me have a fourth attempt."
Before the event, Rahman's name was the only one on everyone's lips. He was the man everybody had come to see, and he did not disappoint.
The Iranian powerhouse destroyed his opposition, with his first lift causing a huge roar at the ExCeL.
Rahman's body weight, at 173kg, is 21kg heavier than Maharram Aliyev, and the resulting extra power is extraordinary.
Cheered on by a raucous band of Iranian supporters, Rahman was greeted by a wall of noise when he emerged along with the other competitors 10 minutes before the competition began.
It was clear his fans expected nothing less than gold, and Rahman's look of concentration suggested his mind was on the job.
"I praise God that I have the gold medal," he said afterwards. "That's the main thing.
"It is my first experience of a Paralympic Games and I'm very happy to beat the Paralympic record."
The 24-year-old is the world record holder, having successfully managed 291kg in April in the United Arab Emirates.
His third lift, nine kilograms above the world record, left many wondering whether he would have been wiser to try to break the world record by a smaller margin.
But Rahman dismissed that suggestion. He said: "That weight (301kg) was not really heavy for me, but regardless of that last lift, the main thing is that I got the gold medal.
"The medal is for everyone in Iran – not just me."