Records continue to tumble on final day of Grosseto 2016
Great Britain's women's sprint relay quartet stormed home to a new world record out on the track on the final day of competition at the 2016 IPC Athletics European Championships in Grosseto, Italy (Thursday 16 June).
16 Jun 2016
Imagen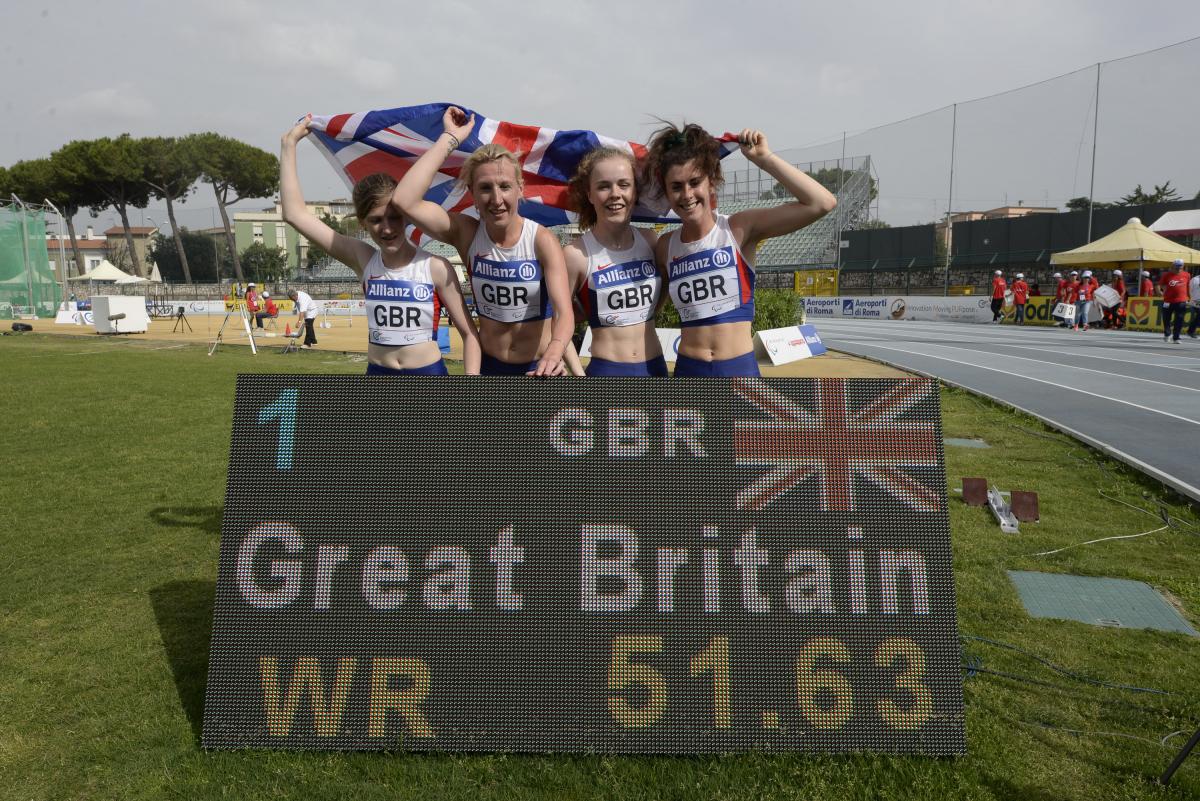 ⒸAgenzia Fotografica BF
By IPC
The four British sprinters – Olivia Breen, Maria Lyle, Georgie Hermitage and Sophie Hahn - raced round the track in 51.63, knocking 0.59 seconds off the mark the same quartet set on their way to gold at last year's World Championships.
"It is absolutely amazing, the girls were all fantastic," said Hahn.
"We have been working really hard on our changeovers so I'm really happy that we did it in the race. It is a great honour to anchor this team and receive the hand over from Georgie who ran a great bend to set me up perfectly."
There was joy for Germany's men's 4x100m T42-47 team too, who lowered their own European record as they stormed home to take gold in Grosseto.
The quartet – Markus Rehm, David Behre, Felix Streng and Johannes Floors – clocked 41.49 on the Carlo Zecchini track; 0.37 faster than their gold medal-winning time at Doha 2015.
"I think it was very important for us. We are all competing in different events so it was important for us to get the relay together, to show that we are in a good shape and that we can exchange well," said Streng.
"It was important for us to prepare now so we can do a good race in Rio. We are really looking forward to going fast."
Russia finished first in both the men's and women's 4x100m T11-13 races – the women's quartet clocking 49.49 while the men ran a championship best of 42.74.
The men's 4x400m T53/54 relay was won by Great Britain in a new national record 3:08.30. David Weir, who raced the anchor leg, had earlier clinched his fourth gold of the Championships after a terrific finish in the men's 1,500m T54.
Grouped together from the gun, the Paralympic champion left it until the final lap to push to the front of the field.
Coming round the final bend Weir was chased hard by Russia's Aleksei Bychenok, and with 20m to go the Russian looked to be closing in fast. But the Briton reached the line first, crossing in 3:18.50, just 0.03 seconds ahead of Bychenok.
"It is a confidence booster for me," said the 37-year-old on his success in Grosseto.
"For a couple of years I have doubted whether I was still good enough. Mentally it takes a lot for me to get ready. I had to really get in the groove but this year I have felt as though I have enjoyed myself.
"The weird thing is that even when I got here I was still doubting myself, asking 'Am I still good enough?'. After a couple of races and beating Aleksei who is in the top three in the world that gave me a lot of confidence."
Natalia Kocherova controlled the women's 1,500m T54 from start to finish as she collected her fifth gold medal of Grosseto 2016 in a championship record 3:32.28.
"Yesterday I missed out on my sixth gold because the 100m is not my favourite event. I am not that good at the start, I lose too much time right there. I will work hard on that to be competitive over the 100m as well," said the 26-year-old.
Finland's Henry Manni had to settle for a hat trick of golds in Grosseto as Great Britain's Isaac Towers powered past the Finn with 100m to go in the men's 800m T34.
Manni had led from the start, but he was no match for Towers down the home straight as the Briton sprinted to the line, setting a new championship record of 1:44.67.
Briton Laura Sugar got the best start of the field in the women's 100m T44 but it was Germany's Irmgard Bensusan who came through in the final 50m to take her second Grosseto 2016 gold in 13.60 having won the 200m T44 already. The women's 100m T47 was won by Poland's Alicja Fiodorow in 12.78.
Russia's world champion Andrei Vdovin (T37) clocked 11.98 as he won the men's 100m T38 in a thrillingly tight finish, his teammate Gocha Khugaev finishing just 0.01 seconds behind.
"This was just a step towards Rio 2016, just a test of what I am capable of doing. I am very confident, because this week here I set the new world record over the 400m," said Vdovin.
Out in the field there was a straightforward win for Russia's javelin F54 defending champion Mariia Bogacheva. The 39-year-old threw a championship record 15.16m to finish nearly five metres clear of her opposition.
Croatia secured their fourth gold of Grosseto 2016 as world silver medallist Zoran Talic won the men's long jump T20 with a leap of 7.36m (+2.6m/s), while there was a seventh gold for Spain thanks to Kim Lopez Gonzalez in the men's discus F12 (44.25m).
Belarussian Aliaksandr Subota threw a championship record 49.02m to win the men's javelin F46 as Germany picked up two more golds in the field.
World champion Martina Willing won the women's javelin F56 with a season's best of 22.05m and her teammate Franziska Liebhardt, the shot put F37 world silver medallist, threw a championship record 13.62m to take gold in her event.
"It's especially really good for me that I could be so consistent on my tries, and I am very happy that all my six throws were over 13 metres as it is the first time I can do that," said Liebhardt.
"I am fit now but in the lead to Rio I will get fitter. And I hope I will beat my Chinese rival, Mi Na - she's really good - she beat me in Doha last year but it was really close; I think in Rio I will beat her."
Poland rounded off their Grosseto 2016 campaign with two more golds out in the field.
Janusz Rokicki finished second behind Russia's Alexey Ashapatov at the 2012 Paralympic Games and again at the European Championships in 2014, but he turned the tables at last year's World Championships and did the same out in the field in Grosseto.
The 41-year-old, who won discus F57 silver on Sunday, saved his best until last with a championship record of 14.72m in the final round. Ashapatov threw 13.90m for silver.
World champion Karolina Kucharczyk won gold in the final event of the day, the women's long jump T20, leaping 5.87m – a new championship record.
Russia finished top of the medals table with a total of 131 medals, including 51 gold, 51 silver and 29 bronze. Great Britain were second with 23 golds, 17 silvers and 16 bronze, and Poland took the third spot with 22 gold, 11 silver and 17 bronze.
Live streaming, live results and full schedules are available at www.grosseto2016.com
For broadcast footage from Grosseto2016 please email IPC Broadcasting Manager sascha.beck@paralympic.org
Rights free images from the event can be downloaded here: www.flickr.com/paralympic