Review: IPC Athletics Grand Prix in Berlin
A look back at two days of action from the penultimate Grand Prix of the season in the German capital.
17 Jul 2016
Imagen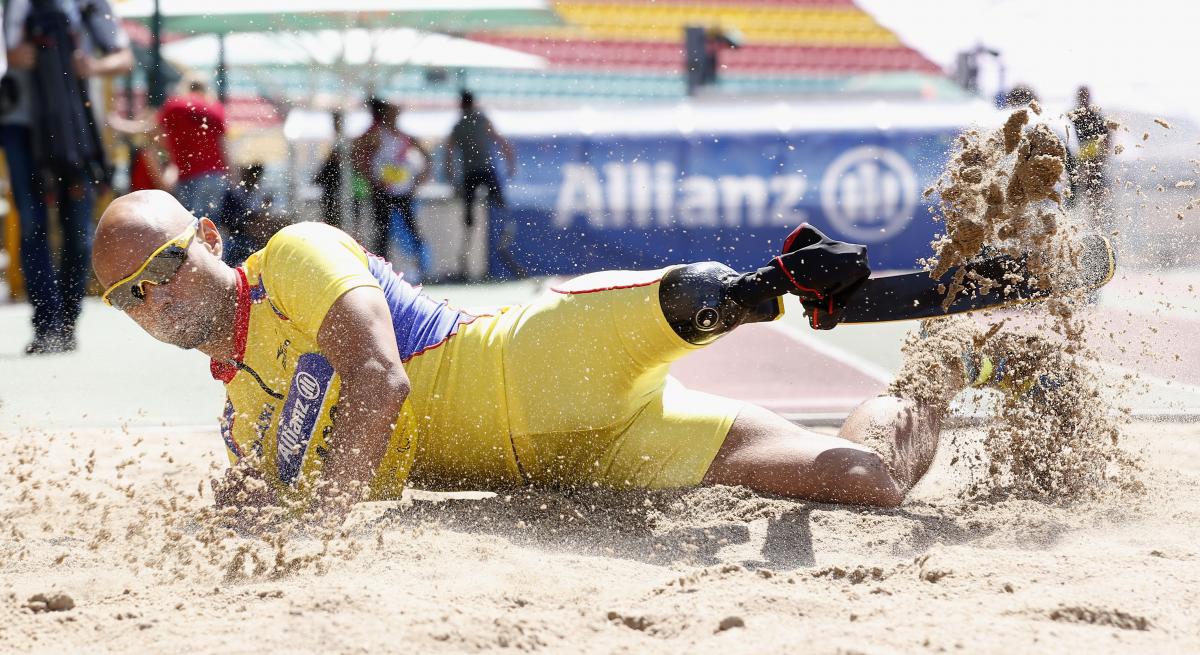 ⒸGetty Images
The penultimate Grand Prix of the 2016 IPC Athletics season took place in Berlin, Germany on 16-17 July with impressive performances from world champions including David Behre, Ilse Hayes, David Brown and Martina Caironi as well as a new European record for Ukraine's Leilia Adzhametova.
Visually impaired sprinter Adzhametova set a new 200m T13 European record in Sunday's heats , clocking 24.84 before going on to win the final in 24.88 ahead of South African world champion Ilse Hayes.
Winner of the 100m in 12.01 a day earlier, Adzhametova left no doubt that she will be a major threat to Hayes at September's Paralympic Games in Rio de Janeiro, Brazil.
"I'm really happy to have such a great result. I expected it, I wanted it, but I know I can do even better and I can promise that in the near future you will see new records," said Adzhametova, who broke Hayes' 100m world record in Nottwil, Switzerland in May.
Hayes also took on the 400m in Berlin as part of her preparations for Rio, winning in 58.29.
"It's only my second 400m of the season, so it was really important just to get the feeling of it. I'm not an experienced 400m athlete so every race under the belt can only be a contribution to the end race in Rio," said Hayes.
Saturday's action saw home favourite Behre (48.75) take the win in the men's 400m T43 ahead of current world number one Hunter Woodhall (49.05) of the USA.
Behre was pushed all the way but the 29-year-old, who lost out on European gold to his compatriot Johannes Floors last month, made sure he came out on top this time around.
Victory came Woodhall's way on Sunday when the American sprinted past South African Arnu Fourie in the closing stages of the men's 200m T43/44.
"There's a lot of work to be done – this is kind of a check to make sure we know where we are," said Woodhall, who finished in 22.74.
"It's really good to come out here and have a solid race and just build confidence. I've just finished a long high school season, I'm putting down some great times, so I'm really excited going in to Rio."
Woodhall's teammate, visually impaired sprinter David Brown won the 100m T11 (11.06) on Saturday but it was his Namibian rival Ananias Shikongo (22.78)who took the tape in Sunday's 200m.
"I'm really happy for the win because I was prepared for it," said Shikongo, who won world silver at Doha 2015.
"This is an indication that I am ready for Rio. My main target is to win the gold medal for Namibia. The 200m is my favourite event and these last three years I have been preparing."
Fellow Namibians Nambala Johannes (10.99) and Elias Ndimulunde (11.37) also looked in fine form as they won the 100m T13 and 100m T45-48 respectively.
Injury troubles may have disrupted Martina Caironi's start to the 2016 season but the 26-year-old Paralympic and world champion was clearly back in form as she won the 100m T42 on Saturday.
The Italian, who set a new world record of 14.61 at last year's World Championships, clocked 14.97 (w/s 2.2m/s) in the heats before going on to win the final in 15.49.
Great Britain's Libby Clegg (12.39) now competes in the T11 class but the 26-year-old former world champion looked to be taking it in her stride as she raced the 100m alongside new guide Chris Clarke in their first international competition together.
"It's feeling alright, we are in good nick at the moment. I'm happy with that as it was quite windy. Me and Chris have been working together since February and this was our first international competition together, so it was definitely important to get that under our belts moving forwards," said Clegg.
In the distance events there were wins for Chile's world champion Cristian Valenzuela (16:17.84) in the 5,000m T11 and the USA's T20 world champion Michael Brannigan (3:51.62) in the men's 1,500m.
US world champion Rachael Morrison only took up Para athletics two years ago but she showed great confidence ahead of her first Paralympic Games, finishing top of the F51 throwers in the discus (12.00m) and winning the club throw F31/51 with 19.60m on Saturday.
"I definitely did my best today, but it's been a long day and long travel, so that made it a little bit difficult," said Morrison.
"It's extremely exciting to go to Rio. This will be my first Games experience so I'm really looking forward to it."
Morrison's teammate Roderick Townsend-Roberts will also enjoy his first Paralympics this September. The 24-year-old only made his international debut last year, but he's already the reigning high jump T47 world champion and stays top of the 2016 world rankings after clearing 2.06m in Berlin.
German thrower Birgit Kober has plenty of experience under her belt – including javelin and shot put gold at London 2012, and two world titles in 2011 and 2013, when she competed in the T34 class.
Now in the T36 class, Kober proved too strong for her rivals in Berlin, throwing 11.48m in the women's shot put. Irish teenager Noelle Lenihan, who competes in the T38 class, finished in second place with a best of 10.78m – she went one better on day two, winning the discus throw with 31.04m, just over a metre shy of the world record mark she set at June's European Championships.
The long jump T42 has proved to be one of the most competitive events of the year so far, with the world record changing hands three times since March.
Japan's reigning world champion Atsushi Yamamoto lined up in the long jump T42 in Berlin – the 34-year-old's prosthetic broke in training two weeks ago but he was happy to be back competing, and finished with a best of 6.25m – albeit well short of the 6.72m world record his German rival Heinrich Popow set one week ago.
Sunday's field events included wins for Brazil's Batista Dos Santos (43.50m) in the discus F55/56, while Spain's David Fernandez (35.06m) came out on top in the discus F57 and Morrocan Azeddine Nouiri (27.73m) won the F33/34 event.
Germany's Frank Tinnemeier (13.34m) won the shot put F42-46 and the USA's reigning world long jump champion Lex Gillette leapt 6.46m to win the men's long jump T11.
Full results can be found here.
Rights free images
Rights free images, courtesy of Allianz and Getty Images, from Saturday's action can be found here.
Race footage
Free rights free footage of some of Saturday's action can be found at the AFP Forum.