Russia, Korea battle for podium at Judo World Championships
Korean judoka Jin defeats Russia's Pozdnysheva to even the two nation's gold-medal counts.
19 May 2015
Imagen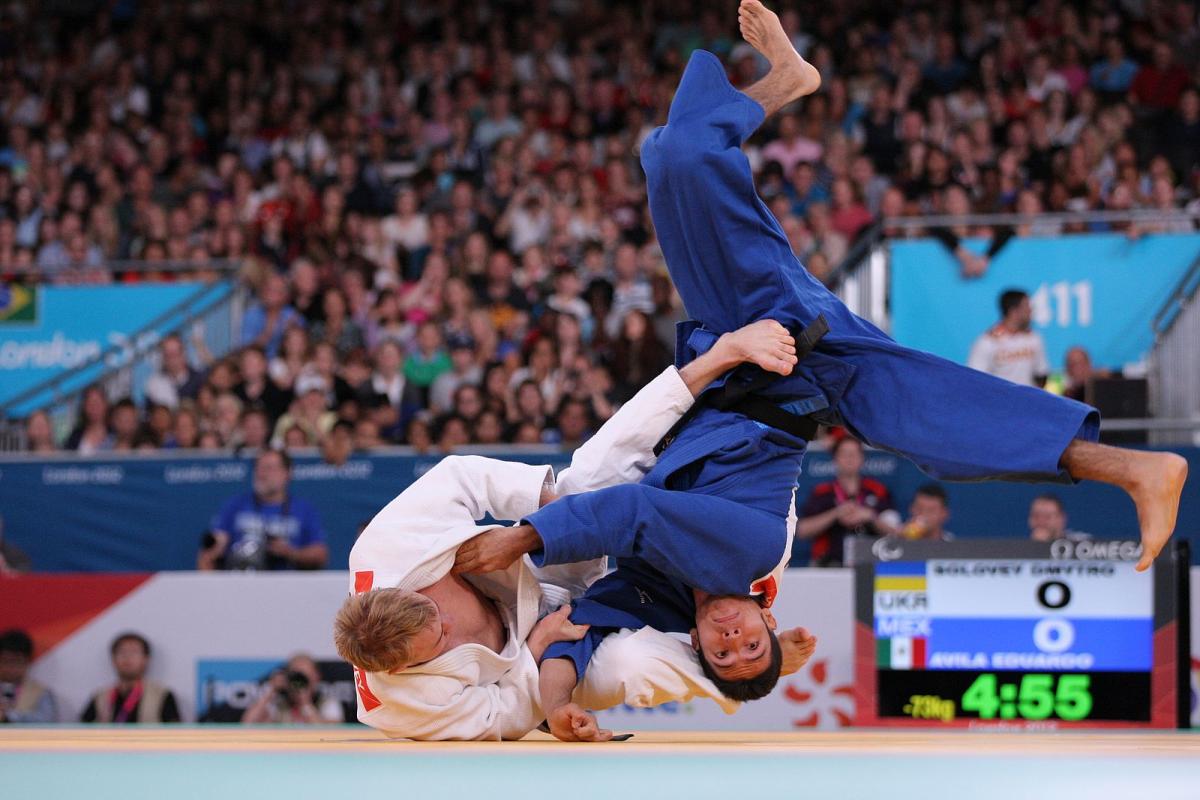 Ⓒwww.photo-hartmann.de
By Nico Goda | For the IPC
Russia was hard to bring down at the International Blind Sports Federation (IBSA) World Games and Judo World Championships, as the nation topped the table with seven medals during the 10-day competition, which concluded on 18 May in Seoul, South Korea.
Russia took home three golds, led by Alesia Stepaniuk (women's under 52 kg), Irina Kalyanova (women's over 70 kg) and Gaidar Gaidarov (men's over 100kg) – all who picked up valuable qualifying points for the Rio 2016 Paralympic Games.
Russia's judoka got off to a good start, as Stepaniuk defeated her Ukranian rival Nataliya Nikolaychyk to take the top prize. On the same day (14 May), compatriot Kalyanova overcame Arina Kachan from Belarus to add another gold medal for her country.
Ukraine got their revenge on the men's side that day, as Dmytro Soloyev (under 73 kg) took down Russia's Shakhban Kurbanov for the win.
But the Russian men saw success in the over 100 kg division, with Gaidarov defeating Great Britian's Jack Hodgson for the gold medal.
South Korea came in second in the medal count, winning six, including three golds.
The season continued to look bright especially for Jung Min Lee and Ha Na Seo, who both claimed their second gold medals of the season following wins in February's World Cup in Eger, Hungary.
Lee overpowered Uzbekistan's Sharif Khalilov in the men's under 81 kg, while Seo got the better of Ukraine's Inna Cherniak in the women's under 57 kg category.
South Korea's third gold came from Song Lee Jin in the women's under 63 kg. Jin was able to keep Russia from a fourth gold by beating Olga Pozdnysheva.
But Korea's Gwang Guen Choi continued to struggle. In a rematch of the World Cup in Hungary, the London 2012 Paralympic champion fell to Uzbekistan's Shirin Sharipov in the men's under 100 kg – a similar outcome to February's result.
Ukraine improved on their fourth-place finish at the World Cup by taking third in the medal standings with nine medals (two golds).
In addition to Solovey's win, Svitlana Chepurina added the other gold in her victory in the women's under 70 kg.
In the men's under 60 kg, Algeria's Mouloud Noura took down Japan's Takaaki Hirai for the top prize. Uzbekistan's Utkirjon Nigmatov won the men's under 66 kg by beating Mongolia's Munkhbat Aajim.
Georgian Zviad Gogotchuri beat British London 2012 silver medalist Samuel Ingram to win the men's under90 kg in the Championship bout.
German Paralympic champion Carmen Brussig finished atop the women's under 48 kg by beating Chinese Taipei's Kai Lin Lee.
Visit IBSA.org for complete results of the IBSA World Games and Judo World Championships.