Russia's 16-year-old Alexey Bugaev wins third medal
The teenaged Russian skier delighted home crowds with a consistent performance, in challenging conditions.
13 Mar 2014
Imagen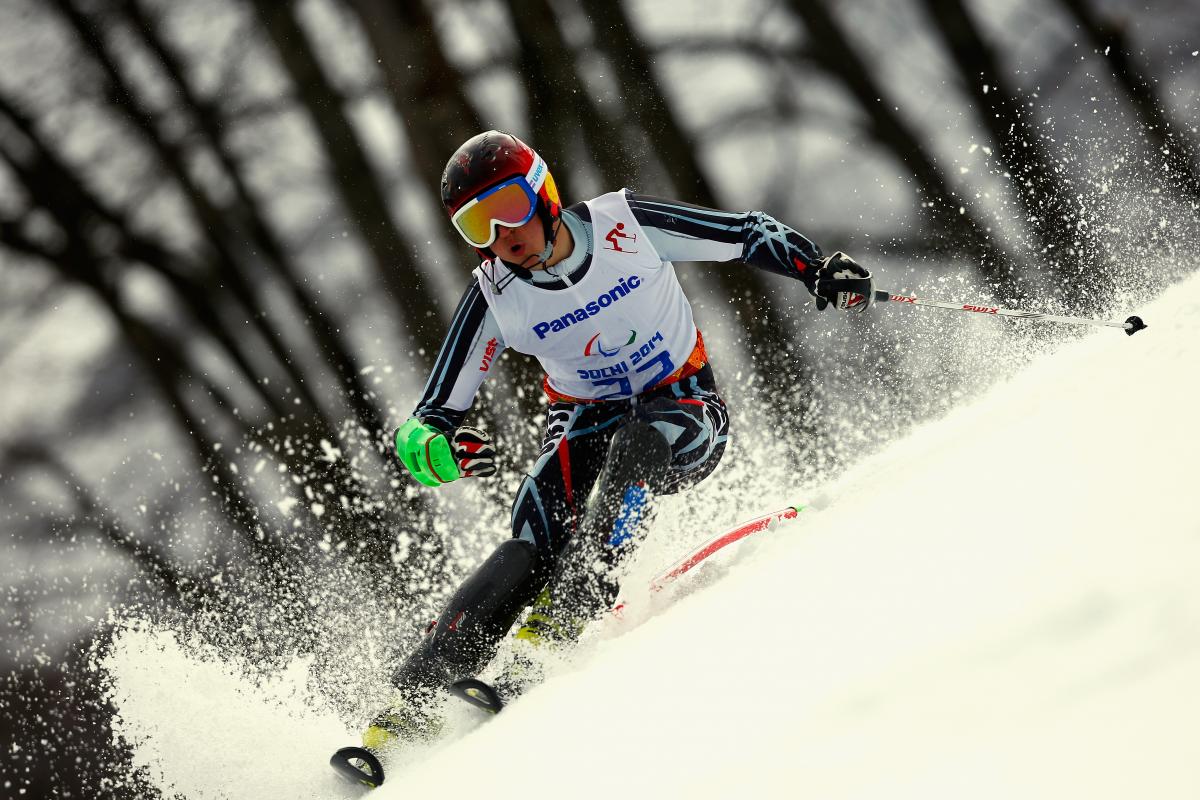 ⒸGetty Images
By IPC
"The slope is very steep and bumpy at the top. So I adapted my technique on a case-by-case basis depending on the conditions. It feels great to win."
Despite showing obvious signs of fatigue and in difficult course conditions, Russia's Alexey Bugaev managed to clinch gold in the men's slalom standing race on Thursday (13 March) in 1:38.97, adding to the downhill silver and super-G bronze he already won at Sochi 2014.
Light rain and slushy conditions, combined with a very steep start, made for a very challenging course.
"I did my best and it wasn't really easy," the 16-year-old admitted.
"The second run was much more difficult for me than the first. I was tired and all this pressure made me so nervous."
His teammate Alexander Alyabyev (1:30.74) won bronze. France's Vincent Gauthier-Manuel, the reigning world champion, was just half a second ahead, to take silver.
"Bugaev is amazing," said Gauthier-Manuel. "He is very strong when he is supported by the public like that.
"He reminds me a bit of myself when I was the same age. He arrived here like an outsider and he hid his game well.
"Now I'm going to do everything to beat him in giant slalom."
In the visually impaired class, Valerii Redkozubov guided by Evgeny Geroev delighted home crowds with gold, having led from the first run. The bronze medallist from the 2013 IPC Alpine Skiing World Championships had a decisive victory, finishing in 1:43.21 - 3.61 seconds ahead of silver medallists Jon Santacana Maiztegui guided by Miguel Galindo Garces.
"There's a tornado inside of me full of positive emotions," Redkozubov said. "We have worked really hard for this. It was a very long, traumatic road that required much strength and hard work.
"One thing that helped us to win is the home support. I hope that something will change. Many people have read and seen about the Paralympic Games on TV and in the media.
"Hopefully it will change perceptions of people with an impairment."
Santacana Maiztegui was seventh after the first run, but pulled out all the stops to take silver. The Spaniard has been fighting off a cold the past few days, and is recovering from an injury six months earlier in the season.
"I am not 100 per cent. Sometimes I'm in pain," he said, before smiling and adding, "but now I'm not in pain."
Canada's Chris Williamson guided by Nick Brush picked up bronze in 1:48.51. Vancouver 2010 gold medallist Jakub Krako of Slovakia was in second place after the first run, but did not finish the second, after missing a gate.
After the first run, Croatia's Dion Sokolovic, who had his first IPC Alpine Skiing World Cup win earlier this year in St. Moritz, Switzerland, was leading the men's sitting event by a comfortable 1.61 seconds. But a lapse in concentration cost him his second run, allowing Japan's Takeshi Suzuki to steal gold in 1:53.78.
"The slope is very steep and bumpy at the top," said Suzuki. "So I adapted my technique on a case-by-case basis depending on the conditions. It feels great to win."
World champion and bronze medallist from Vancouver, Philipp Bonadimann of Austria took silver in 1:56.46. His teammate Roman Rabl pulled out all the stops, to power his way to bronze in 1:56.64, after a fifth-placed first run.
Germany leads the alpine skiing medals table with four golds, and Russia are now in second place with three golds and Japan in third.